Amazon Introduces Echo Pop, Echo Show 5 3rd Gen, Echo Show 5 Kids, and Echo Buds
It doesn't feel like it was all that long ago when a business colleague called to tell me about this interesting new device that Amazon had developed. "It sits on your desk, and you tell it to control devices, ask it questions on a wide range of subjects and get a decent answer, have it play music, and do a wide range of other things from reading your schedule or keeping a kitchen timer."
The idea of doing all of that with one device was interesting. I bought one, and in the eight years since, more than half a billion Echo devices have followed suit into consumers' homes across the globe.
That tall black cylinder still sits on my desk and answers questions every day. Since 2014 the Echo product line and ecosystem has sparked other similar systems and devices, such as Google Assistant and Apple's Siri and Home Kit. However, the march of technological progress is more than raw sales numbers and product longevity, it is the addition of new features and capabilities along with significantly lower pricing. By way of example, the first-generation Echo Show cost me $179. By comparison, none of the new Echo products just announced costs more than $99. Put another way, for the price of the first Echo you can buy a new Echo Show 5 with a built-in video screen and two new Echo Pop models.
Introducing Echo Pop
Starting off, the new Echo Pop has a different form factor from the current Echo Dot models. Rather than sitting down with a puck-like appearance, it is described by Amazon as a "semi-sphere" with a round, 1.95" diameter speaker that faces forward at an angle. Powered by the Amazon AZ2 Neural Edge processor, it also features support for Matter, making it easier to connect and control compatible smart home products that work within the Alexa ecosystem.
The Pop also comes with "eero built-in," which is said to enable the device to add up to 1,000 square feet of additional coverage to an existing eero Wi-Fi network.
With Lavender Blue and Midnight Teal added to the existing Charcoal and Glacier White Echo colors, Echo Pop is available now for pre-order at $39.99, with shipments starting on May 31. It is worth noting that the price is $10 less than the current 5th Gen Echo Dot.
Echo Show 5 3rd Gen and Echo Show 5 Kids
Two new smart display products were also introduced, Echo Show 5 3rd Gen and Echo Show 5 Kids. Both use the AZ2 Neural Edge processor, said to be 20% faster than the previous Echo Show 5 models. The 1.75" rear-firing speaker is also new and is said to deliver clearer sound and double the bass of the Gen.2 model. As is the case with the Echo Pop there is also Matter support. Also new is an additional mic for improved response to voice controls, an improved 5.5" screen that the compact design with an infinity edge cover glass.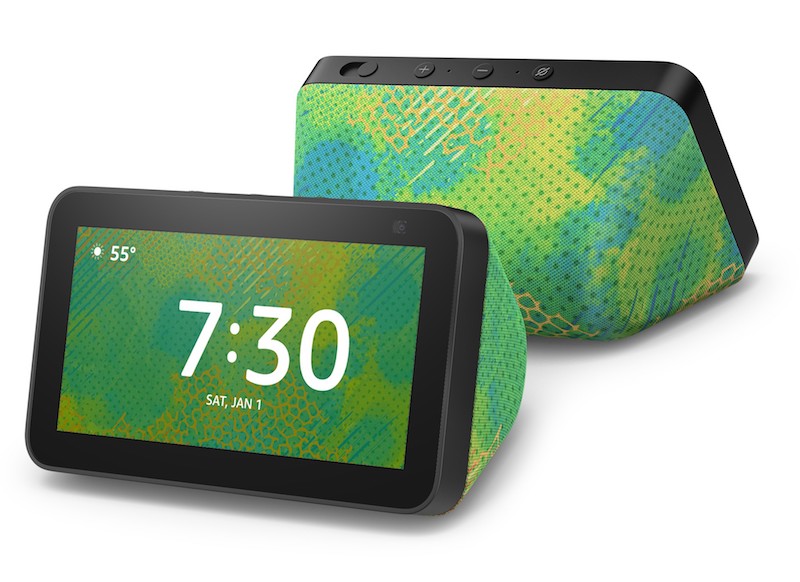 Joining the standard Echo Show 5 line is the Echo Show 5 Kids. With a software suite that is both kid- and parent-friendly, it appeals to kids with jokes, homework help, and more. Parents will be able to take advantage of explicit lyric filtering and other parental controls through the Parent Dashboard. There is both a two-year "worry-free guarantee" and a one of Amazon Kids+.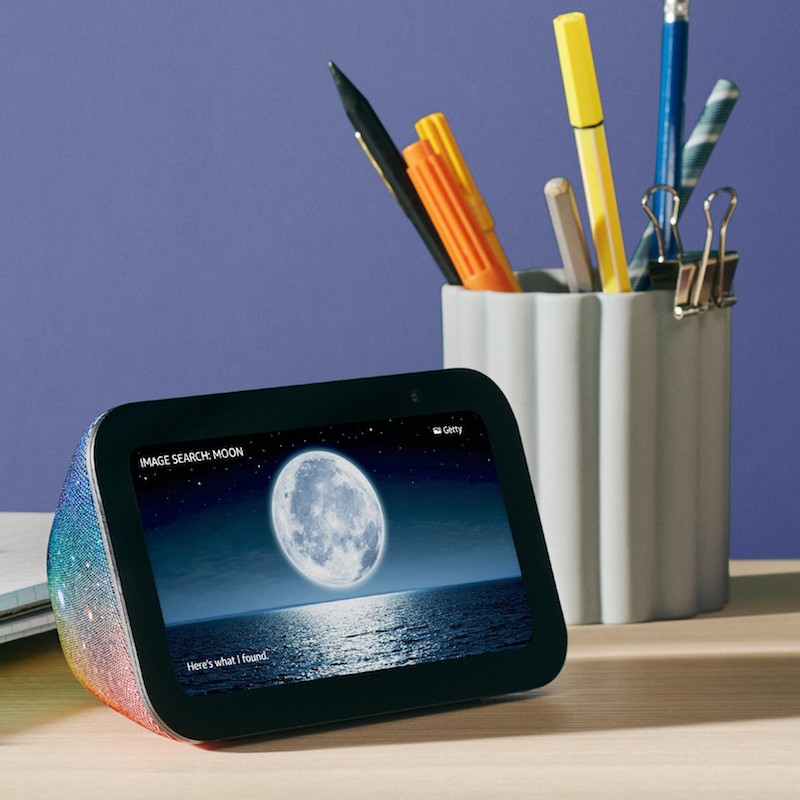 The Show 5 is available in Charcoal, Glacier White, and Cloud Blue for $89.99, while the Show 5 Kids comes in a Chameleon or space-themed "Galaxy" design pattern for $99.99. Both are available for pre-order now with "Release Day Delivery" set for May 31.
Echo Buds
Rounding out the new introductions is the all-new Echo Buds. This is a "semi-in-ear" design that does not have the ANC (Active Noise Cancellation) of the current 2nd Gen Echo Buds with ANC. Making up for that feature deletion is a $49.99 price that, for an introductory time period, is only $39.00. That price makes the new models one third the cost of their ANC sibling.
A 12mm dynamic driver and two microphones comprise the audio side of the Buds, with a voice detection accelerometer that is designed to distinguish between the person wearing them and those around the caller. A typical suite of ear bud features is included, such as customizable tap controls and multipoint pairing to allow you to switch between two devices.
On the tech side, Bluetooth connectivity for the Buds is 5.2 with up to five hours of music playback or six hours with Handsfree Alexa access turned off. Total time is 20 hours with the charging case. Call time is four hours on a single charge with 12 hours total with the charging case.
The buds themselves are black with a white case that offers fast charging. Pre-orders are being taken now with release day delivery starting on June 7.
These new products are far beyond what anyone could imagine the Amazon Echo concept would become when it first hit the market. As competitors in the smart speaker and smart screen introduce their new products through the balance of the year, we will all be watching to see how the category evolves in terms of technology, features, and industrial design. If nothing else, it will be interesting.