Imagine my surprise one day about seven years ago when a colleague called me to talk about "some new smart speaker thing that Amazon has just announced." We were all amazed that it could not only play music but answer questions, set timers, and control other devices. I was a bit skeptical at first but ordered one anyway. Who would have thought that the all-black cylindrical speaker would be the start of a wide product category and offshoots like the new Ring video doorbell products, Astro, Echo Show 15, Amazon Glow, and Halo View products that were introduced this week.
Amazon Smart Thermostat
Amazon Smart Thermostat is the company's first entry in that growing category. Developed with Honeywell's technology, this is a rather basic unit whose features don't compare with Nest, ecobee, and similar products. After all, it doesn't work with remote temperature sensors, and it doesn't have a built-in link to a speaker. It does, as one might expect, respond to commands spoken to any Alexa app or device.
Amazon Smart Thermostat will certainly do the basics of controlling an HVAC system along with the obligatory "learning". Along with those pros and cons, there will be one very important thing that the Amazon Smart Thermostat will have: an incredibly low price. At $59.99 when available in November, it will be one of the lowest priced Wi-Fi-controlled smart thermostats on the market. That, alone, along with its fitting into the Alexa ecosystem should make it a big seller.
Health and Fitness with Halo View
Another crowded category where Amazon is extending its offerings is in the health and fitness and "wearables" category. The new Halo View fitness tracker adds model with an AMOLD display to the Halo line along with significant updates to the underlying Halo service. The Halo View and its associated app components will check all the expected boxes for a wearable. It features activity tracking, sleep tracking, and body assessment and nutrition coaching when used with Halo apps and other new nutrition and fitness components.
The user can be guided through a variety of different fitness routines with content available from a library of premium brands such as re•spin by Halle Berry and Orangetheory Fitness. On the nutrition side, there will be dozens of menu and diet preference options. It should come as no surprise that when viewing recipes on the app a simple click will add grocery items to a shopping list.
Pricing will be $79.99, with one year of Halo membership. The View will be available later this year with additions to Halo Fitness and Halo Nutrition, both included in the app as part of Halo membership, rolling out through January 2022.
Ring's Blink Doorbell Cam
Ring is one category that Amazon is well known for, including their doorbell cams and a wide variety of security and protection relate products. Perhaps less well known is the companion Blink line, a more value priced line of indoor and outdoor cameras. Now, however, Blink will also include its own doorbell cam, the "Blink video doorbell."
Here, too, we have a product that checks the boxes for a basic product. It is compatible with the Alexa ecosystem for chimes from and communication with those at the door, and the ability to see visitors on a Show or Fire TV OS-connected device. So far, so good. What, you may ask is the tradeoff? The camera is listed as 1080p/30fps, but the captured images are shown at 640×360. The Wi-Fi is only 2.4GHz at Wi-Fi 4 (802.11b/g/n) speeds but depending on the location of the Blink to the Wi-Fi access point that will be good enough in many cases. The batteries are standard non-rechargeable AA, but they are said to last for up to two years and standard size makes them easy to replace.
Is this as good as the Ring models or the many other products in the video doorbell space? Perhaps not. However, at $49.99 with a 30-day trial to the Blink Subscription Plan, it's priced aggressively. Alternatively, the Blink optional Sync Module 2 at $34.99 supports local storage on a USB flash drive for playback through the app or on a PC, but that does not support live view recording. All in all, taken for what it is, it's a very interesting, value-priced product.
Blink Floodlight Camera Mount
Also announced to flesh out the Blink line was the Blink Floodlight Camera mount that works with the existing Outdoor Cam to deliver 700 lumens of lighting, triggered by a motion detector. The mount is $39.99 and is available in a package configuration which also includes the Sync Module 2 at $139.98. The final new Blink product is the Outdoor Cam with Solar mount. As the name implies, this is an outdoor camera with the same specs as the video doorbell but is solar powered with battery backup. The $129.99 price tag includes a camera and the mount with a Sync 2 module available as an option. It should be noted that one Sync 2 Module will work with up to 10 of the Blink camera products. All of the new Blink products will be available on October 21.
Ring Jobsite Security
A final product that incorporates Ring cameras and their technologies will curiously not be sold through Amazon. Ring Jobsite Security will be sold exclusively through The Home Depot. If you first see the product other than in a store you won't have any problem guessing where it came from. The products come in a security travel case that sports that unmistakable orange color.
Presumably designed for construction professionals, the concept will be quite valid for any commercial or residential construction or installation location where site surveillance both for video and motion detection is needed. Given the hardened nature of the products this might even be interesting for places such as a boat dock or temporary overnight parking area.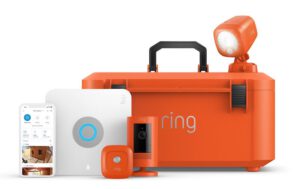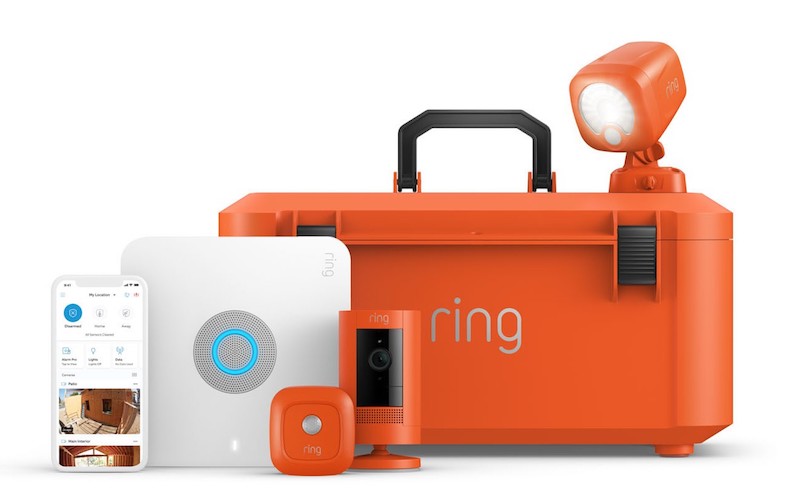 The basic 5-piece kit starts at $399.99 and includes the Ring Alarm Pro, a battery-operated Stick Up Cam, a battery-operated Smart Lighting Spotlight, a Smart Lighting Motion Sensor, and the protective, powered, Security Case that may also be wall mounted. All the components are also available individually or to increase coverage area, as well as a power pack and outdoor contact sensor.
The names of some of the parts of the kit are self-explanatory, but the key is the new Ring Alarm Pro. It combines the features of the consumer Ring Alarm but adds a built-in eero Wi-Fi 6 access point/router that is the glue for communication between the components and off-site monitoring via the Ring app or professional monitoring.
For job sites where there is broadband, Alarm Pro will enable connection with laptops, tablets, or other devices on the site. With the addition of the Ring Protect Pro subscription at $20 per month you are also able to use cellular connectivity. That, in conjunction with the optional Ring Power Packs at $129.99 each, lets you secure the job site even when the power is out or the Wi-Fi drops off.
Available in November for more traditional home installations, the new $249.99 Ring Alarm Pro combines protection against break-ins, floods, fires, and online threats with the reliable connectivity of a built-in eero Wi-Fi 6 router. Ring Alarm Pro also offers 24/7 Backup Internet with a Ring Protect Pro subscription to keep all the devices customers care about online with a cellular data connection.
All in all, an innovative and interesting product combination. Equally important is the fact that Amazon has reached out to a separate company to sell a version of things they developed. This should be a good play within our community.
New Alexa Features
As mentioned at the top of this article, voice command products are what the Alexa line is most famous for, and there are some new products on that front, as well.
Along with the existing options for celebrity voice response for Alexa products, Amazon has worked with Disney to create the "Hey Disney!" voice assistant. This is more than just commands being answered by character voices, it will be the portal to a range of Disney-centric content, games and interactive adventures. "Hey, Disney!" will first appear in the hospitality world as it gets rolled to guest rooms in Walt Disney World resort hotels. Site-specific queries such as park and restaurant opening times, transportation schedules, and much more to engage with guests. "Hey Disney!" will be available for home use on all supported Echo devices in 2022 through the Alexa Skills Store.
There will also be an Otter Box Den Series stand for the Echo Show 5 that is available for pre-order at $24.99.
Introducing Echo Glow
On the Alexa/Echo device front, there are two new products, one somewhat derivative and one that is new and unexpected. The latter is the new Echo Glow, which is aimed at the youth market, but clearly with broader appeal.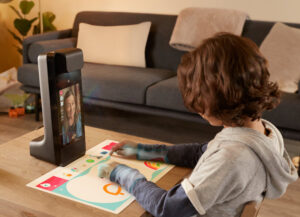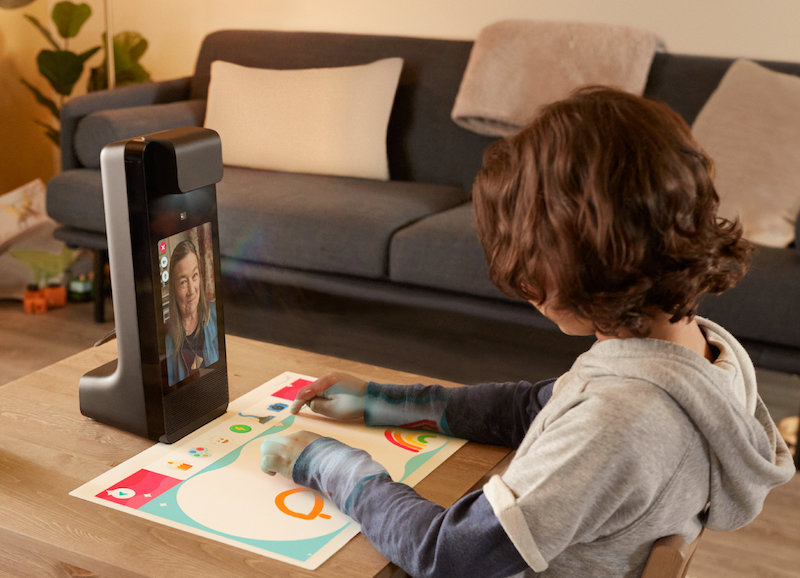 At first glance Echo Glow looks like a vertical stand up phone with an eight-inch display that remote callers may access through a tablet. However, there is much more to Glow than that. Also built in is a 19-inch touch-sensitive surface that delivers a second screen for game play and creative activities. There is even object scanning that will turn physical objects into digital images for game play and other applications. It is important to note that Glow is not Alexa enabled.
This combination is unlike any other product that I've seen, in that the screen and projection surface are integrated with the apps to allow the user/viewer to see the distant caller or game playing companion while having both sides see the scan/projection surface. The applications for this product include games, of course, but also interactive art projects, skill building for reading, and other educational pursuit.
It will be interesting to see both the market reaction and the applications developed to take advantage of this blending of digital and physical worlds along with live, interactive communication. Glow is currently available in limited quantities at an introductory price of $249, including a one-year subscription to Amazon Kids+ and a two-year guarantee. The regular price once there is general availability will be $299.99.
Echo Show 15
Although there was no announcement from Amazon of any new Echo Dots, we did see a new model in the Echo Show range, the Echo Show 15. The largest Show yet, it has a 15.6-inch, Full HD (1920×1080) resolution display. This is also Amazon's first model that may be mounted to the wall, although a stand will be available as an option at launch. This is the first Echo Show that may be used in portrait (vertical) orientation as well as mounted horizontally in a landscape mode. The mounting system is designed so that after installation it is simple to unhook it from the wall and change the orientation.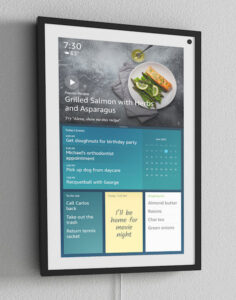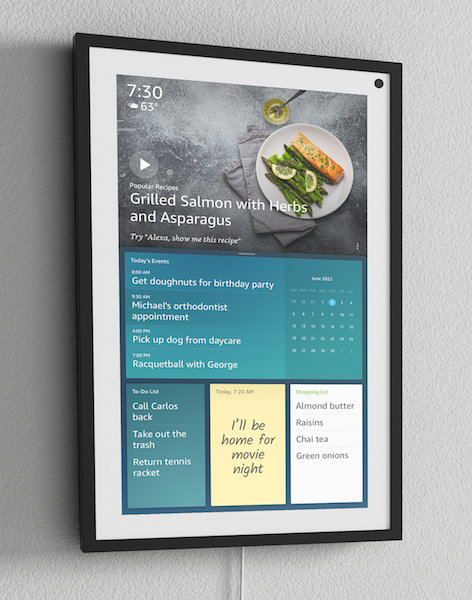 This viewing option flexibility, along with use of an all-new, Amazon-designed, AZ2 Neural Edge processor architecture gives the Echo Show 15 a redesigned home screen and new personalization options with visual ID. The larger screen also makes it possible to display widgets or sticky notes as you would on a phone or tablet, although this capability will be part of a broader new Echo Show UI. This will help keep users stay organized while displaying other content at the same time.
Echo Show Supports Sling TV
On the Amazon content side, along with movies and TV shows from Prime Video, Netflix and Hulu, as well as watching TikTok videos, one entertainment addition will be the ability for all Echo Show devices to soon support Sling TV. I see that as something that might not get broad reporting, but I think that capability will greatly enhance the appeal of these devices.
I suspect that I am not alone in bemoaning the disappearance of the old 13-inch and 15-inch TV sizes from back in the CRT days. Indeed, the only analog set left in my house is a very old 13-inch Philips model set inside a large mirror in the bath. With the Echo Show 10 or Echo Show 15 and Sling TV you will be able to fill that void and watch all Sling OTT content, including the cable news and sports broadcasts that that are high priority in "secondary room" situations. Even better, with the use of Sling's AirTV 2 or AirTV Anywhere products you will be able to complete the range of content by integrating over-the-air stations at no extra monthly cost, and even DVR them. THAT capability may well be the hidden gem here.
Connectivity capabilities currently include dual-band Wi-Fi 5 and Bluetooth with A2DP for streaming content to the Echo Show for streaming audio content from mobile devices. Of course, the screen works with Alexa compatible cameras and doorbell cams and can issue commands to the wide range of "Works with Alexa" products. Look for the Echo Show 15 later this year at a price of $249.99.
Custom Sound Event Alerts
On the app and capability side, newly added will be the use of AI for Custom Sound Event Detection. Your Echo products will recognize discrete sounds such as a whistling kettle or pressure cooker so that you know to get back to the kitchen, the sound of a garage door opening or a conventional doorbell to alert you to check who is there. This type of Custom Event Alert will also be part of Ring cameras, allowing you to know if there is a car parked too close in the driveway or if the garage door is open.
Also new will be Alexa Together, a new subscription service designed to meet the needs of aging family members and their remote relatives and caregivers. Building on Amazon's Care Hub Alexa Together will include 24/7 hands-free access to an Urgent Response professional helpline and compatibility with third-party fall detection devices. A host of other standard and optional services when it launches later this year at the base price of $19.99 per month.
Where all these capabilities come into play is in two new products. One was previewed, and to some extent made fun of, last year was what some called "the indoor drone," but it as progressed to the point where it looks like a real product and has an official name, the "Always Home Cam." Yes, it really does act like there is a drone inside your house. It can patrol the rooms, show you what is going on, and when the AI detects a sound such as a doorbell it will fly over to see what's going on.
Laugh as you may, Amazon seems very serious about this product concept. There is no price or hard delivery dates, but the Amazon presentation urged those you are interested to "sign up quick" for the invite list.
Amazon Astro
Finally, one more product, also developed by Amazon's "Lab 126" research skunk works, is Amazon Astro. Astro is a three-wheeled robot that will not only patrol the home and report on specific areas and show room views with alerts if it detects an unauthorized person or event. You will be able to summon Astro to a specific room location, or conversely have it look for someone in the home you are taking care of. There is even a detachable cup holder to deliver drinks, pet treats or other items.
Of course, there is two-way talk and app control and viewing.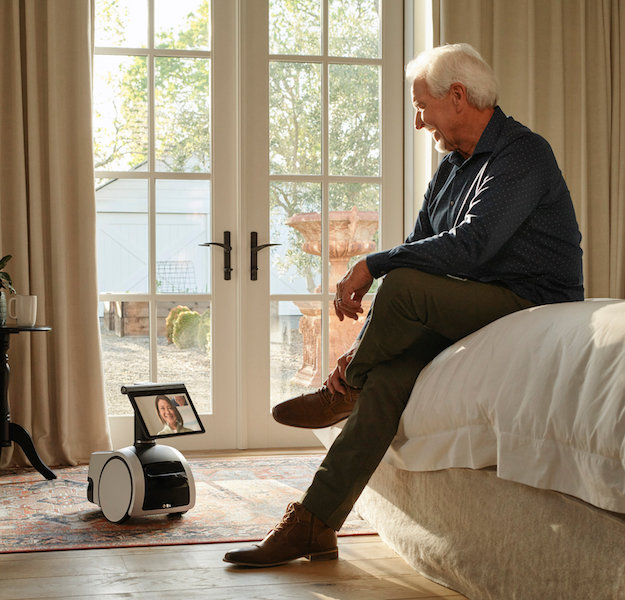 With the various Amazon service options such as Amazon Together, Alexa Guard, and Ring Protect Pro, the use cases may be tailored to the user's specific needs. Along with all the sensors used to help Astro navigate there is a 5MP camera in the bezel of the 10.1-inch touchscreen, 1280×800 display, and a 1080p camera with 132-degree field-of-view that is mounted on a retractable periscope that can be raised up to kitchen counter height so that you can do things such as check to see of the range is on or a pot is boiling over.
Combine all of this new hardware, connectivity, on-device processing, speakers, and video screens, and the possible uses are limitless. Imagine an Astro following you around the home while keeping you connected to a video call. Think of the security possibilities. Note, however, that the onboard AI will recognize your dog or cat and try to navigate around or away from it.
There is much more to Astro than space here allows, so we'll have to wait until we see one on person for a more complete report. Unlike the Always Home Cam, Astro is a true, real product. As part of the "Day 1 Editions" program it will be available on an invitation basis at an introductory price of $999.99, in limited quantities later this year. The price will increase to $1,499.99. when there is general availability.
It is very safe to say that the Alexa-based products and their ecosystem has certainly advanced in the past seven years, well beyond what any of us would have imagined when we received that first product. Looking at this long of new products, who can imagine what the next seven years will bring.