Although some of the rumors in the blogosphere seemed to indicate that there would be some new hardware announcements at Tuesday's Apple Worldwide Developer's Conference (WWDC), one should know better. Apple typically has three to five hardware-centric events a year, such as last month's "Spring Forward" reveal where new iPads and the long awaited AirTags were unveiled. However, the big news for ResTech then was the new Apple TV 4K, as we detailed in this space.
As long-time readers will remember, WWDC is where the Apple new software versions are announced. Put another way, the other events are focused on buildings and houses while WWDC is all about the bricks and other materials that are the underpinnings of the buildings. You can't build a house unless you know what the things you build it with can do. There were many new features and capabilities put forward for iOS, iPad OS, Watch OS and MacOS, and we'll leave the details of many of those that cover the hardware they power.
However, there were more than a few interesting announcements that directly impact the residential technology world, and that is where the focus and deep dive is here.
Some of the pundits were predicting that there would be a stand-alone "Home OS", but that did not appear. Instead, there was a segment of the presentation dealing with the HomeKit and how it fits in with the various Apple OS derivatives and the devices they run on. While none of the advancements were earthshattering, the were a combination of evolutionary changes and some things that, to be honest, could be considered as catching up to the competition.
Siri Commands to Third-Party Devices
Perhaps the best example of the latter was the announcement that were will soon be third-party devices that will respond to Siri commands and queries. "Siri, play Bosch on my TV." "Siri, what's the outside temperature?" Among the first of these devices will be ecobee smart HVAC controllers.
This will be terrific news for Apple fans, but I've been able to do that with Alexa and my ecobee 4 for two years. Indeed, there is a wide array of devices that do this in the competing search/command system platforms for a while. Also, keep in mind that in order for this to work you will need a HomePod or HomePod mini to relay the commands.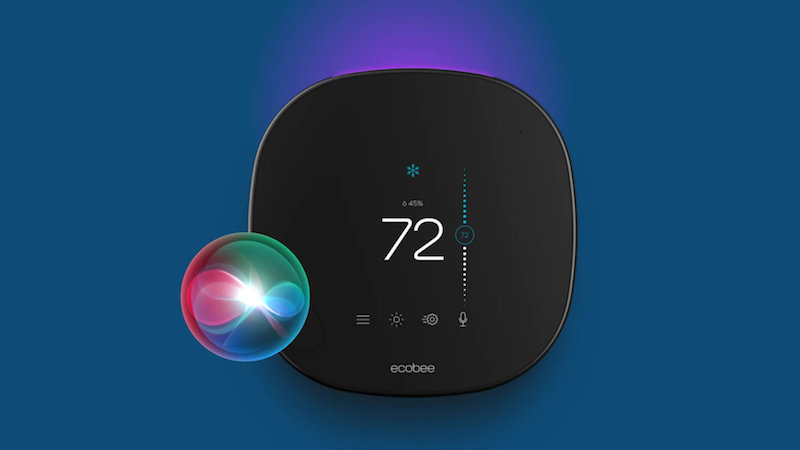 However, going forward we might see a wider range of command and controllable devices. Apple made a point of mentioning their membership in the Connectivity Standard Association's "Match." With the likes of Amazon, Google, Comcast, Tuya, Legrand, Ikea, Lutron, and a host of key semiconductor manufacturers also part of that alliance, this will an interesting item to watch. Is it possible that with Apple on board that the IoT market for residential devices will finally find their version of Esperanto so that all devices speak a common language? This hasn't happened yet, particularly in the world of consumer electronics standards battles, but one can hope. Look for the start of this in iOS 15 and TV OS 15.
HomePod mini for Apple TV 4K
Another advancement will be the ability of a pair of HomePod mini devices to act as loudspeakers for the Apple TV 4K. The sound, particularly with advanced processing, should be great, but keep in mind the cost of the pair of minis is just shy of $200. For comparison, Samsung, LG, Sony, Vizio offer soundbars at or below that price, some that are 2.1, or in the case of the TCL Alto 8I have Dolby Atmos technology. That said, this new Apple system feature gives us all even more choices for home theater audio, which will also include lossless audio and, for Apple TV, spatial audio.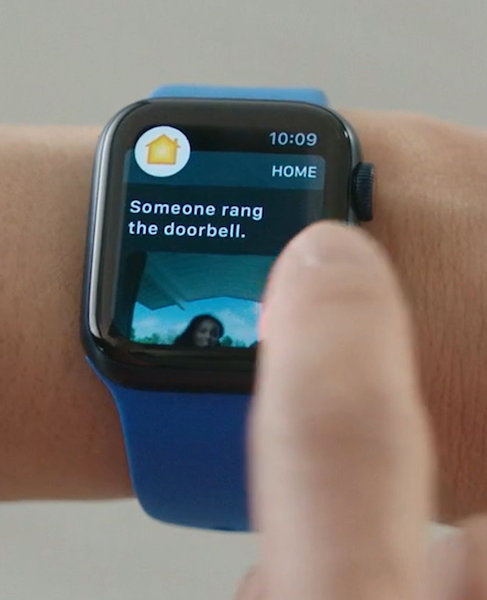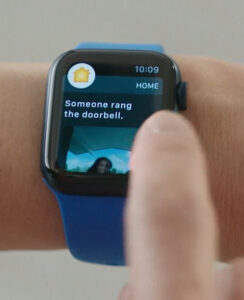 Perhaps more unique will be ability of the key feature of Apple Wallet on an iPhone or Apple Watch will enable the user to not only open compatible car doors, but compatible home entry locks, as well. In a related part of the home control world, the new OS releases will have some key improvements for HomeKit compatible cameras. You will not only be able to see a camera on your TV via an Apple TV 4K, but you will be able to see four at one time. There will also be a "package detection" feature, so that you will know when something is delivered and thus remember to bring it in before the porch pirates steal it.
If nothing else, the Apple ecosystem is properly regarded at encompassing all Apple devices. Here, the extension is to include Watch OS with its own Home app. This will enable the user to answer a HomeKit compatible doorbell and view any connected cameras without having to look at your iPhone.
SharePlay Videoconferencing from Apple
Two things that have grown logarithmically during the pandemic "stay at home" recommendations are group streaming and video conferencing. Soon, Apple will have some strong contenders in those categories. iOS 15 will introduce SharePlay, which will make possible group listening or watching across all participants of a FaceTime call. Simultaneous messaging, participant camera views, and even pop ups for apps can be seen as a picture-in-picture window.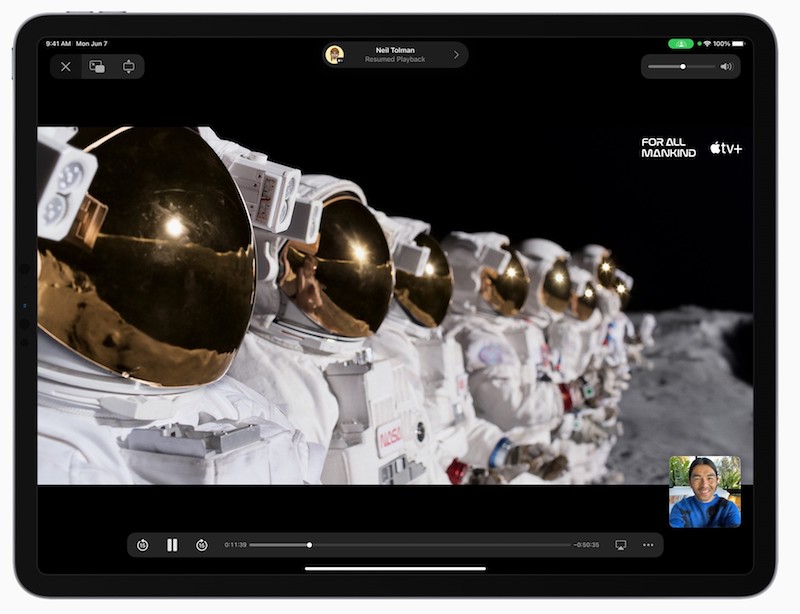 Since WWDC is, after all, a conference for app developers, there will be a ScreenPlay API so that the feature can be built into third-party apps. Already working on making this available are Disney+, hulu, HBOmax, twitch, Paramount+, ESPN+, TikTok, pluto, and other streaming service partners. Even better, with an Apple TV you will be able to mirror the streaming content to your big screen while continuing the video chat and messaging on your iPhone or iPad. Very cool.
While clearly not often entertainment, video calls have been a lifeline both for personal and family communication as well as for business and education. While Zoom has become almost a generic term for video calls, Microsoft Teams, WebEx, Google, and others have also become everyday apps for virtually everyone with a phone, tablet, or PC. With announcements made at WWDC, Apple is clearly looking to expand FaceTime's share of that market space.
Until now, Facetime has been an Apple-only app, limiting its use for those in the Android and Windows ecosystems. That, however, will soon change. Well, at least to some extent. While there will be no Android or Windows app, FaceTime users will be able to send a link to non-iOS users to connect via a web link so that they may participate, as well. Yes, just as one does now for Zoom and the rest. A huge market expansion possibility for FaceTime.
Other enhancements will be portrait mode and a grid/tile view. Spatial audio will let a speaker's voice help listeners correlate their sound to their location in the image grid view. Also, on the audio side, there will also be "voice isolation," which uses machine learning to prioritize the participant's voice and blocks ambient noise down.
As always, there was much more that was announced given that the virtual event lasted an hour and forty-five minutes. There will be many more new things to experience across all of the app and application areas that the Apple platforms deliver, and you will see them in public beta versions of the various OS platforms in July, with full public releases in the fall.
As we may now complete the puzzle of Apple hardware products and the software that will run on them it is clearer than ever that Apple's market strength across a wide swath of the market is something where they will continue to set the benchmarks