Summer is upon us, and with it many of us are already experiencing hot weather and sky-high electricity bills from running an air conditioner to keep our homes comfortably cool. Smart ceiling fans are one way to reduce your energy usage (and your power bill) without negatively impacting your comfort.
Setting back your air conditioning thermostat to 82 degrees Fahrenheit and triggering smart ceiling fans to turn on in occupied rooms when the temperature reaches 78 degrees Fahrenheit can save upwards of 12% on the cost of cooling your home while maintaining a comfortable environment. There are a number of solutions for making your existing ceiling fans into smart ceiling fans so you won't have to buy new fans.
First, a Little AC Data
According to research done in 2019 by Sense (the manufacturer of the Sense Energy Monitor), a 2,500 square-foot home in Arizona would cost $477 per month to keep cool. Other states where residents have to pay a high cost for cooling their home are New Jersey, Texas, Florida, Georgia, Connecticut, and New York. Homes larger than 2,500 square-feet will cost even more to keep cool. With this in mind, anything that can be done to lower the cost of cooling a home can save a homeowner a significant amount of money.
Start with the Best Set Point
The U.S. Department of Energy recommends that to balance energy savings and comfort a thermostat should be set to 78 degrees Fahrenheit for air conditioning. And, again according to the U.S. Department of Energy, each degree the set point on a thermostat is raised can result in a 3% increase in energy savings.
So, what if there was a way to raise the set point on your thermostat by up to four degrees, saving you up to 12% more on the cost of cooling your home, without impacting your comfort? The good news is that smart ceiling fans can make this possible.
Augmenting Air Conditioning with Ceiling Fans
Everyone knows that on a windy day you feel much colder than on a day where the air is still. Your body is cooled by the conduction of heat-to-air molecules. The more air movement there is, the more air molecules come into contact with your skin. Your body transfers heat to each air molecule it comes in contact with so the more air movement there is the cooler you will feel.
One of the best ways to create air movement in a home is with ceiling fans. Ceiling fans are much cheaper to operate than an air conditioning system. In fact, according to the website Ceilingfan.com:
A central AC unit would cost about $129.60 per month
Each ceiling fan would cost about $1.20 per month
According to the U.S. Department of Energy, "If you use air conditioning to cool your home, a ceiling fan will allow you to raise the thermostat setting about 4°F with no reduction in comfort." And, because a ceiling fan uses so much less energy than an air conditioner, using a fan this way will minimally impact the 12% savings outlined above.
So, to optimize energy savings:
The air conditioner set point could be adjusted to 82 degrees Fahrenheit
A smart ceiling fan could be triggered to turn on when the temperature reaches 78 degrees Fahrenheit
Occupancy sensors could be used to only operate ceiling fans in rooms that are occupied
The logic to turn on/off ceiling fans as described above would be simple to implement on different smart home processors and hubs. So, instead I'll focus on ways of integrating control of ceiling fans into a smart home.
Controlling Ceiling Fans in a Smart Home
Today, Big Ass Fans, Modern Forms Fans, Minke Aire Fans, Hunter, and others offer "smart" ceiling fans. Hunter smart fans, for example, are compatible with Alexa, Google Assistant, and Apple HomeKit. Replacing a ceiling fan with a "smart" model, however, can be both challenging and expensive. Fortunately, there are ways to make your existing ceiling fan smart.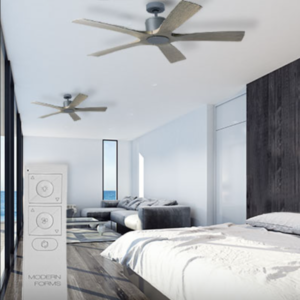 First, you may be able to replace your wall-mounted fan controller with a Z-Wave fan controller that can be integrated with a SmartThings, Hubitat, or other smart home hub. Leviton and Jasco manufacture Z-Wave fan controllers that can simply replace your existing in-wall, wired, fan control.
Second, if your ceiling fan can be controlled wirelessly, then a Bond Bridge can be used to integrate control with a wide range of smart home platforms. The Bond Bridge is compatible with Alexa, Google Assistant, SmartThings, and Control4. In addition, I've written a Crestron-Bond Bridge driver that can be downloaded from my GitHub.
With these options and others that are available, it should be reasonably easy for a smart home owner to integrate their ceiling fans with their smart home processor/hub, add programming rules to use their ceiling fans as a first-stage cooling system in their home, and set back their thermostat to save money on their air conditioning.
Additional Steps to Save Even More Money on your Electricity Bill
If you live in an average-sized home, then set back the thermostat when the home is unoccupied. The exception to this rule is when the home is very large. In very large homes, it will take more energy to restore the home to a comfortable temperature than is saved by setting back the thermostat.
Night time set back. You can comfortably set back the temperature in your home by a few more degrees at night when you are sleeping.
Deploy shades and drapes. As much as 20% of summer heat enters a home as sunlight shining through windows. Covering windows with insulated drapes and shades can minimize this heat gain. However, leaving your home eternally in darkness doesn't make sense either. Using motorized shades/drapes that can be programmed to close when the sun is directly shining through a window, and open when it isn't, can optimize energy savings. Not only will this minimize the impact of solar gain from the sun on the electricity required to run your air conditioning but opening the shades/drapes when the sun isn't shining directly through a window provides light in the home.  This minimizes the need for turning on electrical lights during the day; a technique called daylight harvesting.

For Crestron programmers, I have written code that tracks the angle and elevation of the sun and fully automates the operation of motorized shades/drapes. The code can be downloaded from my GitHub.
I've also written articles on solutions for motorizing existing window coverings as replacing your existing window coverings with smart, motorized versions can be very expensive. Those articles can be found here and here.
I hope these tricks and techniques will help you stay cool this summer without running up your power bill.