In Vizio's 2022 lineup, all TV model ranges except for the top-of-the-line "P-Series," are being updated with a variety of performance and value-oriented features.
Vizio, the consumer electronics brand that was once considered a start-up, can now safely be said to be an "upstart," constantly challenging both the legacy brands LG, Samsung, and Sony, as well as other former "tier two" companies, like TCL and Hisense that have graduated to the top of the sales and feature ranks to rank among the industry's top selling TV lines. Along the way, Vizio also has become a significant player in the sound bar market, with models from basic to advanced, object-based systems.
In Vizio's 2022 lineup, all TV model ranges except for the top-of-the-line "P-Series," are being updated with a variety of performance and value-oriented features. Across all the lines, every model has a voice remote that integrates with Apple HomeKit, Amazon Alexa, and Google Assistant that allows it to control smart home functions as well as voice search for content. Of course, there is the Vizio Smartcast streaming system for dongle-free access to a wide variety of services, as well as both Apple AirPlay 2.0 and Chromecast for additional app connectivity from phones and tablets. Two other brand-wide new features are Bluetooth connectivity with BLE that will enable the use of wireless earbuds and headphones for private listening. Gamers will appreciate the addition of AMD FreeSync for enhanced play.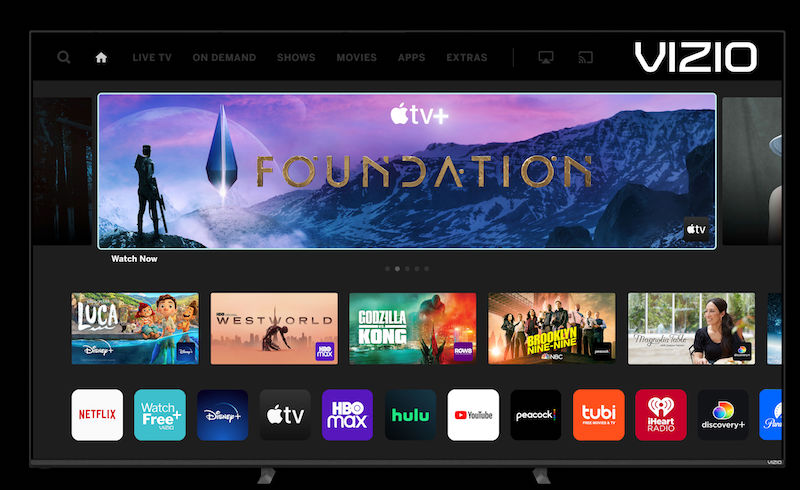 The idea of a high value proposition starts with Vizio's D-Series line for 2022. With sizes ranging from 24 inches at $159.99 to 43 inches at $249.99, these are the perfect TVs for an office, kitchen, or bedroom.
Vizio's D-Series models are all Full HD (FHD), or 1920×1080 with full array backlighting, a significant departure from other competitive models in the 24- and 32-inch sizes, which are often only 1280×720. On the audio side there is DTS Virtual:X and Dolby Atmos pass-through, along with the standard Dolby Digital and DTSD-HD modes. Of course, all the Vizio standard features for 2022/2023 shown above are also there.
Stepping up one level, the V-Series is the start of Vizio's 4K line, also with Dolby Vision, HDR10, HDR10+ and HLG added to the standard feature package. Equally as important for 4K content, the connectivity includes three HDMI 2.1 ports, eARC, and Tri-Band WiFi6E (802.11ax). Bluetooth also takes a step up with Bluetooth 5.2 with BLE as an upgrade from the "5.0" version in the D-Series. Along with FreeSync, gamers will be able to benefit from newly added Dolby Vision Auto-Gaming and an Auto-Game mode that activates game-centric video features when the input is detected as a game console or PC.
The seven V-Series models range in size from 43 inches at an MSRP of $289 through 50, 55, 58, 65, and 70 inches, with even a 75-inch model at $799.T
The fun really begins in the six models of M-Series Quantum series. The important main adders here to the V-Series is Quantum Color QLED video panel technology for greater image color quality delivering more vibrant colors and deeper blacks.
Screen sizes range for 43 inches at $349.99 up to 75 inches at $949.99. These sets should be available this month.
At the top of Vizio's latest model lines is the M-Series Quantum X line. With these TVs, the core features of the other lines are present, but the game is upped, literally. On the video side, these models with Quantum Color and a more advanced IQ Ultra+ processor have 32 Active Full Array Dimming zones and claim to deliver 80 percent of the Rec. 2020 color space with 1,000 nits of peak brightness and 500 nits, full screen. There is also an additional HDMI 2.1 input, bring the total to four.
For gamers, the starting point is also raised, with a native refresh rate of 120Hz for 4K content and a blazingly fast 240Hz for 1080 (FHD) content. Input lag is also improved to less than 8ms at 120Hz (middle of screen measurement). Game play is upgraded with the top-level AMD FreeSync Premium VRR system.
Pricing for the M-Series Quantum X (MQX) models is $629.99 for the 50-inch model, $849.99 for the 65-inch model, and $1,199.99 for the 75-inch model.
Since the theme here today is "start," it is important to note that video is not the only aspect of home theater where Vizio has "started something." Vizio was there at the start of the sound bar revolution and has become the sales leader in that category. Their two new models for this year make it clear that they intent to continue their leadership in soundbars.
Making it easy for viewers to improve the sound of any type of program content, the new M-Series All-In-One is a 36-inch-wide 2.1 sound bar with six drivers including dual three-inch low-frequency drivers that deliver frequency response from 50Hz – 20kHz. Connection and setup are easy thanks to a choice of HDMI, optical, USB, analog (3.5mm jack), or Bluetooth, but a connection to the HDMI eARC port allows you to unlock the 360-degree soundfield power of Dolby Atmos or DTS:X, albeit in a 2.1 configuration, without any additional speakers.
A remote is included, as is an HDMI cable and a wall mount kit. At an MSRP of $199.99, this new model truly brings meaning to its "All-In-One" designation.
At the other end of the cost and capability spectrum, the new M-Series Elevate is a full 5.1.2 system that includes the main, 42-inch wide soundbar (with a total of 13 drivers), a pair of rear satellite speakers, and a six-inch wireless subwoofer. A remote, audio cables, and a wall mount kit are also included.
As a 5.1.2 system, the new Elevate model is unique in the way it delivers the full Dolby Atmos and DTS:X experience. When either of the immersive, object-based, codecs are detected from the HDMI eARC connection the patented Adaptive Height Speakers at each end of the soundbar subtly illuminate and automatically rotate upward for the full immersive experience as opposed to the forward facing orientation for more traditional music listening with a wider front soundstage for stereo and standard listening. This is a great addition to a soundbar concept as it eliminates the need for additional ceiling or separate upward firing speakers.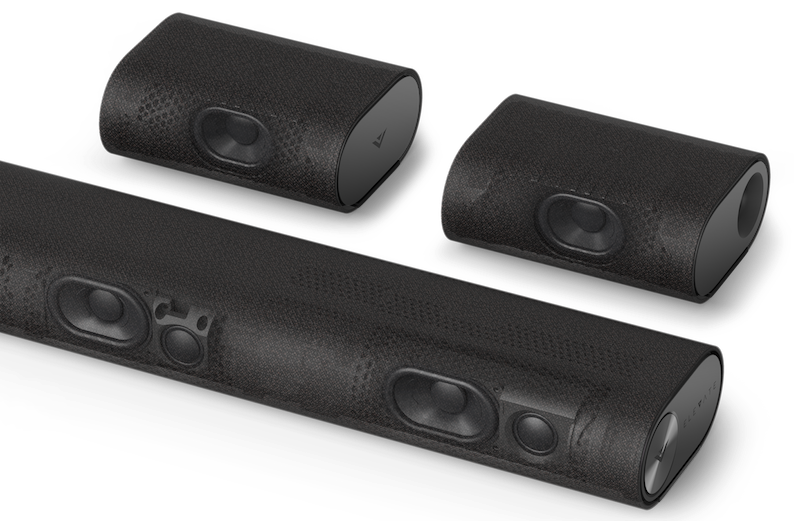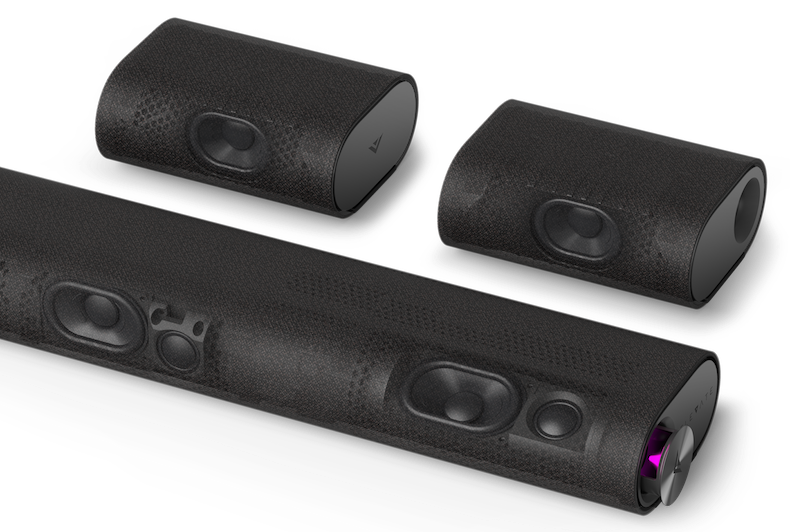 The frequency response delivers audio down to 45Hz and a maximum power output to deliver 103dB SPL is listed. Connectivity options are identical to the All-In-One including passthrough for 4K HDR and Dolby Vision.
With a low-profile design, premium grade, charcoal fabric and spun aluminum colored discs at the ends of the main bar unit this is a product that merits being looked at, as well as listened to. Pricing is set at an MSRP of $799.99.
There are a few things that Vizio has not tackled, including miniLED, 8K, and ATSC 3.0/NextGen TV capability. However, given where Vizio was when it started and then looking where it has gone to date and where these new models are taking them, they continue to be a brand worth paying attention to.
Related: Vizio Gives the Market What It Wants with New TVs and Soundbars