Start a conversation about AR, or augmented reality, and most people's brains will likely head in the direction of Pokémon Go or other games that cross the line between the real world and the digital. Hang with an even hipper crowd, and you might hear talk of Childish Gambino's new mind-bending interactive musical experience, Pharo AR.
One company, though – Acoustic Masterminds Inc., the brainchild of founder and CEO Caleb Madsen – is using AR for something a lot more functional, way more educational, and infinitely more useful. But to me, it's no less fun.
Rather than letting you chase Pokémon around your neighborhood, the company's AcoustiTools app puts professional-caliber sound analysis and diagnostic tools right in the palm of your hands, in a way that lets you see, and indeed interact with, the sound in the environment that you are analyzing and tweaking.
By default, the app comes with three essential tools: a full-featured decibel meter with both peak and average values; a Real-Time Analyzer that lets you see the frequency curve of audio playing in the room around you (or even outside); and an AR spatial module, which is where things get a little sci-fi, to be honest.
Much the way that Pokémon Go has you waving your phone around looking for Pikachu and friends, the AR spatial module has you looking through your iOS phone's camera to track down discrepancies in delay, or variations in volume, in a virtualized representation of your actual environment. Looking at the onscreen representation of your listening space, indoors or out, you simply tag the speakers individually, and the location of each is locked down in three-dimensional space. Based on the location of the tags in the 3D space, you can see in real time what the delays are between each speaker and your ears (well, actually your smartphone), with readings delivered in terms of both distance and time, as well as RMS and peak sound pressure levels.
This is particularly handy if you are running a sound system without built-in speaker calibration, which makes sense given that AcoustiTools was primarily designed for live music venues. Founder and CEO Madsen says that one of his main goals for the app was to allow traveling bands, who of course don't own the venues in which they play, to quickly and easily tune unfamiliar sound systems for optimal performance.
That, of course, doesn't mean that it can't be used at home, in both stereo and surround sound systems. I just so happened to get my hands on AcoustiTools at pretty much exactly the same time that I began digging into a review of a high-end AV preamp whose room correction software wasn't fully baked just yet. Using the app from my main seat, I was able to look around the room through the camera in my phone, tag each of the speakers in my sound system, and get a quick and accurate reading of the delay and level settings necessary to bring the complete system into balance. Frankly, it was a heck of a lot quicker than the more typical method of whipping out a Radio Shack SPL meter and a tape measure. And with my subwoofers, its results were a lot more accurate.
By far the most useful tool in the AcousiTools toolbox, though, is the add-on diagnostic parametric equalizer (PEQ), which is a separate purchase from within the app. Parametric EQ can be an incredible tool, allowing you to tame the acoustics of a space with surgical precision. But it also can be a daunting tool, especially in figuring out how to adjust settings like Q, which is inversely proportional to bandwidth.
With AcoustiTools' Diagnostic PEQ, there's nothing to understand, nothing to guess at, and, indeed, nothing to worry about. Simply blast pink noise through your sound system, tell the app how many bands of PEQ you have available via your sound system, and you get a completely intuitive graph of center frequencies that need to be either boosted or attenuated, by how much (down to the hundredth of a decibel), with Q values for each band. There's even a handy pause function that lets you lock in those values, in case you need to walk back to your sound board or preamp to adjust its parametric EQ.
Again, the intended application here is for live sound first and foremost, but I was able to use the Diagnostic PEQ to tame the performance of that aforementioned preamp in my home theater system with such precision that I'm honestly not concerned with its lack of room correction. In about five minutes, start to finish, I had my media room's speakers and subwoofers balanced, properly delayed, and perfectly tuned to my room.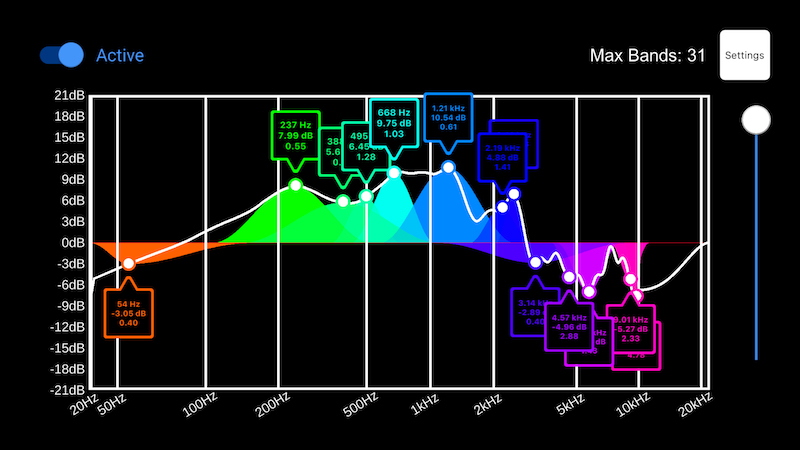 What's more, my wife – who was looking over my shoulder the entire time – commented that for the first time she thought she understood what I was doing when I was "moving microphones around and blaring static" in the media room. There's undeniably an educational aspect to seeing room acoustics through the magic of AR.
For Acoustic Masterminds Inc., however, all of this is just the beginning. "We have several different expansions in mind for AcoustiTools," Madsen noted, "and there's another, separate app in the works that's designed to provide advanced analysis for creating 3D models for room treatments."
That app, he says, will allow you to scan a room – or studio, or live venue, or even a café or restaurant – in three dimensions, upload the results to the cloud for processing, and then see an overlay of exactly where acoustical treatments are needed for the space.
"We can actually show the before-and-after, as well as the look of the treatments, and have a new way of illustrating it instead of having to take out a tape measurement and work up drawings, and then still have to describe it to a customer who's unsure of what everything will look like when it's done," Madsen explained.
What comes after that? If Madsen knows, he's not telling. All he will say for now is that his company's ultimate goal is to "revolutionize acoustic analysis and make it a faster process." If this first effort is any indication, I daresay they're already well down that path.