For those not familiar with the world of global electronics trade shows, the Internationale Funkausstellung Berlin, or IFA, is among the world's oldest and largest. Held in Berlin every year in late August or early September, it features over 1,800 exhibitors, attracts close to 250,000 attendees (though when comparing IFA to CES it should be noted that there are days when the general public is admitted; CES is only open to the trade), and there is almost 50 acres of exhibit space covering more buildings than many community colleges! I've been there, and it is unlike any other trade show; you have to take busses to go from one exhibit hall to another.
Given the global stage provided by IFA, Amazon took advantage of the attention to introduce a number of new products yesterday. As you might expect, some are European-centric, but others will be sold world-wide. Putting new legs on all aspects of a three legged "streaming stool," Amazon announced a new version of the Fire TV Cube, new Fire TV-equipped TVs, and on the heels of the announcement of Roku's new Smart Soundbar, the first "Fire TV Edition" soundbar.
In reverse order, the Soundbar, developed in conjunction with Anker and to be marketed as the "Anker Nebula Soundbar" puts Fire TV in that market segment to join the Android-equipped JBL Link Bar and Roku's Smart Soundbar. That leaves only Apple not offering a soundbar for its streaming services. While one never knows, let's put the chance of that happening at "slim to none."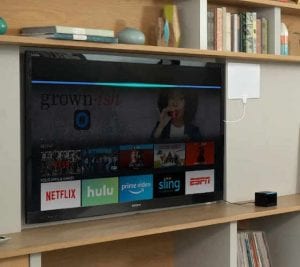 Of course, the main attraction is the built-in Alexa and Fire TV, with the Nebula able to accept and issue commands to Alexa ecosystem products and stream content not only music and movies from Amazon Prime services, but for the many other apps in the Fire TV repertoire. The specs show 4K streaming up to 60fps and Dolby Vision, HDR, and HDR-10+ capability. There are mics in the remote, but there is no mention of any microphone array in the soundbar, itself.
Connectivity is HDMI ARC or optical to/from the host TV, but curiously the specs on the Amazon show HDCP 1.4 (that is likely a misprint due to the need for HDCP 2.2/HDMI 2.0 for most 4K content.) We will check that and amend this article when there is an update or correction. Wi-Fi is 802.b/a/g/n/ac, with Bluetooth 4.2 and A2DP for use as a streaming speaker. There is also a 3.5mm audio input.
One the audio side, this takes a different approach from both the JBL and Roku soundbars. It is also a two-channel design, but it is billed as "2.1." Rather than offering an optional, external subwoofer, the 36.2-inch-wide unit has 1.5-inch full-range drivers on each side, which are fed by a 20W amp and pair of 3-inch woofers, which are driven by a 30W amp. This is also a dual-ported design, and the stated frequency response is 60Hz to 20KHz.
The user interface includes a variety of EQ modes and adjustments. As I'm not in Berlin this week I can't vouch for the sound. That will be an interesting test.
The Nebula Soundbar is available now for preorder at $229.99. Delivery is currently quoted for November 1.
On the Fire TV Edition Front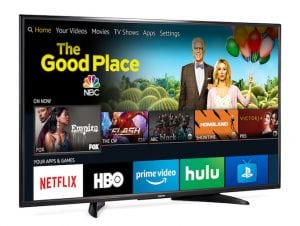 Amazon announced a number of new brands and products at IFA, but sadly the most interesting one will not be available in North America. Along with Fire TV Edition sets with sizes ranging from 32 inches up to 65 inches, Germany's Grundig announced OLED sets with FireTV in 55-inch and 65-inch sizes. Grundig's success in North America has been spotty, so it is unlikely that we will see these two TVs over here. There was also a range of Fire TV Edition TVs from JVC, mostly for sale in the UK.
Second-Generation Fire TV Cube
All was not forgotten on the TV side from Amazon, however. Toshiba will begin shipping a 65-inch Fire TV Edition TV with 4K and HDR. It will be available next month at Best Buy for $599.
Rounding out Amazon's announcements at IFA was a new, second-generation Fire TV Cube. The new model has the same form factor and size as the original model, and it keeps the use of an infrared emitter so that the unit can command many IR programmable AV devices via Alexa voice control. Also carried over are many of the updates to the Fire TV system, such as multi-room music, Alexa communications, and Alexa voice browsing.
The new features that set the second-generation model apart are a considerably faster hexa-core processor, 16 GB of internal storage, and 2GB of system memory for faster response to commands. More importantly, particularly in an age of increased attention to device and voice control privacy, the new design adds "local voice control" for quicker command execution without going out to the cloud. Also new are improvements to the eight-mic array with beam forming technology for more precise analysis of voice commands, even when the Fire TV Cube is placed close to the TV.
On the video and content side, there is, of course, access to the broad array of Amazon movie and music content as well as the apps available on other Fire TV products. Users will also be able to access Facebook and Reddit using Silk and Firefox browsers. The streaming video can accommodate Dolby Atmos and be rendered up to 4K at 60fps, along with Dolby Vision, HLG, HDR, and HDR-10+ when available.
The second-generation Fire TV Cube is available for preorder now and delivery is set for October 1. Included are the Fire TV Cube, a voice remote, the IR Extender Cube, an Ethernet adapter, and, of course, the external AC power adapter and batteries for the remote.
Put together as a group, these new products flesh out the Fire TV line. The Fire TV Edition TVs and Nebula Soundbar put it at par with the Roku lineup in terms of functionality. The Fire TV Cube remains as a unique product as a combination streaming device, smart speaker, and IR device controller. Given these models and what one expects are new models to come later in the fall from Roku and maybe even Apple, consumers will have a great range of options this year for fitting their needs for OTT/streaming devices. It will definitely be interesting!