Apple was originally known as a "hardware company," but the company's software has gone galaxies beyond my old Bell & Howell "Black Apple II" that ran "Apple DOS. Suffice to say, various Apple OS versions have progressed not only as a necessity to run the computer, phone, tablet, watch, or TV streaming box, but they have also become the underlying inner engine that makes it possible for the hardware to run apps and play out content from services.
From that vantage point, the best way to describe Apple as a company today is to take in the first few words of Tim Cook's keynote at the annual Apple Worldwide Developer's Conference (WWDC) this week. Right off the bat Cook offered the thought that there are three components to Apple: "Hardware, Services, and Software." To laser focus market attention on each part of that triad, Apple is using three events to unveil their latest initiatives. "Services" was the subject of an event in March, and "Hardware" is typically left to a September event. That leaves "Software."
The traditional jumping-off point for Apple software discussions is the WWDC, held each year in early June. Similar to what we heard last month at Google's I/O, this is where developers learn the ins and outs of the upcoming versions of the various operating systems (OS) and how to fit apps and the services that they deliver into a consumer-usable form. Yes, there is always some crossover for each event into the other two, and I'll speak to those shortly.
At WWDC, there were announcements about virtually every Apple product OS, and there was even a new OS derivative. These are, or will be, upgrades that you will want to install on any Apple device you own, install, or service.
Apple OS tvOS 13 Upgrade
First up was tvOS 13, which will be available this fall for the Apple TV 4K and the previous Apple TV HD model. At its heart, the new OS is aimed at easier access to content through a new home screen that will, for example, be able to play previews of discovered programs. As a benefit for those in a retail environment, there will be screen savers with native 4K HDR undersea videos shot by the BBC Natural History unit. They will be a great way to showcase 4K displays and will even be a superb source for the upscaling in new 8K sets.
Along with the home screen, a new control center will allow family members to get their personalized content and even view onscreen lyrics in perfect sync with music content. With the all-new Apple TV app, program recommendation and selection will be expanded to include not only 100,000 iTunes movies and TV shows, but the original content coming this fall when the Apple TV+ app launches
At their last event back in March, Apple announced the Apple Arcade, also due this fall. In a mix of software, hardware, and services, it was announced at WWDC that tvOS 13 will add support for Xbox One S and PlayStation Dual Shock 4 game controllers. For those who use the Apple TV for games, this will a good reason to buy one of those controllers even for those who don't have a PlayStation 4 or Xbox One S.
Apple watchOS 6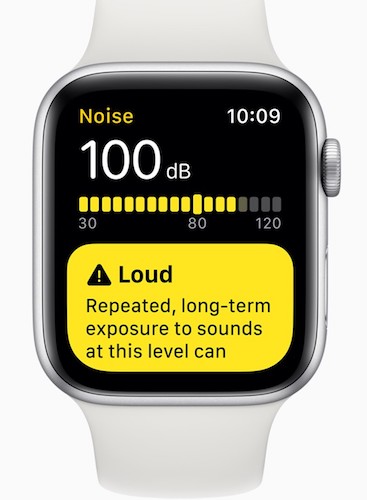 Next up in the WWDC keynote were details on the new watchOS 6. Remember, this was all about the software that runs the Watch and enables its apps; any new Apple Watch product will not appear sooner than the September event. Starting off with Tim Cook's claim that Apple Watch is the #1 watch in the world, various presenters touted new features and improvements, including new watch faces, an App Store directly on the Watch paired with the ability to use apps "independently" without the app on a companion iPhone, audio streaming and audio book playback, a voice recorder, and more.
However, looking at the improvements to watchOS, the main points of interest follow through on continuing Apple initiatives: health and fitness and privacy and security. The latter was a theme through all the new OS announcements, capitalizing on something Apple has long made a point of. With watchOS 6, all sounds and audio are held within the watch only. Features in the new Health app are either on-device encrypted or backed up in iCloud with end-to-end encryption.
Along with a menstrual cycle tracker, a calculator app, new watch faces, "GymKit" for increased connectivity with fitness trackers, and full webpage results from Siri searches, there was one new expansion of the Health and Fitness theme that will appeal to home theater enthusiasts. The "Noise App" will function as an SPL monitor that will message and alert the user when sound levels are deemed to be too high. The is great for those who need to be conscious of high ambient noise. For those in the home theater or high-end audio world, however, when this app launches it may be wise to match the settings to the typical SPL in the room. That way, unintended alerts may be avoided.
iOS 13 for the iPhone
These days, the mainstay of Apple is the iPhone, both as a hardware product and as a conduit for services. Again. New phone details will have to wait until the fall, but at WWDC we learned about the forthcoming iOS 13 that will power them.
As is the case for Android, camera performance is a hot button, and iOS 13 will push that boundary to a new high level with improvements to image processing and correction, storage organization, selection, and playback. Messages with customized Memoji or Animojis, new looks for Reminders, Notes, and File organization will also be key.
To those in the home systems world, there will be some interesting new features, many of which will incorporate advanced privacy and security. iOS 13, in conjunction with Apple Music and HomePod, will have a "Hand Off" feature to seamlessly pass content from the iPhone to a HomePod. HomePod will also be able to recognize whose voice is speaking and use that to deliver personal requests and messages, as well as pull up the specific user's account.
Elsewhere on the "home" front, "HomeKit Secure Video" will enable end-to-end encryption for video from compatible security cameras with a 10-day record to iCloud up to 200Gb from one camera for free with five cameras and a 2Tb recording bucket at extra charge. This will also be available across all Apple platforms and the web. HomeKit also will be embedded in routers, starting with Linksys, Eero and those provided by Spectrum.
Another interesting security and privacy feature that extends across all uses and apps will be "Sign In with Apple." Differing from similar processes from Google and Facebook, it allows the user to log in to an app by facial recognition without sharing personal data and location information. Log in email is also protected with the option of the app creating a random email address that then forwards the request to the user's true address. Think of this as working the same way credit card numbers are transmitted with "Pay" apps.
As you might expect there were many other new features and advancements for iOS, such as a total rebuild of Apple Maps, improved voice control with Siri, and updates to CarPlay. In the interest of focusing on residential solutions, we'll leave those to the general press reports you have likely seen already.
In the past one would have expected the new iOS to be carried over into iPads. Going forward, however, iPads will have their own iPadOS, which will add to the iOS features with functionality appropriate to the iPad's larger screens. That will include a new home screen, improvements to Split View, Slide Over, a more desktop-like Safari browser, dramatically improved file management and selection, and improved text editing.
Regrettably, there is still no provision for connection to a mouse, but iPadOS will allow use of USB thumbs drives, external hard drives, SD memory cards, and direct transfer of image files from cameras. Oh, well. There's always next year!
macOS Catalina OS Update
That leaves Macs as the remaining Apple hardware line that needs an OS update. Their new OS is called, macOS Catalina. There will be many new features for Catalina that will be similar to the new advancements in tvOS, iOS, and iPadOS. For those with both a Mac and an iPad, Catalina's new "Sidecar" function will make it possible for the Mac user to use their iPad as a second screen. Cool!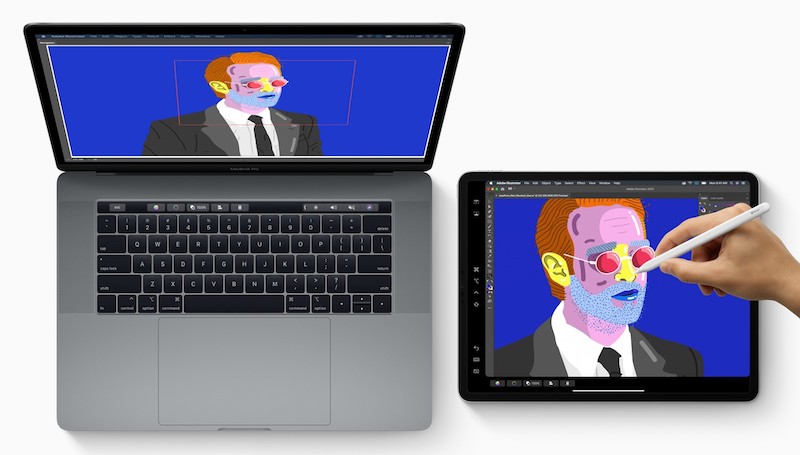 However, there is one feature change that probably generated more coverage than any other news revealed to WWDC. Perhaps the worst kept secret before the event is what many have called, "The Death of iTunes." For the home streaming and stored audio/video, content is central to the environment and that is our pressure point for Catalina.
At the top level, the current iTunes will be split into three related apps: Apple Music, Apple Podcast, and Apple TV. Syncing your iPhone or iPad, now done through iTunes, will be taken care of in a Finder window. For content playback, the easiest way to describe what will happen is that each of the three new apps will separately search and play out their respective content category in a manner similar to how they are used in iTunes. The tighter categorization makes sense as it eliminates today's iTunes bloat. You manage/buy/download music, podcasts, or TV and movies through their own app. When you think about it, that makes sense.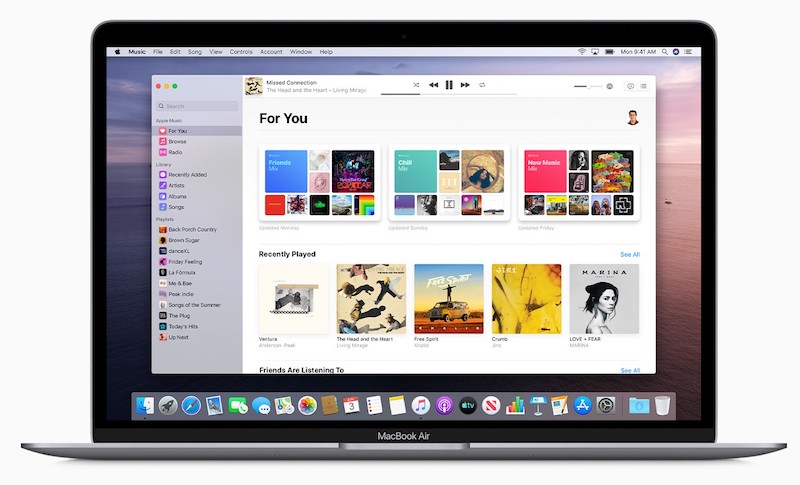 Of course, the obvious questions are "What will happen to my existing content stored via iTunes?" and "What about iTunes on other devices?" You and anyone you help with iTunes can rest easy. Once Catalina is installed, clicking on a file for existing content will simply open it in Apple Music. Another comfort factor is that virtually all existing content will simply be carried over, parsed into its appropriate app. With any luck that will all be simple and transparent, but we'll have to wait until we can all play with it to see what instruction needs to take place.
The answer to the second question is a bit different. In iOS, and presumably iPadOS, the Music, Podcast, and TV apps will take over content management, but the iTunes Store is said to be kept on as the portal to getting new music and video. We'll again have to wait until we try this first hand, but Apple TV will follow a similar pattern of using existing Music, Podcast, and TV apps. After all, unlike on a Mac, they are already there.
The remaining part of the question will be how this new app separation construct on Apple devices will impact those who use iTunes on a Windows device, either as a standalone or in conjunction with iOS products. For now, Apple says that the current Windows versions of iTunes will remain unchanged.
Before leaving Catalina, there is one other entertainment feature note of interest. First, along with the three new apps that replace iTunes, Catalina will support 4K HDR and Dolby Atmos playback. The "HTPC" or "Home Theater PC" has long been the province of Windows PCs, but one wonders if these features in Catalina will shift the wind in Mac's direction.
I said at the outset that WWDC was almost exclusively software oriented. As you've read, that was certainly true, but there was one big, and here I mean literally big, hardware announcement. The new MacPro is a computer with mammoth hardware capabilities. Depending on options and configuration it can have up to 28 processors, as much as 1.5 TB of system memory, and when outfitted with video card expansions, it can handle up to three 8K streams or 12 4K streams. Working with music? How about up to 1,000 music tracks at the same time?
To accompany this powerhouse, Apple previewed a 32-inch monitor with 6016×3383 "6K" video capability, 1,000,000:1 contrast ratio, 1,000 nit constant brightness, and 1,600 nit peak brightness. P3 color and 10-bit color are among the other things that round out the feature package. It will go HDR one step better with Apple's "Extreme Dynamic Range. Thus, the model is called "Pro Display XDR."
Together, these capabilities are likely to make these much sought-after products. Despite the quality, however, this is not something one would expect to see in the home; it is aimed more at the professional world for reasons due as much as anything to their pricing. These incredible products will come at rather incredible pricing, as well. The base model MacPro with an 8-core Xeon processor, 32GB memory, a 256GB SSD, and a single Radeon Pro 580X video card lists at $5,999, but one suspects that most users will add options that could easily raise that price three or four times, if not more. The Pro Display XDR was compared to a $43,000 professional mastering monitor at a more reasonable price. Perhaps, but the Pro Display XDR is $4,999 for the standard screen, and you need to add $999 for the stand or $199 for a VESA mount.
At the end of the day there are a few key question takeaways from WWDC. When you look at the added benefits that the new OS configurations will bring, are they worth the cost of a hardware upgrade when the current phone or tablet won't accept them (read: iPhones prior to the iPhone 7)? If you are a professional who maintains home control systems, will the new OS "break" the third-party software you have around the phones or tablets used as control points? Depending on the client or end user, will there be simply too much client education needed to justify the new features?
The good news is that you don't need to answer those questions immediately. All of these new OS versions will be in beta over the next few months, so if you are adventurous that gives you time to install them on your own gear and play around, err, test things out. That's not a bad idea, as the intense public focus on almost anything Apple does has broad consumer interest. Now that you have the basics, take the time to see how these jigsaw puzzle pieces fit together with what is already in place. With that, you'll be prepared when all of these updates launch in the fall, just in time for new Apple hardware.