In any normal year, at about this time the Apple faithful would be gathering in San Francisco, or more recently, the Apple Campus in Cupertino for the annual World Wide Developers' Conference, or WWDC. However, as we all know, this is definitely not a "normal year." With having legions of software developers travel from across the globe and sit together in the same room not advisable, Apple joined with most other trade shows and conferences to hold their event virtually. Thus, on June 22, we were all able to "attend" the annual event's keynote and a full range of sessions for free.
I have always covered this event virtually, taking advantage of the keynote's live stream. But, this year was still different. Even as a remote participant, I missed the crowd noise and applause that accompanies each revelation. With the presentations all presumably pre-recorded, the demos were perfect, removing the fun of occasionally seeing a live demo crash at the worst possible time.
This was very different: (presumably) drone-captured whip-arounds from one part of the campus to another, but no face-to-face interaction between the execs and the team leaders. As a TV critic, one has to say that this was a four-star presentation. No rotten tomatoes here!
As always when I report on WWDC, a few caveats are in order. First, keep in mind that the "D" in WWDC stands for developers. This is an audience of the people who create the software and applications that run on Apple hardware. If you were looking for information on new iPhones, iPads, Apple Watches, or a new Apple TV, this wasn't the place. There was, to be sure, some critical, though certainly not unexpected, news about a switch for the Mac processors, but nothing was even hinted about with regard to new models.
Beyond that, much of what was revealed is in the sphere of OS developments for the hardware products. In most cases that is something outside of our residential and video spheres of interest. Perhaps better to look elsewhere for that, as here you will see a condensed report on what does impact the home market for the trade and enthusiasts.
For all the talk of a new iOS, Big Sur, the new OS for Macs, and new tricks for a forthcoming Apple Watch OS, there was very little about TV OS or any hints of a new Apple TV product to run it. That said, there were some interesting audio/video/home integration items of interest.
HomeKit Pop Ups for iOS and TV OS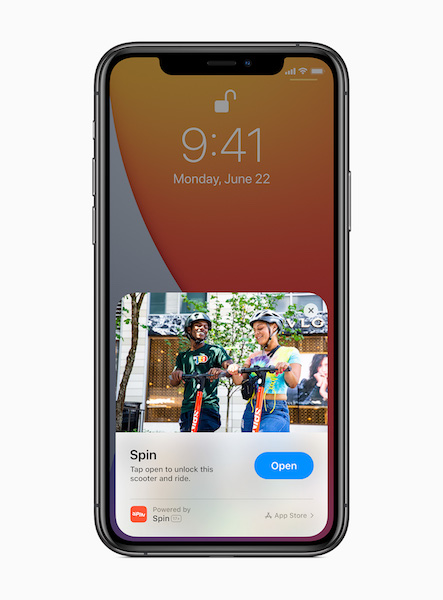 No, nothing about a new Home Pod, and certainly no product (yet) similar to Amazon Show or Google's Nest Hub. Perhaps no need for that! Instead, an interesting integration feature for both iOS and TV OS will be the ability to have on-screen pop ups while you are watching movies or content that will inset the image from a HomeKit-compatible camera at the door. Even better, facial recognition will recognize the person at the door if they are in your contacts and announce them. The key to this is that the data is held locally, so there is no external privacy issue.
For compatible cameras, you will be able to set "activity zones," so that you can focus on motion from the front door or porch, for example, as opposed to the sidewalk. Along with iOS and TV OS pop ups, you will also be able to get visitors recognized and announced as being at the door via HomePod. For TV OS, another application where a type of pop up is used will be for "picture-in-picture." An example is watching the news in a PIP inset while the main screen is watching something else such as an exercise video or a movie.
Elsewhere in the HomeKit front, mention was made of Apple's participation in the industry-wide "Project Connected Home over IP" working group. With Google, Amazon, leading device and semiconductor manufacturers and others as members it will be interesting to see how Apple – and their competitors – work together on unified, easy to install and use home automation and integration.
One more key HomeKit item was the integration of Adaptive Lighting with control of lamps and bulbs. Increased industry and public awareness of the value of – as the Apple presenter mentioned – having light with "the right color and intensity at the right time" is a strong selling point either to your clients or your own family.
Apple Audio Developments
On the audio front, there was a bit of product news with a seldom spoken of part of the Apple software suite: Air Pods software. Coming soon will be automatic switching between Apple devices without the need to switch manually. More important will be a new feature for AirPod Pro: Spatial Audio. This will not only create immersive audio as we are used to in the home theater environment with Dolby Atmos and DTS:X, but it will adjust the soundfield so that it remains centered to the screen even if you move your head or the screen. Content encoded in 5.1, 7.1, or Dolby Atmos will be compatible with this new feature.
Apple App Clips for Home Integration
For home integration, a new feature called App Clips will enable one-touch installation of what can be best described as small, single-purpose, mini apps that will allow apps to be quickly installed without logging in. These are discovered via NFC tags, QR code scanning, or the newly developed App Clip code. An example would be an applet that is part of a broader app for a single purpose. Think of Yelp being able to quickly load the info for a restaurant you are in without searching for it or getting a one-time applet for paying for parking or an EV charge. IT won't take too much imagination to realize that the residential applications for Clips, particularly for hospitality, Airbnb, or short-term rentals. Perhaps even a "sleep over" app for the kids' slumber party guests. App clips can be time limited to broaden the use in these types of situations.
Apple Silicon Macs Coming in Q4
Perhaps the worst kept advance rumor about what was to be revealed at WWDC was the news that Apple will begin using its own "Apple Silicon" chips to power future Mac products. This is said to greatly increase the power and flexibility of Mac products going forward. As with the move to the new Big Sur OS, apps and software suites will need to be revised for this. Of course, Apple is offering a wide suite of program-development tools and kits for conversion or ground-up app creation. Those involved in the "inside baseball" parts of residential technology where Macs are used are well advised to get the details on this.
It is worth reminding that support for the millions of Intel-based Macs is not being abandoned. The switch over will take at least two years with the first Apple Silicon-based products due before the end of the year. More to the point of continued support of the current user universe, there will even be some new Intel-powered Mac products announced later this year.
Again, WWDC is aimed somewhat outside the residential world but, as always, there were some important nuggets for our part of the universe. We expect to have more information as the various software suites move toward formal public release in the fall. History tells us to expect related products to be shown in September and available through the fall. All we can do is wait, but at least after WWDC we have a better idea of what will power the next round of Apple products. We'll keep you posted.