The Gatecrasher3 PowerBar from Atlantic Technology is three products one. It's an active full-frequency Dolby 3.0 LCR soundbar, a streaming music system, and a wireless multiroom audio system. It's also a "triple wireless system" with three advanced technologies for connectivity, quality, and flexibility: SKAA, Bluetooth, and Wi-Fi.
Add to this its extensive analog and digital inputs and outputs, and Gatecrasher3 is the centerpiece of an expandable modern entertainment system that can even be used in place of an AV receiver. Gatecrasher3 is shipping now and carries an MSRP of $799.
Related: Atlantic Technology's Gatecrasher Series Revolutionizes Home Audio
Gatecrasher3 Expandable to Wireless 5.1
The Gatecrasher3 sound bar can easily add deep bass by expanding to a 3.1 system with an FS Series SKAA wireless active subwoofer. For a full 5.1 Dolby surround home theater, there are optional FS Series SKAA wireless active surround speakers.
Gatecrasher3's automatic SKAA Artificial Intelligence (A.I.) Self Setup makes installing and using a high-quality wireless 5.1 Dolby Surround Home Theater easier.
An Unlimited Streaming Music System with Gatecrasher3
Gatecrasher3 offers 13 audio input sources. Six are built-in Wi-Fi streaming sources: Spotify, Tidal, Deezer, Qobuz, airable free internet radio, and DLNA. Three are advanced digital wireless sources: SKAA, dual-band Wi-Fi, and Bluetooth with aptX and AAC. Four are wired digital and analog audio inputs: TOSLINK optical, S/PDIF coax, HDMI ARC, and stereo RCA.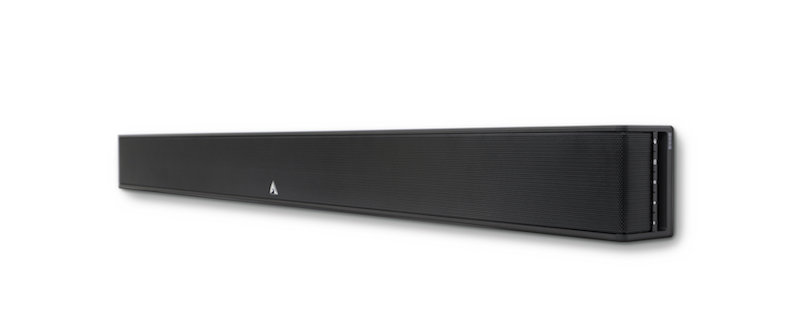 The sound bar wirelessly plays music from any cloud, home music files, or direct from personal home audio gear. The company's Triple Wireless Technology allows for an unlimited choice of music streaming services to cast wirelessly from devices to Gatecrasher3. And six affordable transmitters turn any analog or digital audio device into a SKAA source. Plus, wired digital and analog inputs let users play Hi-Res music direct from external DACs or legacy gear, like optical discs, vinyl, or tape machines.
A Wireless Multi-Room Audio System
Gatecrasher3 is part of an ecosystem of 11 multi-room audio options from Atlantic Technology. This includes Gatecrasher1 tabletop speakers, plus the brand's range of 10 SKAA high-fidelity wireless products, including active indoor and outdoor speakers, subwoofers, integrated amps, headphones, and six transmitters. Additionally, with SKAA, users don't need to open an app for multi-room use.
Gatecrasher3's L/C/R array of six 2.5-inch composite polypropylene woofers and three 3/4-inch aluminum-dome tweeters are housed in a resonance-free extruded aluminum enclosure with a metal grille driven by 360 watts of on-board power. Integrated multi-channel Dolby Audio DSP processes Dolby Digital and Dolby Pro-Logic plus its virtual surround capability transforms 2-, 3-, or 5-channel sources into an immersive home theater experience without the use of additional speakers.
SKAA Wireless Technology and Gatecrasher3
Gatecrasher3 integrates SKAA wireless, an industry standard technology designed for superior home Hi-Fi, multi-channel, and multi-room use. SKAA's 36 milliseconds (ms) fixed low-latency audio sync from source to receiver and sync between SKAA devices is even lower at 0.04ms, making SKAA up to 80 times better than other wireless tech with variable latency. SKAA eliminates lip-sync issues in TV or movies, ensures maximum game performance and audio in precise sync required for multi-channel and multi-room audio.
SKAA's long range up to 150 feet and robust, interference-free performance is due to its patented "Walking Frequency Diversity" frequency-hopping technology. Gatecrasher3 features SKAA Artificial Intelligence Self Setup to automatically detect and remember bonded SKAA devices for incredible ease of setup and use.
Gatecrasher3 incorporates side-mounted controls on its cabinet. Also included is a multi-function remote with volume +/-, track +/-, power, direct input selection, DSP mode selection, and channel level control. Clear four-digit 11-segment multi-function LEDs are visible for five seconds through the perforated grill to which also aid in making its operation simple and easy.
The free Gatecrasher3 app for iOS and Android makes set-up and control of audio playback and streaming services easy and is available in the Apple App Store and Google Play. Plus a free optional "SKAA cmd" App for iOS, Android, Mac, and PC is at www.skaa.com/tlc/ to make multi-room SKAA operation such as group control easy when using separate SKAA transmitters.
Gatecrasher3 measures 50.5 inches wide by 4.4 inches high by three inches deep.
Other new SKAA Products from Atlantic Technology
Also new from Atlantic Technology is the FS-WSLR1 active wireless SKAA speakers which are ideal as rear channels for Gatecrasher3. They are cosmetically and acoustically matched and can also be wall mounted with their included hardware. Atlantic Technology's two FS-Series compact slim active subwoofer options round out the system for a 5.1 wireless home theater package.
Atlantic Technology's upcoming FS-BTWS582 wireless headphones use SKAA A.I. to automatically connect and mute Gatecrasher3 for private lip-sync-free TV, movies or gaming. Plus, up to four users can simultaneously listen to TV, movies, and games in perfect sync.
Atlantic Technology also offers a range of affordable plug-and-play SKAA transmitters that turn any analog or digital audio source component into a SKAA transmitter. Transmitters are available for USB-A, USB-C, Mini-USB, Lightning, digital TOSLINK and S/PDIF, or stereo analog audio devices.