AudioControl's Avalon G4 is capable of operating as a 4-channel, 3-channel or 2-channel amplifier configurable instantly via rear panel controls. The 2U rack space amplifier solution features a Class H design that achieves 230 watts/8-ohms or 300 watts/4-ohms into four channels all channels driven.
The Avalon G4 also features AudioControl's LightDrive anti-clipping protection circuit, which protects loudspeakers from clipping and distortion even in extreme conditions such as a highly dynamic action movie soundtrack. On the Avalon G4, each pair of channels features hi/lo/bypass crossover controls, balanced (XLR) and unbalanced (RCA) inputs as well as RCA throughputs to achieve multiple configuration options.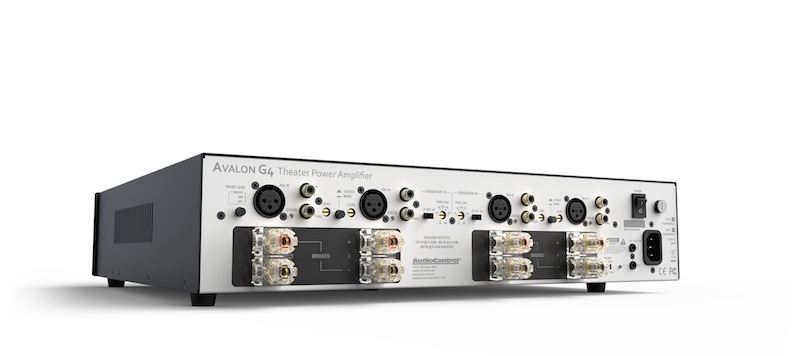 The Avalon G4 also features independent channel level controls, remote power control triggers, audiophile-grade 5-way binding posts and can be ordered for either 110 or 220-volt operation.
The Made in USA Avalon G4 has been designed as a perfect match to AudioControl's Maestro M9 and M5 cinema processors and is ideally suited for immersive surround formats such as Dolby Atmos or as a premium standalone power amplifier for nearly any multi-zone entertainment system.
The Avalon G4 can be configured as a powerful 2-channel amplifier (600 watts into 8 ohm loudspeakers) or as a 2.1 solution for residential or commercial A/V systems.
The AudioControl Avalon G4 has a suggested client price of $1,960 USD and is available now.