Audyssey has released MultEQ-X, a new software application for calibrating many home theater audio/video receivers (AVRs) that have Audyssey's MultEQ room equalization technology built-in. MultEQ-X brings users greater control over calibration parameters, more detailed information about their room acoustics, and a variety of other key features.
The new software provides measurement with detailed frequency responses for individual channels for easy room tuning. It also adds subwoofer-level adjustment with slow and super-slow time rates.
An advanced target curve designer with new "Cutoff Mode" control is also included, as well as complete control over target sound for every channel and every preset. In addition, manual override of all automatically detected parameters is available.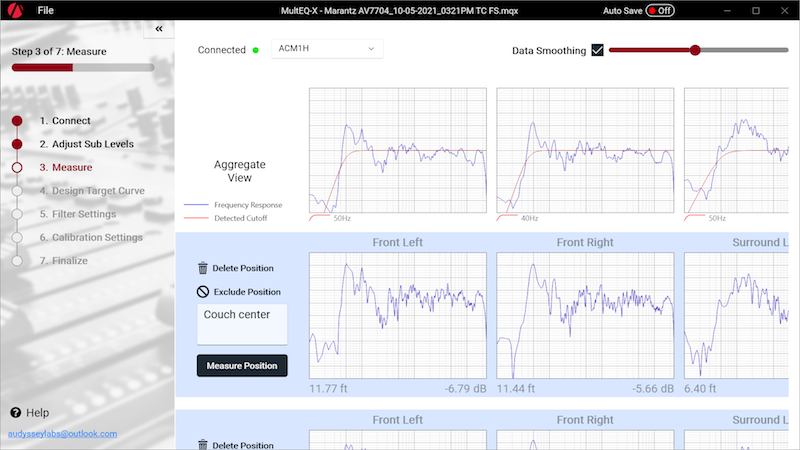 Audyssey first launched MultEQ in 2004, providing precision equalization to a broad set of AVRs from several manufacturers. Today, MultEQ-X software works as an add-on to the MultEQ system already embedded in many AVRs.
The new software platform from Audyssey was built from the ground up to serve the needs and interests of both professional installers and the most passionate AV enthusiasts. Users get complete control over their target sound response, with the ability to customize the frequency range and tonal balance of each individual speaker in the system.
More than a sleek interface to the built-in MultEQ technology, MultEQ-X decouples the delivery of technology from the delivery of hardware. This new app-based platform ensures that MultEQ-X users will be the first to experience many of the improvements and advancements to the MultEQ suite of software/firmware room correction tools that are currently under development.
At launch, MultEQ-X supports all Denon and Marantz AVRs that are compatible with the "Audyssey MultEQ Editor" mobile application (available on iOS and Android). Rather than replacing the mobile application, MultEQ-X is a more advanced system for users who desire greater control and a more immersive user experience that is still best served by the larger screen and more powerful processor of a desktop or laptop computer.
Supported systems run a 64-bit version of Microsoft Windows 10, with the October 2018 Update or later installed (version 1809 / Build 17763). This includes the newly released Windows 11. Support for more systems will be available in the future.
The download of MultEQ-X includes a virtual demonstration AVR to showcase the features and settings available to the user. To calibrate an AVR, a license must be acquired through an in-app purchase of $199.99, which entitles the user to calibrate a single AVR for the lifetime of the AVR. Licenses are per-user and per-AVR-serial-number and are non-transferrable.
Audyssey MultEQ-X is available for download now at the Microsoft Store.