BodyGuardz, a company known for mobile device protection products, is providing security of a different sort with a new smart home product line comprising a portable security camera, portable over-door camera, and portable emergency unit. These products were developed to fill a specific gap in the smart home security market for renters and others who prefer portable, convenient peace of mind both at home and while on the go.
"We have taken an innovative approach to smart home products that provide the same peace of mind offered by existing products in this space with added convenience and portability that consumers today are looking for," said Kirk Feller, CEO of BodyGuardz. "Portability and flexibility are top of mind for today's consumers and we are excited to make this category accessible to a whole new demographic of renters and travelers."
The first three products in the smart home product line include a Portable 360-degree Security Camera, a Dual Camera Door Security (pictured above), and a Portable 5-in-1 Emergency Hub.
The Portable 360-degree Security Camera is powered by a rechargeable battery to cover to eliminate blind spots. USB charging cord and plug are integrated into the camera base, so it stores and sets up easily anywhere. Recordings are automatically saved to the cloud with options to upgrade for more storage capacity.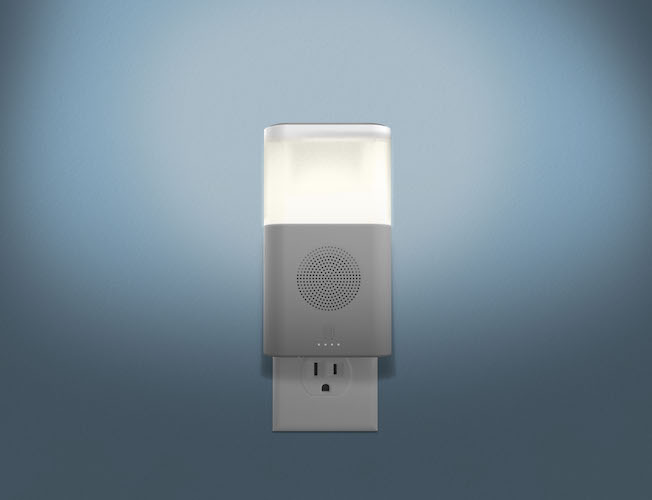 BodyGuardz's Dual Camera Door Security features two security cameras in one device – the exterior and interior cameras give full coverage and visibility to both sides of your door. It's designed to offer the same protection as a video doorbell without permanent installation, and is universal to most doors. Remote access to video and audio is available through the app, allowing interaction with visitors even when not home. Recordings are saved to the cloud with options to upgrade for more storage capacity.
The Portable 5-in-1 Emergency Hub flags potential events in your area by connecting to local NOAA and other national weather alert services. The Hub includes a backup battery for emergency situations, a panic button that sounds a 90-decibel siren and alerts loved ones that users are in an emergency situation, a "blackout feature" that functions as a flashlight with a high-powered light beam to illuminate your path during power outages and other emergencies, and a nightlight option that provides ambient lighting for the key area where it's plugged in.
All three smart home products are currently available in beta, and will officially launch in early January 2020, with pre-sale available ahead of the holidays on the BodyGuardz website.