Smart Home Operating System Upgrade Provides Fresh Look and User-Friendly Controls
It's somewhat easy to look at the new Control4 Smart Home OS 3 and summarize it as a largely cosmetic overhaul – at least at first glance. The bold new look is, after all, the first thing that catches your eye. For the first time since this advanced home control and automation platform hit the market a decade-and-a-half ago, its user interface looks truly modern – forward-thinking, even.
Honestly, if this sort of cosmetic coat of paint was the beginning and end of Smart Home OS 3, it would be a worthwhile (and long-needed) redesign for Control4. But this fresh new look and sexy new layout is literally just the surface of what turns out to be a pretty massive re-jiggering of how Control4 works – or at least of how the homeowner interacts with the system.
Control4 Smart Home OS 3 is designed to unify hundreds of connected devices within the home, control them all from a single platform, deliver the personalization homeowners want, and facilitate the professional support smart home technology needs.
Here are the five most important things you should know about Control4 Smart Home OS 3:
1. "Favorites" Option
"Favorites" provide homeowners the flexibility to prioritize the devices for each room. When a device is Favorited, the homeowner can bring virtually everything in the home to the top of the room page in the mobile app, touchscreen, and TV. Favorites provides one-touch control, and homeowners can now see whether the home is secure or lights are on anywhere in the home without tapping. In a living room, the news station can be at the top of the app, where the over-island lights show up first in the kitchen view. Simply press and hold to Favorite a device, service, scene, or playlist in any room. Drag icons to reorganize or delete them from the screen with a simple tap.
2. Personalize Your System
Homeowners can personalize their system. OS 3 leverages the talent and skill of tens of thousands of smart home pros around the world to install, update, and manage smart home technology for families. The system, however, can be tailored by the end-user by editing or creating smart home scenes, setting schedules to automate devices, and modifying how devices interact. Users can even set a different "wallpaper" background for every room screen.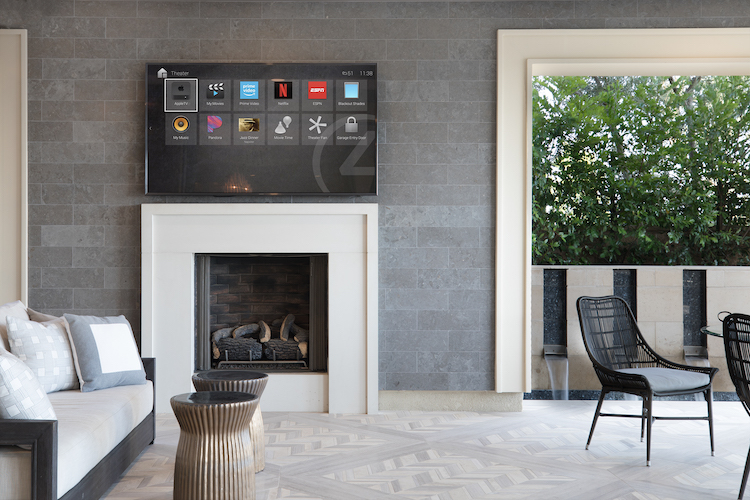 3. Multi-Room Entertainment
OS 3 reimagines multi-room entertainment. With OS 3, you can share your music throughout the home with the ease of one-touch access to the most popular streaming services. Music and video take a prominent position with Active Media located at the top of the screen, showing music controls, and track details right at the front. The all-new Sessions feature allows a homeowner to easily add or remove rooms, adjust the volume everywhere or within a single room. OS 3 also adds native support for streaming high-resolution audio in Control4 systems with the addition of MQA (Master Quality Authenticated).
4. Security System Management
With unified lock management, lock users, and PINs are now easily managed through OS 3 for all locks (with no need to create and edit users for each lock). Create a user, assign a PIN and a schedule, and apply the changes to all locks installed in the home.
5. Coordinated Shade Control
New blinds and shades options include more than 350 new icons that represent the wide variety of ways window coverings operate, letting users easily see all shades that are open, and with one-button press, close them across the house.