Sound United LLC, parent company to Bowers & Wilkins, Denon, Marantz, Polk Audio, Definitive Technology, Classé, and Boston Acoustics, are offering two new factory upgraded versions of the Denon AVR-X8500H and Marantz AV8805 flagship AV components and an upgrade program for existing owners of the two flagship models.
The two new units, dubbed the Denon AVR-X8500H "A" and Marantz AV8805 "A" boast many updates, including 8K/60Hz upscaling and passthrough, 4K/120Hz pass-through, HDR10+, Dynamic HDR, HDCP 2.3, as well as other HDMI 2.1 technologies. The two new flagship products and upgrade kits are capable of passing a 4K/120Hz signal from all of the latest gaming consoles without issue.
The factory upgraded Denon and Marantz units will gradually replace all existing Denon AVR-X8500H and Marantz AV8805 units. The Denon AVR-X8500HA will retail for US $4,299, and the Marantz AV8805A at $4,799.
Related: Denon Home Sound Bar 550 Features to Dolby Atmos, DTS:X Audio, and HEOS
In addition to this, and in accordance with Denon and Marantz's history of advanced customer support, current owners of the Denon AVR-X8500H and Marantz AV8805 will have the opportunity to upgrade the HDMI/Digital board within their units to obtain the same features as the "A" components. The upgrade requires a hardware modification at a Denon and Marantz certified Service Center. Beginning June 15, 2021, this will be arranged on request by contacting Denon or Marantz directly via the Denon site and Marantz site for US$599 or CA$749.
This upgrade service will be offered both in the United States and Canada. For customers outside of the U.S. and Canada, it is recommended to contact the local Denon or Marantz dealer or distributor for the availability of the upgrade given potential variations in price and availability.
Sound United Offers Next-Gen HDMI Technologies
The improved components now also boast the latest HDMI technologies. Enjoy movies and shows with stunning picture quality thanks to a dedicated "8K" HDMI input enabling 8K/60Hz and 4K/120Hz video pass-through, new HDR format support including HDR10+ and Dynamic HDR, and a new HDMI feature called Quick Media Switching (QMS), which allows a source to instantly switch frame rate to eliminate screen blackout.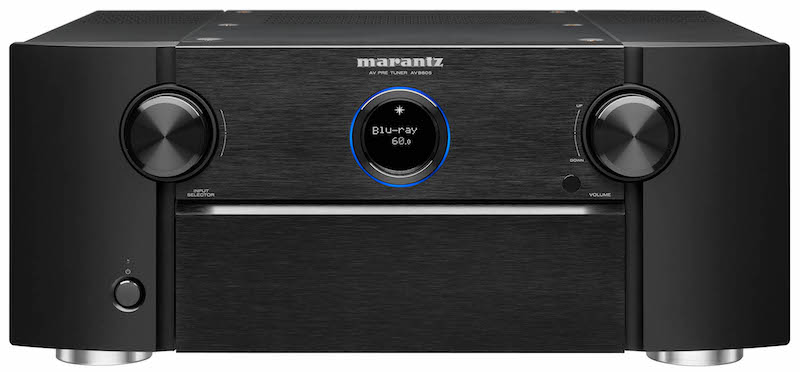 For color, clarity, and contrast, the latest models still support HDR10, HLG (Hybrid Log Gamma) and Dolby Vision, as well as 4:4:4 Pure Color subsampling and BT.2020 pass-through.
Several new features give gamers an edge, including razor sharp motion clarity with 4K/120Hz pass through and Variable Refresh Rate (VRR) to reduce frame tearing and improve overall precision. Auto Low Latency Mode (ALLM) and Quick Frame Transport (QFT) are designed to reduce lag and improve stats.
The improved products can also upscale existing HD and 4K content to 8K (to compatible 8K-ready TVs) so more people can experience the power of 8K resolution. They also continue to support eARC (Enhanced Audio Return Channel), which allows lossless and object-based audio transmission like DTS:X and Dolby Atmos from TV apps or connected devices using a single HDMI cable.
Denon and Marantz Availability and Upgradability
For owners of either the Denon AVR-X8500H or Marantz AV8805 who wish to perform the HDMI 2.1 upgrade, visit the Denon site or Marantz site for details. The latest factory upgraded models are now available at local Denon or Marantz retailers, or at the brand websites.
The process to upgrade the Denon AVR-X8500H or Marantz AV8805 follows:
United Radio, official repair partner of Denon and Marantz, will ship a box to the customer.
A confirmation will be sent to the customer via email with instructions on what to do with the shipping carton. This will include details on how to affix an upgrade kit label to the box, and a prepaid shipping label.
Customer ships carton to United Radio.
United Radio receives product and performs upgrade within 48 hours.
Return shipment sent out, customer receives shipping notification from United Radio with tracking