Epson has created its most advanced 4K home theater projector to date, in the Pro Cinema 6050UB 4K PRO-UHD. Available now through CEDIA and specialty dealers, it produces 2,600 lumens of equal color and white brightness, HDR10, and Epson UltraBlack technology for improved brightness, color accuracy, and image detail in both bright and dark scenes.
The new projector leverages a full 10-bit color output, along with advanced lens capabilities and HDR support.
Powered by Epson's 4K PRO-UHD resolution enhancement technology, an advanced, high performance optical engine that generates high color and white brightness, color accuracy, and contrast with HDR10, the Pro Cinema 6050UB (MSRP $3,999) fully supports 4K HDR content at a full 60Hz. The Pro Cinema 6050UB also offers a dynamic contrast ratio up to 1,200,000:1, a wide color gamut displaying the entire DCI-P3 color space, and Epson's proprietary 15-element glass VRX projection lens designed for zero light leakage, according to the company.
To provide installation flexibility, the Pro Cinema 6050UB features a wide lens shift of up to ±96 percent on the vertical axis and up to ±47 percent on the horizontal axis. For extremely accurate color reproduction, the new projector offers low Delta E and includes ISF and CalMAN pattern generator calibration tools and support for the highest level of image quality. Plus, with Epson's advanced 3-chip, 3LCD technology, the projector displays images free from any distracting rainbow effect or white segments.
The Pro Cinema 6050UB includes several features designed to deliver an effective 4K experience, including advanced processing technologies for resolution enhancement, color, and image processing; advanced 3LCD technology that displays 100 percent of the RGB color signal for every frame; an S2 pixel-shift processor that precisely controls three individual high-definition LCD chips; an H2 HDR processor that accepts 100 percent of the HDR source information to reproduce HDR content, and a ZX digital imaging processor that provides real-time 12-bit analog-to-digital video processing for smooth tonal transitions, while helping to eliminate banding, blocking, and other compression artifacts from the final visual performance.
The projector is capable of displaying 4K content at 2,600 lumens for both color and white brightness. This not only provides for a wider performance envelope but allows for an exceptional HDR performance.
Epson created a Proprietary Compensation Filter that is designed to control the polarization of light itself. This allows Epson to suppress any light leakage within the signal, producing a Dynamic Contrast ratio of 1,200,000:1. Additionally, a real-time HDR curve adjustment allows for 16 steps of control to fine-tune the HDR performance.
The Pro Cinema 6050UB is one of the first commercially available home theater projectors capable of displaying the full three-dimensional DCI-P3 color space. This extreme color performance is 50 percent wider than typical Rec. 709 projectors and allows for a truly professional-level of color accuracy. Also, all Epson VRX Lenses utilize a proprietary 15-element precision glass structure for image clarity and edge-to-edge focus uniformity.
After installation, you can shift the lens up to 96 percent up or down on the vertical axis and up to 47 percent left or right on the horizontal axis. You can also set the zoom and focus, then store all the settings in one of ten lens memory presets
The Pro Cinema 6050UB is fully compatible with virtually all color formats, depths, and spaces while simultaneously supporting 4K HDR content at a full 60 Hz.
[Editor's Note: I installed the Pro Cinema 6050UB in my basement home theater, and lived with it for two weeks. As a current owner of the Epson Pro Cinema 6030UB, I'm familiar with the 1080p version of this projector, which I purchased in early 2015. The physical size difference is substantial, requiring a more robust Chief ceiling mount rather than the "spider-style" OmniMount that I used on the 6030.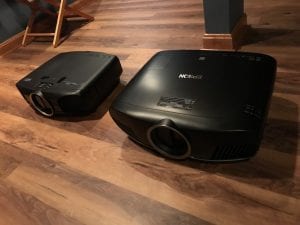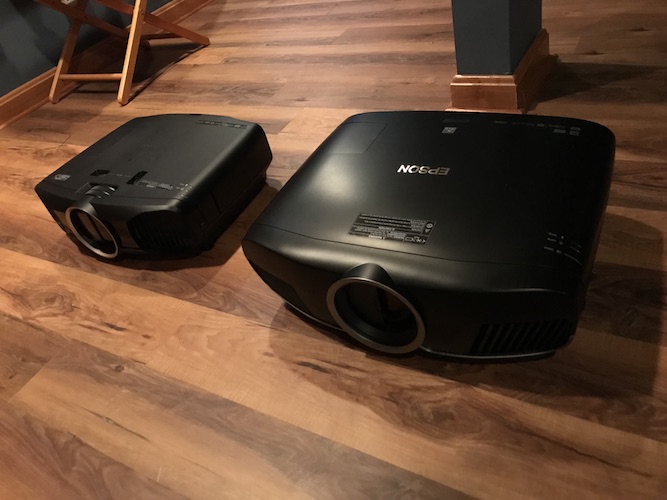 Although not unique to the newer model, I especially appreciated the remote-controlled lens shift features that is unavailable on the model I own. I've come to find that manually adjusting the 6030's lens with dials on the projector itself (to fill my 2.35:1 Screen Research screen for CinemaScope movies) can knock my projector slightly out of alignment. Whereas keystone correction is the only remote-controlled image adjust tool on the four-year-old 6030 model that I purchased in 2015 (I think I saved $1,000 by going "manual") the 6050 that I tried out, has a three-axis motorized lens, along with zoom and keystone adjustment via remote.
The color and brightness presets on the 6050 offer enough options for the average consumer to tweak the projector to various levels of room brightness. During the toughest test of all, I set the 6050 to "Bright Cinema" and was able to catch every fine detail of the battle for Winterfell during last week's episode of Game of Thrones. Whereas many viewers took to social media to complain about not being able to see what was going during dark battle scenes, I kept up with the action (albeit in a darkened theater room on a 110-inch screen) without having to squint my eyes.
Although the 2,400-lumen light output of the 6030 is far from shabby, I noticed that the extra 200 lumens of the 6050 kicks up the viewing experience just a notch. The recent Taylor Swift Netflix concert was vividly presented on both projectors, but there was a depth and vibrancy of color and brightness on the 6050, that only 4K and HDR can provide.
At $4,000 MSRP, the 6050 is twice what I paid in 2015, but what you get in ease of use and performance enhancements, is worth the extra investment, if you want a true theater experience in the home.]