Even in the tech industry, working at home used to be a luxury that few people enjoyed. But, the current pandemic has changed that.
Schools have shut down, forcing parents to work from home while taking care of their children.
People are isolating themselves at home to minimize their chances of exposure.
People who have, or may have been exposed, are isolating themselves from others in their homes.
Businesses are asking employees to work at home to limit the spread of illness.
And a host of other situations.
Under these conditions, maintaining a healthy environment in your own home has become even more important.
According to the World Health Organization:
"Coronaviruses are a large family of viruses which may cause illness in animals or humans. In humans, several coronaviruses are known to cause respiratory infections ranging from the common cold to more severe diseases such as Middle East Respiratory Syndrome (MERS) and Severe Acute Respiratory Syndrome (SARS). The most recently discovered coronavirus causes coronavirus disease COVID-19." And, according to Sacramento Region Spare the Air, poor indoor air quality can:
Aggravate cardiovascular and respiratory illness;
Add stress to heart and lungs, which must work harder to supply the body with oxygen;
Damage cells in the respiratory system.
Because of this, it is important to monitor your indoor air quality while working at home, to take steps to reduce indoor air pollutants, and take steps to minimize the chance of transmitting COVID-19 between family members.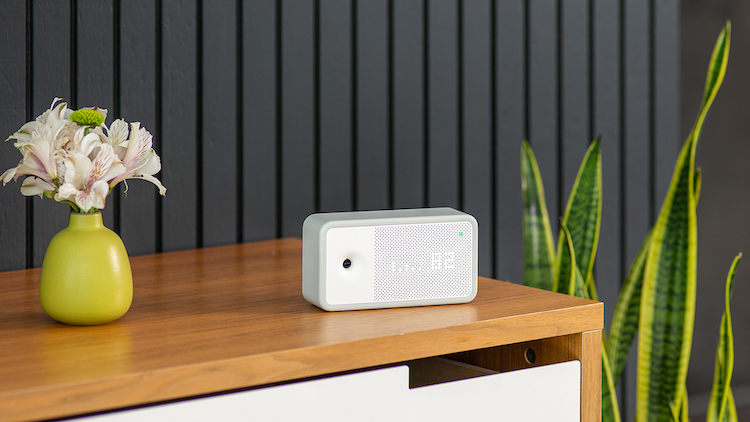 Awair was launched in 2013 and released their first indoor air quality monitor two years later in 2015. I previously wrote about their premier product, the Awair (now in its second generation). You can find that article here. Awair has released a more economical, but still comprehensive monitor; the Awair Element.
The Awair Element includes sensors to monitor:
Temperature
Humidity
Carbon Dioxide
Volatile Organic Compounds (VOCs)
PM2.5 Particulates
High levels of carbon dioxide can result from poor ventilation and can cause headaches, fatigue, problems concentrating, and impaired decision-making. Because these symptoms are exactly what companies don't want their employees to be experiencing, the ventilation systems in office buildings are designed to assure that there is adequate ventilation. Monitoring carbon dioxide levels in your home becomes just as important when it becomes your primary work space.
VOCs can be emitted by many common building materials, furniture, cleaning products, and even as a byproduct of cooking. According to the U.S. Environmental Protection Agency, the health affects of exposure to VOCs include:
Eye, nose, and throat irritation;
Headaches, loss of coordination, and nausea;
Damage to liver, kidney, and central nervous system;
Some organics can cause cancer in animals, some are suspected or known to cause cancer in humans.
Finally, according to AirNow.gov, PM2.5 particulates are fine particles that "are 2.5 micrometers in diameter, or smaller, and can only be seen with an electron microscope. Fine particles are produced from all types of combustion, including motor vehicles, power plants, residential wood burning, forest fires, agricultural burning, and some industrial processes". The health effects are:
irritation of the eyes, nose, and throat;
coughing, chest tightness, and shortness of breath;
reduced lung function;
irregular heartbeat;
asthma attacks;
heart attacks;
premature death in people with heart or lung disease.
All these indoor pollutants can both negatively affect your productivity working at home as well as exacerbate your COVID-19 symptoms.
Hands on with the Awair Element
The Awair Element is shipped with a small, plug-in power supply, USB cable, and an easy-to-follow, quick-start guide.  After plugging in the Awair Element, you will need to download the Awair app from either the Apple App Store or the Google Play Store.
The app requires you to first create an account. You can do this with your Facebook login, Google login, or by simply using your email address and a password. Next the app requests the entry of a few personal details (the app also allows you to skip entry of your personal information) and then the app will connect to your Awair Element through Bluetooth. After establishing a Bluetooth connection to the device, you will be provided with a list of the available WiFi networks and you can select your network, enter your password, and connect the Awair Element to your network.
The app then wants you to:
Enter the type of room where the Awair Element is located (bedroom, living room, etc.)
Name your device
Choose what is important to you about your indoor air quality. This allows the app to send you relevant tips. You can choose between:

General – Understanding what's in your air and learn how to create a healthy space.
Allergy – Awair will alert you when important allergy triggers are in your space.
Sleep – Unhealthy air can disrupt your REM cycle, create the perfect bedroom for a healthy night's rest.
Productivity – Poor air quality can impair your concentration.  Make sure you have the ideal productive space.
Baby – Awair will focus on the elements that keep your baby safe, healthy, and comfortable.
Finally, the app takes you through some informative screens with information about indoor air quality, how to read the Awair Element's display, and how to cycle through the different sensor readings using the button on the back of the unit. This tutorial can be repeated at any time using the app.
The app is easy to use. The main screen provides a snapshot of the readings from all the sensors, colored bar graphs that tell whether the readings are good, moderate, poor, etc, and a composite reading of the overall air quality. There are additional options to view tips, view trends of the air quality data, connect the Awair Element to third party services, and to view notifications that the app has sent.
Current weather conditions and outdoor air quality readings in the area can also be displayed in the app by entering your location.
Areas for Improvement
The one area I feel that could use improvement in the product is the Awair Element's front panel display. With the exception of a single LED in the upper right corner that changes color based on the overall air quality, all the other LEDs are white. The more LED's lit in the bar graph for each sensor, the worse the air quality reading is. These LEDs should be color changing and as the air quality reading for a sensor worsens the color of the LEDs should shift from white to red. This would make the display a little easier to understand.
Integration
Awair offers a wide range of integration possibilities for the Awair Element including:
Alexa
Google Assistant
Ecobee Thermostat
Sensi Thermostat
IFTTT – If-This-Then-That (IFTTT) provides an easy mechanism to integrate the Awair Element with other products in their smart home. For example, an air cleaner could be turned on whenever Carbon Dioxide, VOCs, or PM2.5 readings are high.
Developer API – Awair offers a full Oauth 2.0, secure, programming interface for developers to integrate the Awair Element with other smart home devices and systems.
The Awair Element is an easy-to-use indoor air quality monitor that includes sensors for all the primary indoor air pollutants. It is offered at an attractive price and has a modern look that will easily fit into a home's décor.
But knowing your indoor air quality is only the first step in maintaining a healthy environment in your home. The next step is cleaning the air.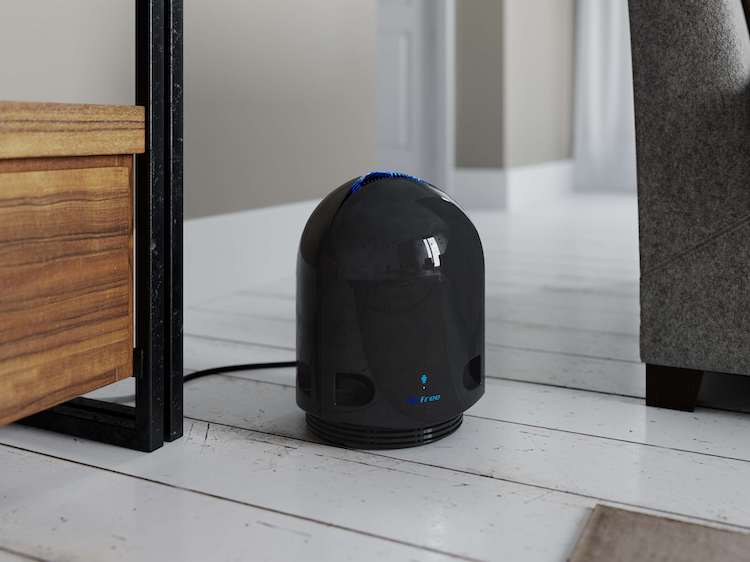 Airfree manufactures a variety of air purifiers suitable for different rooms around a home. The primary difference between the various models that Airfree offers is the size of the room that a model can clean.  Airfree offers models that can clean the air in rooms from 180 to 650 square feet.
A key factor that makes Airfree monitors a good choice for the issues facing homeowner's today is their ability to kill airborne viruses, bacteria, and to remove mold and pet dander from the air. This is accomplished with thermodynamic sterilization (TSS). Air passes through a ceramic core that heats the air to 400 degrees Fahrenheit. Rather than filtering out the contaminants, the heat of the ceramic core simply renders them harmless.
Even though air is heated to 400 degrees Fahrenheit inside the Airfree purifier's core, it won't heat up your room. After air is passed through the core it goes through a cooling chamber before being expelled from the purifier.
It is important to note that Airfree purifiers won't remove PM 10, PM 2.5, or PM 1 particulates from the air. Neither will it remove volatile organic compounds (VOCs) from the air. However, as I described in an earlier article, Optimizing Smart Home Air Quality and HVAC Efficiency, a forced air furnace, with high MERV rated filter that includes activated carbon, can be used to remove these pollutants from the air in a home.
Other advantages of Airfree purifiers are:
Because the air is moved through the purifier through convection there isn't a noisy fan. The Airfree purifiers are completely silent. This is a real advantage if you place the purifier in a bedroom.
Airfree purifiers are very energy efficient. Even their larger models that can clean the air in a 650 square foot room only consume between 43 and 52 watts of electricity.
The Airfree purifiers are small and portable.
Unlike some air purifiers, Airfree's TSS technology doesn't release any ozone; a repertory irritant.
Finally, Airfree purifiers are maintenance free. There are no filters that need to be periodically replaced.
If all this sounds too good to be true, Airfree backs their purifiers up with a two-year warranty and a host of scientific reports that they've published on their website.
Hands On
I had the opportunity to try an Airfree Iris 3000 air purifier. When you first open the box there is a small sticker that warns you that when the purifier is first plugged in it may generate an odor that will dissipate within the first five days of use. Airfree recommends only using the device in a well-ventilated area for that time period.
I did notice a slight odor when I first plugged in the Iris 3000. However, after only one day the odor seemed to be gone.
As Airfree describes on their website, after the air passes through the 400 degree Fahrenheit ceramic core it goes through a cooling chamber before passing back into the room through the top of the unit.  That doesn't mean the air is fully restored to the temperature of the air in the rest of the room. I measured the temperature of the vent at the top of the Iris 3000 and found it to be about 165 degrees Fahrenheit. Quite warm to the touch but not hot enough to burn you.
While I don't have the equipment to test the unit as was done by labs that produced the reports on the Airfree website, I can say that the unit seemed to work as advertised. It didn't produce any noise and the air in the room felt cleaner and free of irritants that would affect my allergies.
In addition, the Iris 3000 includes a night light. This can be useful if the device is placed in a child's room or a nursery. There is a single control on the side of the unit that controls both the intensity of the night light and the color (some models only include a single color light). Each time the control is pressed the color of the light changes. Pressing and holding the control adjusts the intensity. Because I didn't need to use the night light, it was a simple matter to just turn it off.
Integration
One thing that makes Airfree purifiers different is that they are designed to be left on all the time; 24 hours/day, 365 days/year. There is no app to control them or built-in timers to turn them on/off. They are designed to continuously clean the air in a room.
I was tempted to use a smart outlet to turn the Airfree off whenever I opened windows in my home since, to me, it didn't make sense to run the Airfree when there was outside air pouring in through open windows. However, after discussing this idea with the folks at Airfree, I found out that it was better to simply leave the Airfree on all the time because:
It takes about two hours for the interior ductwork in the Airfree core to come up to full, operational temperature.
Their testing has shown that since not all the air in a room will be replaced with fresh air when a window is open that the Airfree unit performs better when left on all the time.
Airfree purifiers provide a reasonably priced solution for removing viruses, bacteria, mold spores, and more from the air in specific rooms of a home. They provide a set-and-forget/maintenance free solution for cleaner air and peace of mind.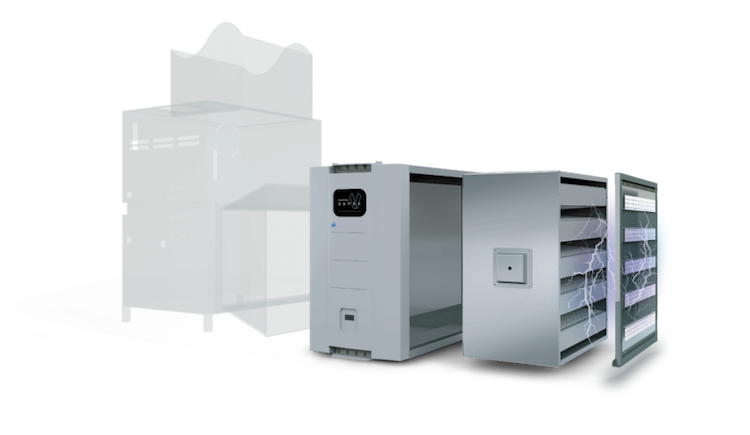 For those that want a true whole house purification system, Intellipure offers their Ultrafine whole house air cleaner. Intellipure has been in business since 2016. They are a subsidiary of Healthway, which has a 35-year history in the air purification industry.
Intellipure air cleaners leverage a patented Disinfecting Filtration System (DFS). This technology was developed through a U.S. Military grant. It uses a high energy grid that has been proven to capture 99.99 percent of all particles; including those as small as 0.007 microns. This is over 40 times smaller than the HEPA filtration standard and includes the ability to capture viruses, mold, fungi, and ultra-fine particulates. In addition, Intellipure air purifiers filter VOCs from the air.
Intellipure manufactures air cleaners for both commercial and residential applications. Their commercial filters are used by Hyatt, BMW, the Cleveland Clinic, and many other corporations. Their whole-house residential unit, the Ultrafine, is installed at the home's HVAC unit by a professional HVAC technician. If the home has multiple HVAC units, then multiple Ultrafine units also would be required.
The Ultrafine can provide greater filtering capacity than a MERV 16 rated filter. However, unlike a MERV 16 filter, it won't impact the air flow capacity of the HVAC system. In fact, the Ultrafine has half the airflow resistance of a MERV 16 filter.
In addition to the Ultrafine whole house air cleaner, Intellipure offers several smaller units for individual rooms. These include the Ultrafine 468 and the smaller Intellipure Compact. The Ultrafine 468 is suitable for large rooms up to 1200 square feet such as a large great room. Its large wheels make it easy to move from room to room. The Intellipure Compact is suitable for bedrooms, home offices, and smaller spaces up to 500 square feet.
The Intellipure Ultrafine offers the best air cleaning and purification possible in a residential setting.  That being said, this technology comes at a price. However, for those with health issues that put them at higher risk of complications from illness, that price may be inexpensive insurance.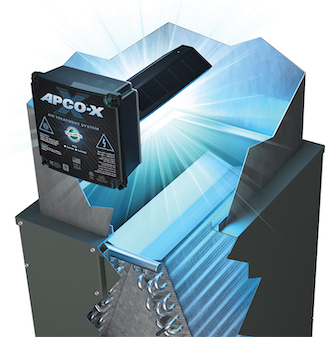 UV Based Whole House Air Purifiers
A fourth option to kill airborne viruses, bacteria, and mold in a home is through the use of an ultraviolet (UV) light that mounts within the ducting of a forced air HVAC system. There are a wealth of these available online or they can be professionally installed from by an HVAC contractor.
Some of the manufacturers of these UV purifiers are:
For those looking for a DIY bargain, there are also models available on Amazon and eBay; some for less than $100.
Some models of UV air purifiers are specifically designed to be installed near the air conditioner's cooling coils to stop mold growing on the coils. Other models are designed to kill organisms in the air as it flows through the HVAC system. So be careful to choose a model that is going to fit your needs.
These UV air purifiers work by leveraging the same kind of UV light that is in sunlight. At the high intensities produced by the bulbs in these units, the light will damage the DNA of a microorganism. This will either kill the organism or leave it unable to reproduce.
Just as exposure to sunlight can burn your skin and damage your eyes, these UV light systems can do the same. It is very important never to look directly at the lights if you are going to install them yourself.
It is important to understand that, like the Airfree purifiers, these UV light purifiers will not remove VOCs or particulates from the air. As I mentioned earlier, a high MERV HVAC filter can be coupled with a UV air purifier to provide a more full featured system to improve the air quality in a home.
Unfortunately, these UV light systems are not something you can just install and forget about. The lights will lose effectiveness over time and should be replaced every year. Replacement bulbs can cost between just over $10 to over $100 depending on the model.
There is no doubt that UV light can be used to kill viruses, bacteria, and mold. For example, this study by Duke University clearly shows the benefits of using UV light in a hospital setting. However, replicating these results in a residential environment is more challenging. Air is moving reasonably rapidly through the ductwork of an HVAC system and the exposure time for microorganisms to the UV light is short; minimizing the effectiveness of these products. These details were outlined in an article by Berkley Labs. The conclusion of the article is that more research is needed to understand the effectiveness of using UV light for air cleaning outside of a hospital setting. However, for those looking to do everything possible to reduce the chance of infection in their home, a UV purifier mounted within the ductwork of the HVAC system offers an alternative to having air purifiers placed in rooms around a house.
Summary
The current pandemic has forced millions of people to spend much more time in their homes. Because the virus impacts people's respertory systems, maintaining the quality of air inside a home has become even more important. An indoor air quality monitor, like the Awair Element, can make families conscious of the air pollutants in their homes so they can take steps to remediate the problem. Specialized air cleaners, like those from Airfree and Intellipure, can kill viruses, bacteria, and mold spores to further keep families safe, and healthy.