Hisense seems to understand the significance of numerology.
This year, the first Wednesday is the fifth… you know, Cinco de Mayo, was the day Hisense chose to unveil five new TV line series.
Indeed, the number five pops up again around Hisense, as they have now been a TV manufacturer and brand for over 50 years. (OK, 50 divided by 10 is 5. A stretch, but you get the idea.)
Finally, to today's theme, Hisense is now one of the top five TV brands in North America and is the fastest growing brand last year among the top five.
Of course, a brand cannot rest on its laurels, particularly in a market that is on a fast paced, upward, technology path while at the same time caught in an extremely price-competitive market. All brands have their strong focus points, whether they are the traditional "tier one" legacy brands or those relatively more recent to our market.
"Premium TV for the masses" is how Hisense USA President David Gold summarized where his company is headed. Gold introduced the slogan during a virtual event featuring Joel McHale, known for his role in the TV series Community. Put another way, you can interpret that as their goal of selling sets with the new tech features of the legacy brands with the value pricing of the brands one might have called "tier two" only a few years ago, but which have earned their chops as viable tier one competitors.
Related: Hisense Adds 120-inch L5F Series Laser Cinema Ultra-Short Throw TV
A Solid Base of Features for TVs at Any Price
We started out here with a riff on the number five, and while there was no new model with that designation, there were five distinct, but related model line introductions. All share a solid base of features for sets at any price: Full Array Local Dimming (FALD), Quantum Dot Color, Dolby Vision and Dolby Atmos, HDR-10/10+, HLG, voice control remote and more. All sets are marketed under Hisense's ULED banner.
Starting the lineup off is the U6G series, with 50-, 55-, 65-, and 75-inch models. While this series is the lowest priced line just introduced, it has more high-end features than one would expect at prices that range from $499.99 (50 inch) to $1,099.99 (75 inch).
Along with those features just mentioned, the Android TV-based U6G models also work with both "Hey Google" and Alexa commands, Chromecast, and the Filmmaker Mode. Video specs show 600 nits peak brightness and 60 FALD zones. These models are available now.
Hisense Catering to Gamers
After a year where gaming has become as major a source for TVs as other sources of content, the new U7G models follow the trend of TVs tailored to the requirements of all gamers, particularly those with the latest generation Xbox and PlayStation consoles. Supporting that these Android TV models add a 120Hz native panel, a "Game Pro Mode", WiSA-Ready Audio and Dolby Vision IQ.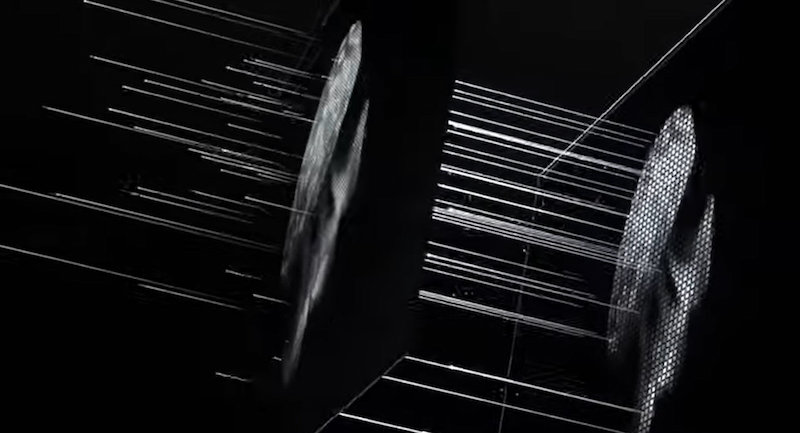 As befits a game-centric display, there are features that are part of HDMI 2.1, though the actual number of inputs for the latest digital connectivity standard and its exact availability on any of the new models was not available at our press deadline. However, key benefits from that are eARC, Auto Low Latency Mode, Variable Refresh Ratem and FreeSync Premium. Video specs beyond the 120Hz panel are 1000 nits peak brightness and 120 FALD zones. Availability is quoted as this summer for the 55-inch model at $749.99 and a 65-inch model at $949.99.
Moving up the line is the U8G. It has the same baseline package as the U7G but adds some important upgrades. Mostly on the video side, that will include 1500 nits brightness and 360 FALD zones, Dolby Vision IQ, and IMAX Enhanced capability, and a >10,000:1 contrast ration. The physical aspects of the screen are improved as well. The floating glass display has and anti-glare, anti-reflection screen.
There is an onboard, in-bezel microphone for hands-free voice control that works in concert with Google Assistant so that you may not only control the U8G from other Google and Alexa products, but you can also issue commands to smart home devices compatible with the Google Assistant. Available late this month, the 55-inch model has an MSRP of $949.99 and the 65-inch model lists at $1,299.99
Premium ULED
At the upper end of the new line are to series that are under the banner of "Premium ULED". The U8000GR differs from its Hisense compatriots in that is a Roku TV, rather than Android TV based, though all of the other video and audio features of the U8G are there. That provides not only access to the full range of available content channels available through the Roku OS, but that lets the Roku voice remote control their entertainment via Alexa, Google Assistant and Siri via HomeKit. Of course, all the improvements of the recently released Roku OS 10 are also available.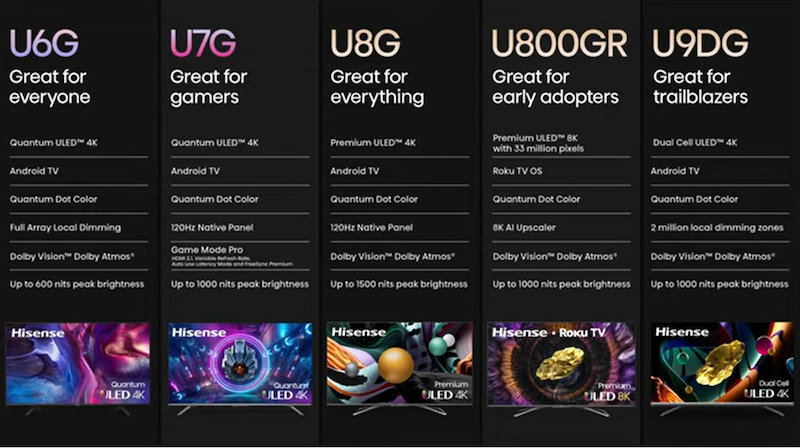 However, there is one very important feature places the U800GR in the premium category. This Hisense's first 8K set model. Brightness is 1000 nits peak brightness on the 75-inch, 129Hz panel with up to 180 FALD zones. A proprietary 8K upscaler uses frame-by-frame analysis to adjust the pixel count conversion from any input source for the more realistic image display 8K commands.
Available this summer, the U8000GR will have an MSRP of $3,199.99.
At the top of the new model introductions will be the U9DG. For anyone who might doubt Hisense's credentials to play in the high-end market, this set will put those concerns to rest. Using a sophisticated technology that Hisense has shown over the past few years at CES, this is the first consumer set to be sold in the US with a unique Dual-Cell technology. By using two LCD panels, a luminance control panel that sits behind the main 4K panel, grayscale, brightness and color are displayed with much greater precision.
Dynamic contrast is listed as 2,000,000:1 and static contrast is up to 150,00:1, thanks to more than 2 million local dimming zones. Peak brightness is up to 1000 nits peak brightness. While it is not possible to judge the picture quality during a virtual event, all indications are that the use of the dual-screen technology will let the U9DG give OLED and QLED sets a run for their money. Hopefully in-person events will begin soon so that we may all be able to judge the screen technologies head-to-head.
The 75-inch Hisense U9DG
Speaking of "money," the 75-inch U9DG will reach dealer shelves this summer with an MSRP of $3,499.99. As befits a "premium" set, all the video format, connectivity, and control bells and whistles of the U800GR are present on this AndroidTV model are there. As befits the top level video quality, audio is delivered though a multi-driver front-facing speaker array.
As with any announcement wave such as this, there are always some questions yet to be answered. For example, at deadline time there is no information as to whether the U9DG uses miniLED technology. Further, the video presentation seemed to show that about the full scope and nature of and HDMI 2.1 connectivity. Given that ATSC 3.0/NextGen TV was not mentioned, one may presume that it is not included. All models except the U800GR are based on AndroidTV but there was no hint as an eventual update to the latest GoogleTV OS. With many of the models sporting "summer" introduction dates, perhaps these questions will be answered further down the line.
It should also be mentioned that although these five new model lines are aimed at the upper reaches of the TV market in terms of features and technology, Hisense is definitely not ignoring the greater parts of their line that have driven them to their top-five market position. Their L5 Laser Cinema laser projector is a powerful category participant in the Ultra Short Throw category at $4,999.99 for the 120-inch model with an Ambient Light Rejection (ALR) screen. In the value-priced, entry-level market segment the A6 models are available in sizes from 43 to 75 inches, with pricing starting at $299.99. New R6 and R7 models will be available this fall with prices starting at $399.99 for the 43-inch R6 model.
For many, Cinco De Mayo is a festive celebration. This year the fun was heightened for Hisense with their five new model line introductions. Indeed, food for thought as we enjoy and drink in the video and audio excitement.