When you have roughly 3,500 square feet to work with for a home theater conversion, you're in pretty good shape to start. However, when the space you're converting was a home gym with a hallway running through the middle of it, there are a few hurdles to overcome. That was the main challenge one homeowner presented to Peter Cook, president of Automation Design + Entertainment.
"Starting out this project, we knew that the layout of the space was going to be a challenge," Cook stated. "Luckily, right off the bat the homeowner knew that they wanted control over every aspect of their home theater, so without hesitation we recommended an ELAN Entertainment & Control System. Given there would be quite a few different components in this set-up, we knew that the integration capabilities of ELAN would give us the flexibility that we needed and the control that the homeowner desired."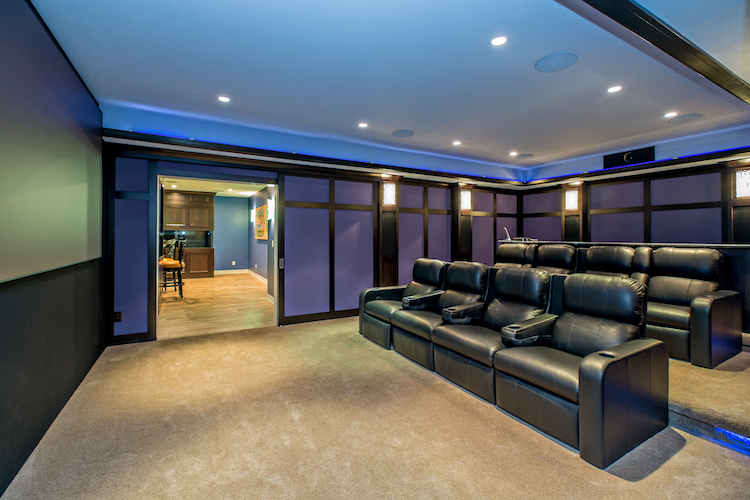 Once Cook had the home theater's central nervous system selected in the ELAN g1 System Controller, he went about conquering the hallway issue by implementing custom barn doors that easily slide open to reveal a Craftsman-style home theater with a modern bar and lounge area.
Beyond the doors, the home theater features eight custom theater chairs, four stools at the granite bar on the top tier and a 4K projector that displays movies onto a 2:3:5 backlit screen. Control for the theater, as well as the entire home's cameras, security, AV and lighting, is accessible through ELAN, using the ELAN App on their smartphones or iPads, as well as several strategically placed ELAN in-wall touch panels.
To handle the home's audio, an ELAN S1616A Multi-zone Audio Matrix/Amplifier was installed. According to Cook, "the ELAN S1616A allows us to tailor the sound perfectly to each zone's unique acoustic environment."
A number of Lutron lighting elements were installed in the home theater, such as the riser step lights, proscenium sconces, the screen's backlight, two zones of can lighting for the upper and lower levels, walkway lighting, plus cove lighting that casts black-light onto the theater's signature feature, a custom-painted mural of the constellations. Through ELAN, the homeowners can control each of these unique lighting elements from one easy-to-use interface.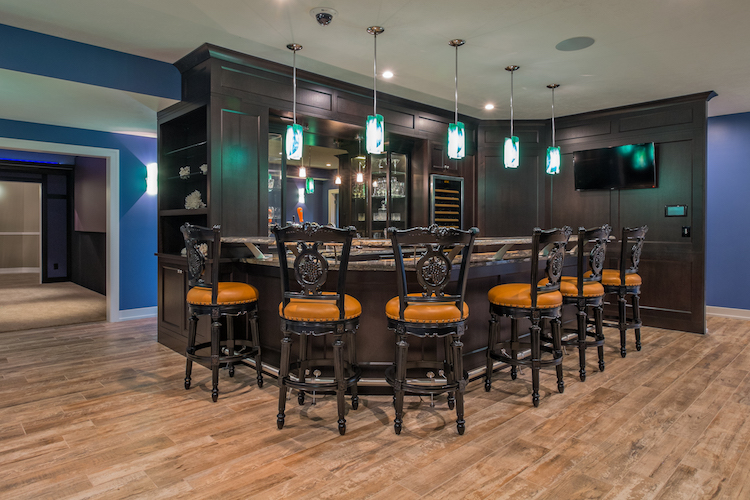 To ensure that all of the home's equipment is protected, a Furman F1500 UPS battery backup was installed to supply uninterrupted power in the case of outages, protection against power surges and BlueBOLT remote power management for trouble-free operation of all the home's AV components.
While there won't be much working out being done in this basement anymore, Cook is happy that he was able to work out this installs' challenges and ELAN played a central role in turning "gym night' into "movie night" for this Michigan homeowner.