Can a home security system really be DIY, and more importantly, can it give you the security and peace of mind that we've come to expect from professionally installed solutions? I recently installed and lived with Resideo's Honeywell Smart Home Security line to find out for myself.
I've been well aware of smart DIY (do it yourself) distributed audio systems and even smart DIY thermostats and doorbells, but at this year's ISC (International Security Conference) show in Las Vegas I ran into an old friend who told me how he was excited to see a company at the convention that had a DIY security system. He didn't remember the name of the company, but the idea of a DIY product in this space was something that created a lot of questions of which neither of us had the answers.
Installed by Licensed Professionals, Right?
Historically security systems have been products sold by professionals who needed to be licensed and certified to install them due to the "security" aspect and complexity. You wouldn't want someone installing something that was designed to protect you and your family only to have the installer be someone that came back later and stole from you because they knew everything about your home and the security system you chose to protect it.
The other aspect about security systems is that most of them rely on a recurring billing model to help offset the extensive labor and system costs. This is why many security companies will offer a "FREE Security System" but require several years of monitoring service to help offset the introductory promotion. But the monitoring part is really where the protection and feeling of security comes from, as well. By having 24/7 monitoring you can be assured that should there be an intruder, fire, or other emergency, someone would be monitoring to notify the appropriate people to ensure you got the help you needed.
So, who would dare come out with a security product that was designed to be so easy that anyone could install it? How expensive would something like this be? Could you still get professional monitoring? Most importantly, how good of a job would it do protecting a home along with the people and pets that reside in it?
As I visited the booths of security vendors, I finally came across a small living room set up at the Resideo booth and on a shelf was what looked like an Amazon Alexa speaker. The wall graphics in the area said, "the professionals' alternative to DIY." But wait, was this the same DIY product that I had been looking for?
Turns out that Resideo was showing the second- generation Pro Model which is coming out later this year, but on the shelf was the current generation of the Honeywell Smart Home Security product that launched less than a year ago. You may not be familiar with the name "Resideo," but you've probably heard of Honeywell, the number-one manufacturer of security products for both homes and businesses. Resideo is the residential arm that spun-off of Honeywell in late 2018 and trades as NYSE:REZI.
YouGov did some research on behalf of Resideo and found that among the approximately 2,000 U.S. consumers surveyed, 60 percent want a professional to install their connected thermostat or whole-home security system, as they would worry about making a mistake by installing it incorrectly themselves. There is some great information from their case study here. Well, that leaves 40 percent of the market that might want to give it a go themselves, which is a good amount of potential customers with a need and not a solution, until now.
Having owned a Honeywell security system for many years (one that was professionally installed and covered every aspect of security in my house), I was curious how this new solution would perform. Would it be enough to give my family the same kind of peace of mind that our much more elaborate system had provided us for years, understanding that these were very different types of systems.
Unboxing a Resideo Honeywell Home Security System
A small box showed up to my house with nice packaging, clearly made for retail or internet sales. It highlighted many of the system's features, such as the ability to capture motion and sound, which can then be sent as 1080p HD video with full audio to the app. It also has Amazon Alexa and voice control built-in and can even integrates with other DIY products such as Z-Wave lights and additional Honeywell sensors.
With my 14-year-old daughter home for the summer, I thought this would be a fun project to see how truly DIY this product was and could a young teenager install a security system? Upon opening the package there is a very simple, "Let's Get Started" guide with pictures and easy-to-follow descriptions. The first step was to download the "Honeywell Home" app. From there the product was to be plugged in and an account set up on the app. Unfortunately, this is where we experienced our first challenge.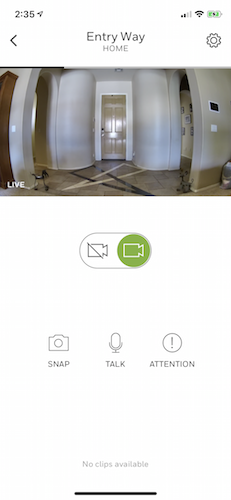 Set-Up Challenges
During the simple account set-up process on the app, you are required to enter your name and email so that a confirmation code could be sent. After waiting for about 10 minutes, we tried sending the code several more times until finally we decided to try a different email address. We even checked the spam folder, but for some reason it wouldn't come through. So, we tried to send it to my wife's Yahoo account and shortly after a code appeared.
Moving along, we entered the code and at this point the app basically takes over for the written instructions and starts to guide you through the rest of the set up. That's where we encountered our next problem. For the app and your account to connect with the main unit, the unit must be in a pairing mode, which is indicated by the base of the unit being blue. We noticed this working when we initially plugged the unit in, but while we were waiting for the code to be emailed to us, somehow during that time the unit completely lost power and stopped working. We tried resetting it and unplugging it, and eventually we called tech support. Unfortunately, they were already closed, and because it was Friday, we would have to wait until Monday to figure this out.
Technology is evolving so quickly and as customers we are able to get our hands on so many great products that require little to no set-up time, are very easy to use, and provide us with the most cutting-edge technology. But technology will never be perfect. Small things such as an email address not working, or a product failing right away are not uncommon and not a representation of a bad product, especially in this mass-production, rush-to-market, world that we live in.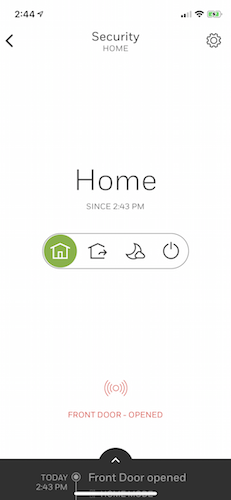 Smart technology can only be so smart, and patience is important if you want to be able to have these great products at prices like we've never seen before. At $349 retail for a security system with voice control, video surveillance, door sensors, a remote, and the ability to control it anywhere with an app, with no professional installation needed, this was unheard of even just a year ago.
Let's face it, some people aren't as tech-savvy and the idea of troubleshooting an issue with an email not working, or a unit powering up and then stopping, could be a waste of a day and a lot of frustration. For that reason, I think it's great that there is a link on Honeywell Home's website to "find a pro." A professional is always a good option when it comes to security-related products and is also great for when you don't have the time to deal with the potential challenges that all electronics can experience from time to time.
In my situation, the manufacturers quickly sent me a replacement unit, and when I received it, I wanted to try and figure out exactly what the problem with the original one was. It turned out to be a defective power supply, which is a low-cost part that could have been replaced. Instead, the company went above and beyond to replace the unit and provide excellent service.
New product in-hand, the rest of the set-up was very intuitive and even has instructional videos if needed. Once installed, the system operated as advertised. You can monitor the home with video and the microphone, and you can even talk from the app through the security system's built-in speaker, a feature that my wife enjoyed using when being away from our dogs one day. The video quality was clear and had a nice wide angle to cover a large space. With the sensors easily installed using the included double-stick tape, a notification was sent to the app anytime an event occurred.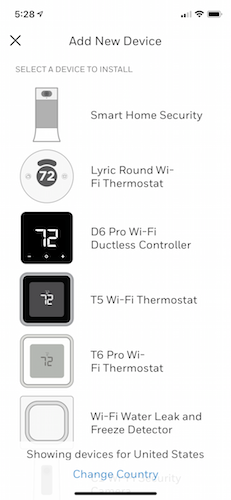 One of the coolest features for me was the geofencing – something that neither my control system nor hard-wired security system has. This allowed the system to be automatically switched to HOME or AWAY mode based on the proximity of my cell phone, which was much easier than using the key fob or opening the app.
The Importance of the Pro Installer
Resideo recognizes that their primary customer is still the custom installer which is why they showed the new Pro version of the Smart Home Security product at the ISC show. This version will only be available through their professional group of authorized resellers and will integrate with life safety devices such as smoke detectors along with including the ability to add monitoring station service so that a professional response team can support you just like they would with a fully installed security system.
The current consumer model is a perfect product for an apartment, small home, work office, or maybe just a room that you'd like to keep protected in your home like a master bedroom or home office. While adding more supported products to the system such as additional sensors, cameras, etc. could allow you to expand functionality throughout even a larger space, I think the question is less about can you and more about should you?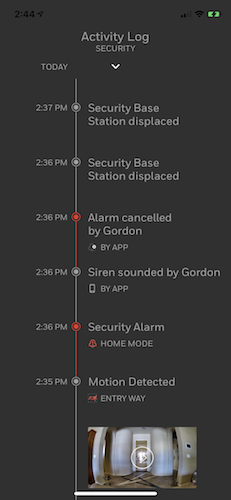 Let's be clear, hard-wired professionally installed home security systems with professional monitoring is the only solution if you are wanting the best in safety and security. A true professional burglar is going to look around your property first, see if there is any indication of a security system or any valuables that will be easy to take. Leaving this device out in the open would make it very easy for someone to break in, navigate around the unit, and leave with all of your valuables.
The Bottom Line
If you have no home security system now, this is a great alternative, and it's fun. It provides some peace of mind because it does work and gives you video with audio to monitor the immediate environment in addition to the various sensors. That being said, if you find technology to be daunting, then hire a DIFM (do it for me) company to install this type of product for you. Who knows, maybe it will be a 14-year-old that shows up to do the install. After all, they grew up with this stuff and probably know modern technology better than most of us.