A Team of Loudspeaker Industry Veterans Revive a Legendary Brand with 30 New Products and a Time-Proven Distribution Strategy
When people start a speaker company these days, they typically launch with a few rebadged products designed by Chinese OEMs, and they tend to sell mainly through Amazon or their own website. This approach does work sometimes, but it rarely elicits a reaction from consumers more enthusiastic than, "What's the price?"
The September relaunch of the KLH brand was the opposite of this approach. The official roll-out, which took place in a large ballroom in the InterContinental Hotel during the recent CEDIA Expo in San Diego, featured no fewer than 29 different speaker models, all conceived and designed by a team of engineers with a collective 200 years of experience at such companies as Carver, Definitive Technology, Klipsch, and Polk. It's being sold not through mass-market websites such as Amazon, but primarily through specialty retailers and custom integrators—in 22 countries as of this writing, with more expected.
Lest you think you're having a flashback to 1995, the presence of an Atmos-enabled speaker and a voice-enabled, Wi-Fi-equipped in-wall keypad in the KLH line will assure you that this is a company launching in 2018.
Most people under 50 probably don't know KLH. The company was founded in 1957 by audio pioneer Henry Kloss, with his partners Malcolm Low and Josef Anton Hofmann.
The company succeeded with such iconic products as the Model Eight table radio and the Model Nine electrostatic speaker. But by the 1990s, KLH had been sold and resold several times, and like so many once-revered audio brands, KLH was most often affixed to copycat products its founders would almost certainly have rejected.
Enter David Kelley, former Klipsch global sales president, who grew bored after retiring at age 50. "I was playing golf with guys in their 70s, and they kept asking me what I was going to do with the rest of my life," Kelley said. "Call me a glutton for punishment, but I missed the speaker business. And I saw a niche in the market—there were a lot of speakers that sounded great but didn't look great, and a lot of great-looking speakers that didn't sound great."
Figuring he had the skills and connections to do better, Kelley started thinking about how to put together a new company. An epiphany arrived in a conversation with a friend, who told Kelley that the KLH brand was available for purchase. "I couldn't believe my good fortune," Kelley said. "Henry Kloss was one of most iconic engineers not only in the history of audio, but in the history of consumer electronics. It's such a great brand, but it had been dormant since 2004."
In January 2017, Kelley bought KLH and began putting together a team he thought could carry out his vision. "All of them had executive experience in engineering, manufacturing, sales, or marketing. Some of them came out of retirement to join us, and some had gone to other industries but wanted back into the speaker business."
"The attitude among the entire group is that we're in this to do something special in the industry," explained KLH Chief Technical Officer Steve Howell, a veteran of Sonance, Carver, and a long consulting career. "There have been some negative connotations around speakers for the last decade—people think of them as just vinyl or plastic boxes now, and they've lost the idea of what audio's supposed to be about. Our goal is to create products that deliver goosebumps."
The New Line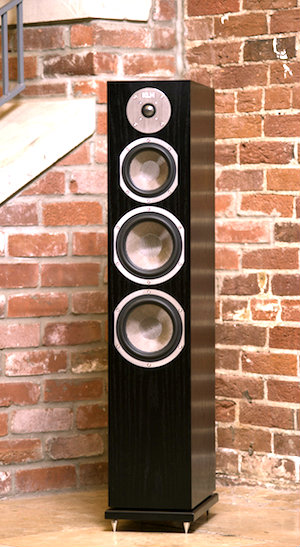 The new KLH speaker line includes 12 in-room speakers and 17 architectural models. Each of the speakers is named after a street in Cambridge, MA, where Kloss and his partners founded KLH.
The in-room line includes a couple of two-way bookshelf speakers, three tower speakers, a center speaker, a Dipole surround speaker, an Atmos-enabled surround speaker, and two powered subwoofers. But the model Kelley keeps coming back to in conversation—and the one the company chose to demo at the InterContinental Hotel—is the Kendall, its top-of-the-line tower speaker.
Each Kendall has two 6.5-inch woofers, a 5.25-inch midrange driver and a 1-inch aluminum dome tweeter. "I'm especially proud of the way we designed the enclosure," Howell said. "Rather than placing the bass ports where it was convenient, we took the time to figure out where to place them for optimum performance. People tend to put speakers too close to the wall, so we gave the speaker two ports in the back, and we include port plugs so you can tune the speaker's bass response to the room by plugging one or both ports. We also put in a lot of time on the crossover; it took us two weeks to get it to the point where we were happy with it."
Kelley wants to stress that true to his vision, the fit, finish, and design of the Kendall go beyond what one might expect for $1,299 per pair. "The world doesn't need another vinyl box," he said. "With vinyl records so hot right now, we wanted to capture a mixture of vintage and modern. We've got three-quarter-inch MDF cabinets covered in beautiful wood veneer, vertical brushing on the aluminum trim parts around the drivers, laser etching of the KLH logo on the tweeter fascia, and magnetically attached grilles."
Many speaker companies have a "signature" design trait, such as Klipsch's horn tweeters or MartinLogan's electrostatic panels, but according to Howell, KLH takes the opposite approach. "We're not married to any one technology," he said. "Every single part in a product we do is designed for that application. For example, we like Kevlar cones, but in small enclosures, Kevlar cones are too light and you lose control of them. So, while the Kendall has straight Kevlar, the drivers in the Maxwell [the company's $649-each in-wall model, with an integral back box] use Kevlar laminated with fiberglass to make it stiffer and give it more mass."
Perhaps the most interesting product in the new KLH line isn't a speaker. It's the $199 VX-1, a keypad with Wi-Fi and Bluetooth plus a 25-watt-per-channel Class D amp built in. It's designed to replace in-wall passive volume controls (of which Kelley says there are at least 8.5 million in the U.S. and Canada), and to draw its power from a supply connected to the existing speaker cables.
"In 15 minutes, an installer or a DIY customer can upgrade to multisource and streaming," Kelley said. "Any Alexa device can control the VX-1, and the MUZO app we supply also allows your smartphone to do far-field voice command of any Alexa device."
Next for the company will be a new Model 8, which shares nothing technically with Kloss's original. Kelley reports that the new all-in-one speaker system, which is likely to launch at CES in January, will have two 1-inch tweeters, a 3-inch full-range driver, and two 3-inch passive radiators for bass reinforcement. Spotify Connect and Alexa compatibility will be included, and the target retail price is $298.
The Strategy
Lots of speakers—almost all of them, really—are designed in North America or Europe and manufactured in China, so what's special about KLH's formula? "A lot of those companies do some design in-house but farm out much of the design and engineering of the components," Kelley said. "We're more vertically integrated. We don't use OEM suppliers. We design everything in-house, which allows us to control costs. And we don't have a large corporate palace, and we don't sponsor concerts or anything like that. We put all our money into the design and engineering of the products and pass the savings to our customers."
Some might consider KLH's distribution strategy downright radical in the era of Amazon, even though it might have been considered humdrum in the era of Microsoft. Kelley has decided to take a traditional approach, focusing on specialty retailers and integrators, with e-commerce limited to Crutchfield, World Wide Stereo, and IQ Entertainment.
Talk with other speaker companies, though, and you're likely to hear that the specialty retail channel has all but vanished, and that most installers don't invest in showrooms. Kelley strongly disagrees. "I think that's a cop-out on the part of the manufacturer," he said. "You know, 'There's nobody left to sell to, so I'm forced to sell mass retail or Amazon.' We're opening up at record pace in specialty retail and CEDIA dealers. They still have showrooms, but it has evolved to be more focused on the experience. If you're selling a Ferrari, the best way is to toss them the keys and let them drive it. We don't believe you can get that experience in mass retail."
Will the bold yet, in many ways, conservative approach of Kelley and company be enough to bring KLH back to the prominence it enjoyed almost 60 years ago? Considering the constant technological revolutions that the audio industry has gone through in the last 20 years, it's anyone's guess. But based on the enthusiastic response of showgoers at CEDIA to the company's demo of the Kendall, it seems likely that the reborn KLH will be one of the most talked-about audio companies in 2019.