Photos of graphical interface of the Orro One made me do a double take the first time I saw them. The sleek touchscreen graphics fit snugly within a typical lighting control toggle switch, but also looked modern, flexible, and designer-friendly. The promise was lighting control, device-to-device intercom, Alexa integration, Sonos music control, and artificial intelligence (learning your lighting needs over time and sensing room presence through sound and motion.)
Without a hands-on experience, however, I was merely assessing this new product line on its aesthetic qualities and technical description. To judge Orro's performance in the real-world I would need to install one or two in my own house. Thanks to Orro, I was able to do just that.
The catch? I already have a whole-house Control4 lighting control system that works great for my household. Would Orro's Control4 integration enhance or complement my current system or would I come to find that Orro works better as its own self-contained system?
I'm not a professional installer, but I'm pretty handy, so I set out to swap out two Control4 dimmers for two Orro One switches and see where the two products were comparable or where one system might shine above the other.
Each Orro switch arrives in a stylish box that has a similar look to Apple device packaging. The box contains an installation booklet that walks you through a very intuitive process. The first step is determining if your installation is for a single switch or a multiway switch (multiple switches controlling the same lights). If it's a single switch, then then you proceed with the installation manual. If not, you are directed here.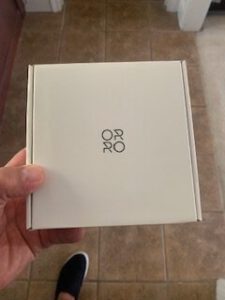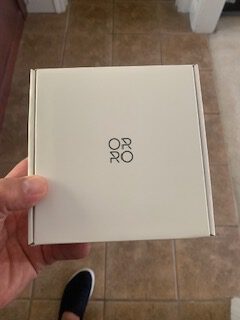 The installation manual includes clever advice, such as installing during daylight or with a flashlight because the breaker will be off during the project. It also indicates that an Orro may take up to 45 minutes to install, but that it will go faster with each installation.
Each box contains an Orro One, a faceplate and mount, four extension wires, four wire connectors, two plate screws, two mounting screws, and six wire labels.
The next step guides you through the process of identifying your bulb type and calculating the total load of your current light set up. Installation was no more complicated than replacing a standard light switch, although a little more real estate is needed inside the wall to fit the Orro backbox into the cavity. In another clever move, the installation manual reminds you to take a photo of the existing wire connections at the switch that you're replacing.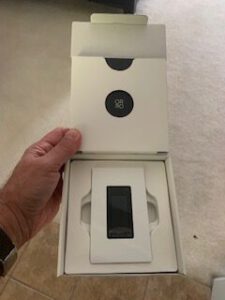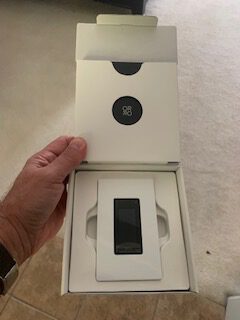 A neutral wire is required for the Orro One to work, so the manual helps you identify which wire that is and directs you to label it or them with the provided sticker. That process is repeated for the ground wires, load wire, and line wire. The installation manual next leads your through the process of removing the old switch, stripping and straightening the wires, and connecting the Orro One (sometimes with the provided extension wire and three-way wire connectors.)
After the Orro One is fit back into the wall and screwed in, you're directed to flip the breaker back on to send power to the device. When the Orro One powers up and the company logo appears, you know it's okay to attach the faceplate. From there, you follow the instructions on the screen of the Orro One itself. The device cycles through a series of pages, asking various questions like "How many Orro Ones control this light?" etc. You're also directed to the App Store to download the Orro app for further set up and preferences.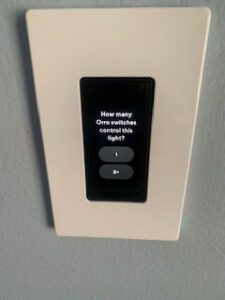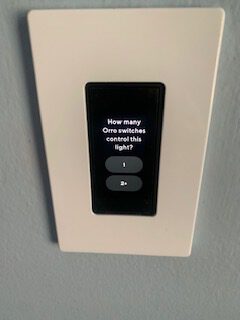 I chose to replace the Control4 dimmer in my office and the one in my wife's office. I thought it would be the least intrusive to the current system since each room was controlled by only one dimmer switch, and the rooms were far enough from each other to test out the intercom. I also felt that the limited hours of usage in each room would provide a solid test case for Orro's room presence feature.
Initially I went into the app and named each room and created some scenes, such as Sleep, Relax, Focus, and Max. These were each prescribed dimmer levels that could be triggered in one click. It's also possible to set the home screen of each dimmer on what looks like a traditional keypad with five vertically stacked circles, each representing a dimmer level. That way, when you walk in a room and the presence sensor either hears the room's lights may come on at 100 percent for that time of day, but if it's a little too bright for you, you can walk to the dimmer and click one level down. Then, if you're in "Automatic Learning" mode, your dimmer will use AI to learn your preferences for certain times of day. If, for instance, I always click the dimmer down one level from 100 percent each morning, then eventually the presence sensor will remember to come out at 80 percent instead.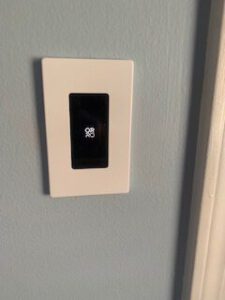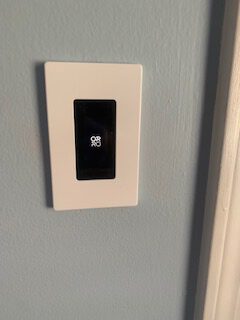 At first, I didn't really trust the idea of Automatic Learning (I'm a cynical GenXer), so I went with manual setting. I told the dimmer from within the app what level the lights should turn on to at each hour of the day and when the dimmer should switch to Night Mode (where the lights don't come on at all). After a couple of weeks, however, I realized that AI might not be evil and that the robots weren't going to take over the house (yet), so I switched to Automatic Learning and have noticed progress in the system learning when I don't want to overhead lights on at 100-percent.
I dabbled a little bit with the "Works with Alexa" feature, and while I could ask Alexa for the weather and other typical questions and get an answer from the little speaker inside the Orro One, I could not use the Alexa intercome to page another Alexa smart speaker within the house. I also found that the locations of my two Orro Ones were too close to our kitchen Alexa smart speaker, so my wife's cooking timer instructions and pages to the family to come to dinner would bleed into the two offices and confuse the Orro Ones.
I tested out the Orro device-to-device interface feature, also. It worked well, but although swiping to the intercom page on the dimmer was simple enough, as was selecting the room that you wanted to page (only one option is available in my case), the "push to talk" requirement felt a little less intuitive. After several years of Alexa intercom via voice control, the idea of pushing a button down walkie-talkie style and then remembering to let go of the button or waiting for the person on the other end to get up and walk to the Orro One and push a button to respond, was a little clunky. But that's just my use case. I could see a non-Alexa family who wants to recreate an elegant paging system for a large home really embracing this feature from Orro. It might be best suited to a "come to dinner" announcement, rather than a conversation between rooms.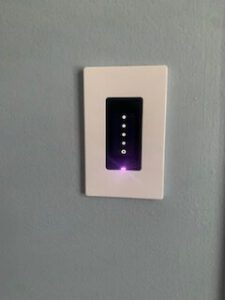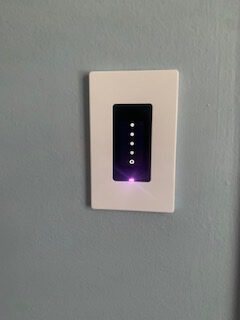 Orro also offers Sonos integration. Again, because I have a Control4 system, I have a limited Sonos system consisting of a Move and Roam in my home office. This mini setup did, however, enable me to at least get a sense of how one could walk up to the Orro One, swipe left a few times and find a touchscreen page with two-way feedback of the song playing on Spotify through my Sonos speakers.
To see how well Orro integrates into a Control4 home automation system, I scheduled an hour with my custom integration firm, Millennium Sounds, who pulled the Orro light switches into the Control4 ecosystem so that I could control them via Control4 interfaces, add them to scenes, etc.
Once Millennium's Andy Bang made some adjustments with Control4's Composer programming software, he was able to add an Orro "face" for Control4 light scenes that mimicked the Control4 app, touchscreens, and engraved multi-button keypads that I already have. With Andy's handiwork, I could then swipe the pages on the Orro One until I found the Control4 page, which looked quite a bit like my engraved keypad. However, whereas an engraved keypad has a limit of six scenes (matched to six custom engraved hard buttons), because Orro is a digital screen, Bang was able include more than just six. I don't have a ton of lighting scenes, but I was able to include a couple more.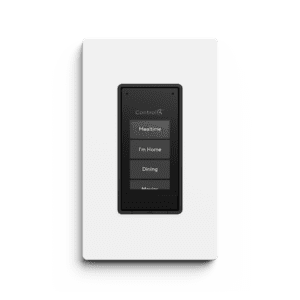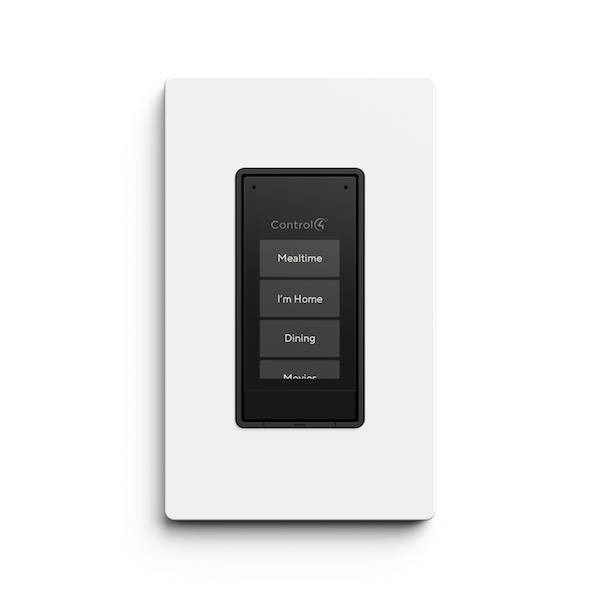 The big ask from me was that the rooms with Orro needed to also respond to Control4 scenes like they had when they contained Control4 switches. This took another click or two in Composer, but now when I select the Day mode, for example, from an Orro One, Orro app, Control4 device or app, every room in the house responds accordingly to that Control4 lighting scene. What's different in the Orro room, however, is that the presence sensor can then dim down the lights if the device doesn't either hear your or sense your motion for a prescribed amount of time (set in the Orro app).
Only a couple times over the span of many weeks has my overhead light in my office turned off because I was so quiet and still at my desk (I swear that I wasn't napping on the job!) Compare this with a Control4 motion sensor in my laundry room, which often turns off due to "stillness" when I'm working on a project in that space (taking apart my 15-year-old dryer), requiring a quick wave of my hand to turn the lights back on. The Orro sound sensor seems to really add more intelligence to the ideal performance of a motion sensor, plus there's no clunky exterior "bug" to hang on the wall; all intelligence is contained right inside the dimmer.
Orro folks tell me that future iterations of the Control4 driver may include "hybrid lighting," where the intelligence and presence detection could be applied to Control4 dimmers and switches. The company also hopes to leverage the Orro sensor infrastructure to activate/deactivate more than just lighting. Imagine their sensors triggering Control4 audio, shades, TVs, etc.
When I asked Andy Bang for his professional integrator's perspective about Orro use cases, he expressed genuine enthusiasm. He felt that the product line offered a new option for clients (particularly seniors), who really miss having a traditional intercom system and would also embrace lighting control but have been hesitant to commit to a full home automation system.
Bang also appreciated the "green" benefits of only keeping lights on in rooms with a physical presence in them. And for the homeowner that has not yet embraced Alexa smart speakers (I guess they're still out there), adding Orro can also bring Alexa intelligence into the mix without the need to add any tabletop hardware. Lastly, Bang believes that Sonos integration is a strong selling point, as it provides a static room interface (when the Sonos app isn't handy) to control a home's music system.
At $299, an Orro One is similar to the price of a Control4 dimmer, without the need for a separate EA1 black box to make the dimmers work. And with the recently introduced Orro S, a house can be fully outfitted with Orro without every dimmer having to be an Orro One touchscreen.
At $149 per switch (MSRP), the new Orro S provides the same human-centric, automatic lighting experience provided by the company's flagship touchscreen Orro One, but at a lower price, and with a more traditional toggle dimmer appearance (in white or black).
As the company continues to build its line and respond to customer feedback, there could be a very nice niche for them to fill.
Orro is a relatively young company, but with my experience with them so far, I could definitely see them having a bright future (pun intended).