"HTA wants to be your Valyrian Steel."
This bold declaration by Eric Thies of DSI Luxury Entertainment kicked off the Home Technology Association (HTA) inaugural Customer Experience Summit in New York on August 14. The event launched with bicoastal iterations, convening the Los Angeles community on August 8.
The common theme in the educational sessions geared toward home technology providers was to give consumers an experience they're not expecting. "We're challenging these folks to go above it," said Josh Christian, director of certification, HTA.
The Home Technology Association (HTA) is the first independent organization to educate and empower homeowners in their technology purchases, recognize exceptional businesses, and elevate the technology integration industry's status and stature with a rigorous third-party certification process. Since its launch in the fall of 2017, the organization has grown to 184 certified firms across the U.S.
One of the big ideas that HTA champions is the commonsense relationships that drive the custom home entertainment industry. Technology integrators should be fed by architects, designers, and builders in a continuous, mutually beneficial relationship. Historically, there's been a lot of friction in those relationships. "A big part of that is because there are a lot of crummy [integration] companies, and that's why HTA exists," is to filter out those companies that give the industry a bad reputation, according to Christian.
Integrators should be valuable partners, not a necessary evil. Architects, designers, and builders should be excited to bring in technology providers early. HTA seeks to facilitate this dynamic first by stringent certification standards, then by communicating this value through marketing.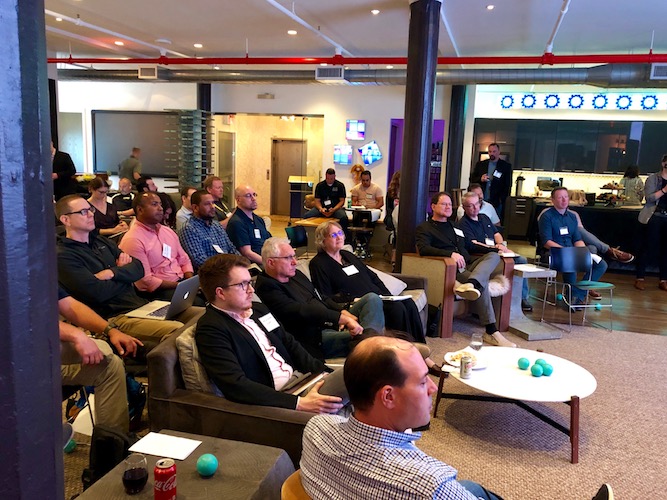 "Our hook is the budget calculator," Christian said, because "no one knows what this stuff costs." Home entertainment systems are predominately custom and dependent on many variables, so there is no copy/paste kind of template for predicting cost.
Christian further stressed that architects, designers, and builders should not be concerned that HTA-certified technology integrators are going to come in and change their designs. HTA's top two (of three) tiers of certification are designated as luxury and estate. These companies must provide design and engineering documents as standard to even qualify for the certification. A benefit of doing so contributes to accurate calculations of heat emissions, cooling, and electrical needs. When those factors have to be changed in the building process, it costs everyone money, not to mention frustration.
At the end of the day, home technology is part and parcel of everyday life. "You do it right, and people love their homes," Christian said. "Our mission is helping homeowners have great technology experiences, and that's ultimately what this [event] is going to lead to."
One of the primary means of achieving this goal at the Customer Experience Summit was helping technology integrators think more service centric, opposed to product centric. The logic is that consumers will have great technology experiences, "and as time goes on in their home, they're going to want more technology, not less," Christian said. "Right now, they kind of want less because of bad experiences."
HTA launched in 2017, and this marks the organization's first foray into events to help educate members. The concept has garnered validation from first-class home entertainment manufacturers like Crestron, Savant, Cineak, Sonance, AudioControl, Kaleidescape, and Access Networks. These manufacturers are not members of the organization, which is product agnostic. They've chosen to sponsor these events because they buy into the mission that HTA is helping bring the industry as a whole up. They feel the pain if their technology is not installed or programmed correctly when frustrated consumers get funneled to their support lines.
The topic of service values was explored extensively in a presentation by Joey Kolchinsky, founder and CEO of OneVision Resources, a premium home technology support service provider. He effectively debunked the traditional business notion that service is a cost value. Instead, in today's world of delivering customer experiences, service memberships are a requirement. He presented a range of viable cost frameworks for business owners to adopt because ultimately, he said, "Peace of mind costs something to deliver."
When faced with the choice between chasing a new customer opportunity and answering a service call, Kolchinksy urged integrators to choose service because it's the value proposition. "Value the clients you have more than the new ones."