The ISP Stranglehold
With more people being forced to socially distance their families in their homes as well as potentially work from home, people are consuming more internet data than ever before.
In the early days of cell phones the time you could spend talking on the phone and the number of text messages you could send were highly regulated by the carriers. Today, advances in technology and competition have removed those barriers and almost every cell phone plan includes unlimited talk and text. The amount of data an individual can download from the internet using their cell phone is slowly growing and the cost of that data is coming down. Unfortunately, I don't feel the same can be said of home internet service.
There has been a great deal of disagreement over the governments published number of Americans that have access to broadband internet. I won't dive into that here, but if people do have wired, home, broadband Internet then it typically comes from one of two providers:
The company that provides a home with wired telephone service
The company that provides a home with cable television service
In larger metropolitan areas, a consumer may be able to choose between many different cable TV and telephone service providers. In rural America the choices are much more limited.
"Cord cutting" is a major trend in video consumption by consumers. According to statistics published in TechCrunch from eMarketer.com in 2018, the number of cord cutters is expected to reach over 55 million people by 2022. This is over double the number of people consuming their TV from streaming video providers in 2017.
Unfortunately, there is a major disconnect between the consumer's reliance on their ISP and their desire to:
Save money
Expand their viewing choices by streaming video from Netflix, Disney+, Sling TV, Hulu, and a fast growing list of other providers
This disconnect exists because each ISP also provides their customers with TV service. When a customer "cuts the cord" their ISP is still enabling the customer to receive their TV video over their Internet connection. But, the ISP has lost the revenue they would have received as the customer's TV video provider.
This is an obvious statement for cable companies who began their businesses as TV service providers and only later became ISPs. However, each of the four major telephone companies also gain revenue by offering their customers bundled TV service.
Verizon – Fios TV service
AT&T – DirecTV satellite TV service
CenturyLink – DirecTV satellite TV service
Frontier Communications – Fios TV service
What ISPs do to subtly keep people from cutting the cord is to include data caps in their internet plans.
You might think that the data cap in your current Internet plan is more than adequate. After all, you probably have never exceeded it. In reality, the data cap is more than adequate if all you are doing is surfing the Internet, streaming music, email, social media, and other traditional activities. However, when you start consuming large amounts of your TV from video streaming services, things change very rapidly.
AT&T offers a very useful monthly data calculator. It can be found here. According to the calculator you can:
Stream 8,500 Hours of Music
Send 40,000 Emails
Spend 2,000 Hours Surfing the Web
Make 5,600 Social Media Posts with Photos
Spend 1,650 Hours Online Gaming
The total amount of data you will use for all the above activities is only 118.2 GB. That is a faction of the typical 1TB cap that a cable company places on Internet customers. However, things dramatically change when you start to stream high definition video.
A family of four, where each person watches a little less than 3 hours of high definition video per day (or 350 hours per month), will use 875.7 GB of data. Add that to the data used for other activities and you are suddenly getting close to your 1TB cap. But, high definition video is being replaced by 4K video and then the situation quickly becomes much worse. If that same four person family consumed 350 hours of 4K video then they would have used over 2TB of data; double their cap.
Of course your ISP isn't going to stop you from consuming all this data, they are just going to charge you extra for it. For example, Cox and Comcast, two of the largest cable TV companies, offer unlimited data plans for an additional $50 per month. Without subscribing to that plan a customer would be charged $10 for each additional 50GB of data they use in a month. In either case the savings a consumer expects by subscribing to streaming video services can quickly vanish. These companies are essentially charging all their internet service customers a tax to cut the cord and purchase their TV from a competitor.
When 8K TVs, which were shown at this years consumer electronics show, become more commonplace and streaming services start to offer 8K video, the situation will get even worse. 8K video streaming will use more data and even casual TV watchers will have to pay additional money to their ISPs for unlimited data usage.
Adding to this is the high prices charged in America for broadband Internet access. According to POINT topic the median price for residential broadband in Q2 of 2017 (the latest data I could find) was $80 per month in the United States.  As shown in the chart below, China, Japan, Germany, France, the United Kingdom, Russia, and the Republic of Korea all had median prices that were significantly lower than the United States.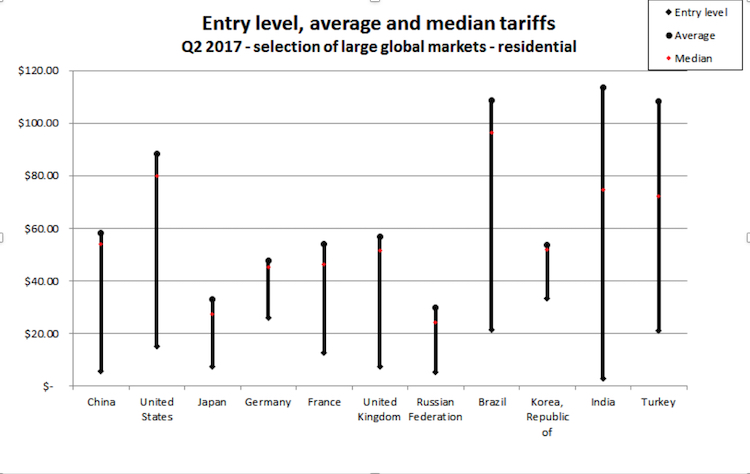 Given the current pandemic, a most ISP's have removed their data caps. However, a few are still enjoying the increased revenues from families being forced to socially distance and work at home.  According to Forbes, in 2018 cable companies and ISPs were the number 1 and number 2 most hated industries by consumers in the U.S. ISPs that they are taking advantage of Americans during this crisis to increase their revenues will do nothing to improve this situation.
To be fair, I need to mention that ISP's have improved their service over the years. By investing in technology the speeds that they offer consumers has continually improved. And, that improvement in speed is what makes streaming of high definition and 4K video possible. But, people in the United States are paying a premium for the same investments that ISPs in other parts of the world are making.
A recent ARS Technica article explored the question of why shouldn't Comcast make the removal of data caps permanent since their network seemed to already have the capacity to handle the large increase in traffic from during the crisis. The same question can be applied to all ISPs. But, given the number of people who have suddenly become used to streaming video, spending more time online, etc., I personally doubt that ISPs will want to lose the increased revenue that data caps offer.
Google Fiber Webpass offers gigabit speed Internet, without a data cap, for a competitive price.  However, it is only available in 18 locations around the U.S. This offers nothing for rural Americans that have few, if any, options as broadband Internet is not universally available throughout the U.S.
If you find this situation with high prices, data caps, and extra charges frustrating, there is some hope.  Over the next few years we will see the rollout of 5G wireless service beyond just "select cities." Even the initial rollout of 5G will offer speeds that rival 4G wireless service. When millimeter wave 5G eventually rolls out it should be much faster than what broadband Internet offers consumers today.
In addition, at some point in the future, people around the world will have access to a new satellite Internet from the arrays of low altitude satellites being launched by SpaceX and Amazon.
All this will lead to more competition among ISPs that should lead to lower prices. Until then, consumers will have no choice except to pay more, and more, for Internet service if they want to expand their TV viewing options beyond those bundled with their Internet service by their ISP.
(Visited 131 times, 19 visits today)