JBL Synthesis, Harman Luxury Audio's turn-key home theater solution for electronics, loudspeakers, system design assistance, and system calibration, is adding a number of new products and initiatives designed to enhance the performance and dealer focus of the brand.
This latest announcement includes HDMI upgrades for the brand's existing surround processor and AVR to support 8K video, a forthcoming surround processor and AVR with integrated 8K HDMI capabilities, and a new lower-priced, dedicated subwoofer amplifier.
Update on HDMI 2.1 Upgrade
Earlier this year, JBL Synthesis announced plans for an HDMI 2.1 upgrade program for the existing SDP-55 surround processor and SDR-35 AV receiver. That upgrade will become available in December 2021 with global availability via Harman Luxury Audio's network of authorized service centers.
The process involves replacing the existing HDMI 2.0 video board with a new HDMI 2.1 video board that supports uncompressed 8K video on all inputs and outputs. Pricing for the upgrade will be announced in November.
Two New JBL Synthesis Models Coming
On the heels of that upgrade program, two new models will become available in the first quarter of 2022. The SDP-58 and SDR-38 are new models that will include the HDMI 2.1 video board as a factory installed component. All other features of these models will remain, including full 16-channel immersive audio support for Dolby Atmos, DTS-X, and Auro 3D surround formats, Dirac Live room calibration including multi-subwoofer Bass Control, Dante connectivity, and IMAX Enhanced certification.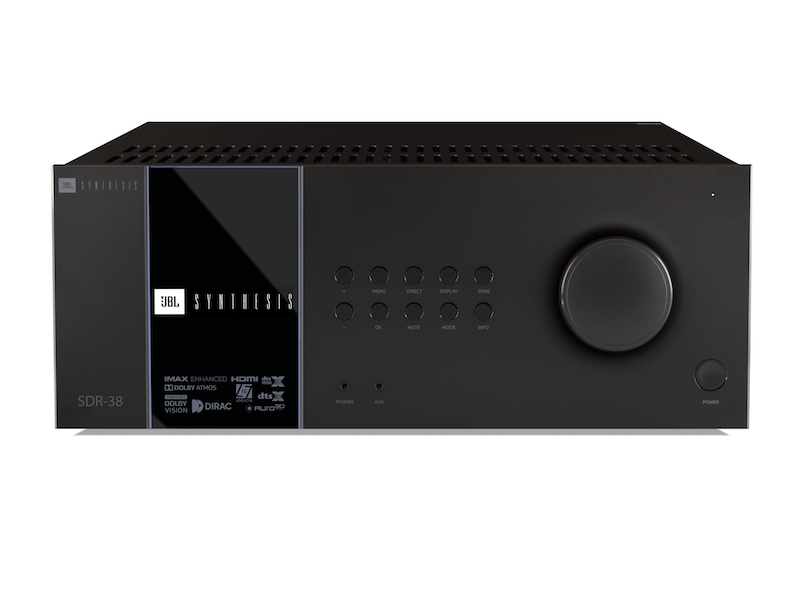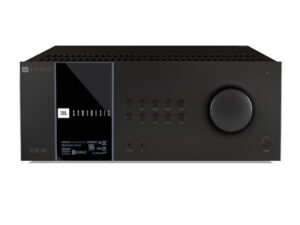 Pricing for the two new models will be announced closer to availability in the first quarter of 2022. The existing SDP-55 and SDR-35 will remain in the range well into the calendar year 2022 due to their lower price points and ability to serve duty in systems that do not require 8K video capabilities.
JBL Synthesis SDA-1700 Sub Amp Details
Also joining the JBL Synthesis' electronics portfolio is the new SDA-1700 subwoofer amplifier, which was designed to work exclusively with the SSW-4 passive in-wall subwoofer module.
The SDA-1700 is a two-space, rack-mountable chassis with a front-panel level control and rear-panel crossover, phase, single-band PEQ, and module EQ controls. The Class D design will deliver 350W into a single SSW-4 subwoofer or 700W into a pair of SSW-4 subwoofers. Availability is slated for the first quarter of 2022 with pricing to be announced at that time.
The addition of the new 8K HDMI-enabled electronics, the new subwoofer amplifier, and the recently expanded range of SCL in-wall and in-ceiling loudspeakers enables dealers to provide solutions across a wider range of projects while still maintaining the exceptionally high levels of performance for which JBL Synthesis is known.
"The products announced today further strengthen our JBL Synthesis brand and enhance the relationship we have with our dealer partners around the world," said Jim Garrett, senior director, product strategy and planning, Harman Luxury Audio. "With our expanded portfolio of best-in-class products, patented technologies, and ability to scale our systems to meet nearly any budget or room size, dealers and customers alike can be assured that they have the best performance available today for their custom AV entertainment spaces."
Related: Harman Luxury Audio's JBL Conceal Series Loudspeakers Feature Invisible Design