Maybe you didn't get to take a luxury cruise vacation this summer. But, that doesn't mean you can't incorporate some of the same high-tech, luxury features available on a cruise ship into your home. I had the opportunity to tour the Viking Sun; a two-year-old cruise ship that incorporates many high tech features.
Unlike the 5000+ passenger, behemoth, cruise ships, the Viking Sun only carries 930 passengers plus crew. To give you a better picture of the ship, it has:
Two Pools
Six Dining Options including outdoor dining around the main pool
Five Bars
While a typical homeowner isn't going to replicate these amenities in their own home, there are many things that the Viking Sun offers passengers that can be replicated in a home.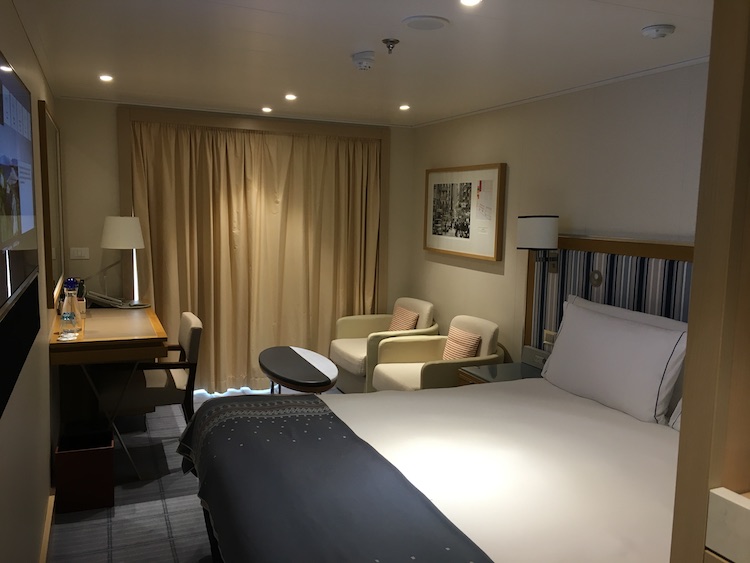 Stateroom
The typical stateroom on the Viking Sun is a model for a high-tech master bedroom in any home.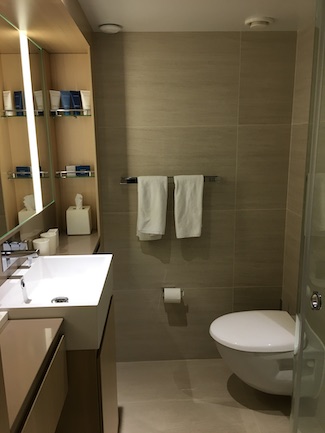 King sized bed
Small Refrigerator for snacks and a mini bar.
Nespresso coffee maker
Sitting area with chairs and a small table
Glass enclosed shower
Heated Bathroom Floor
Anti-fog bathroom mirror
42" flat screen TV
Motorized drapes with both a sheer privacy drape and a blackout drape
Sliding doors that provide access to a private balcony that includes chairs and a table
Motion activated lighting in the closet
Bedside switches for controlling the room lights
Night stands beside the bed that include storage, outlets, and USB charging ports
Viking is experimenting with the use of a touch panel at the entry to the stateroom with, for example, options for setting scenes that combing lighting with the position of the motorized drapes
There is nothing in the above list that couldn't be retrofit into a home as part of a remodel. And, in many cases, an extensive remodel isn't even required.
The TV in each stateroom is used for both entertainment and as an information hub. A guest can view a calendar of events, ship tracker that shows the location of the ship and the path it has taken, an outside camera that faces the front of the ship, weather forecasts, and much more. Control4 has included the ability to use a TV as an interface to their home automation system and many of these features could be replicated if a homeowner chooses Control4 as the platform for their smart home.
Health
The potential spread of illness in a cruise ship is a key concern. The Viking Sun includes many features to keep passengers healthy while they are on board.
First, there are hand cleaning stations scattered throughout the ship. While most of these simply spray sanitizer on a person's hands, at the entry to the ships main buffet-style restaurant, there is a complete hand washing station with sinks, soap, and towels.
The ships crew tries to make sure that all the passengers stay hydrated. Water is served to passengers in the restaurants, there are water decanters in each stateroom that are refilled every day, and bottled water is offered to anyone leaving the ship on an excursion.
Finally, the ship includes a very well appointed gym that is open to all passengers. The gym includes elliptical cross trainers, treadmills, exercise bikes, a rowing machine, dumbbells, equipment for palates, and even Technogym Kinesis Personal Heritage machines.
While the Technogym Kinesis machines may be out of reach for most homeowners, a simple home gym that provides for both aerobic, core, and strength training is affordable.
Hand cleaning, to minimize the spread of illnesses among family members, simply requires making this a priority. Between the kitchen and bathrooms there are typically plenty of hand washing stations available. Placing hand sanitizers at convenient locations around a home can further reduce the spread of illness.
Finally, hiding a mini-fridge full of water bottles wherever the family typically exits the house can make it easy for people to grab a bottle when they leave the home and help everyone stay hydrated.
Security
Security is taken seriously on the Viking Sun. Every passenger is issued a personalized card that incorporates a near field communication (NFC) chip.  This is used to:
Check each passenger on/off the ship so the crew knows if anyone is missing when the ship is going to leave a port
As a room key
In addition, passengers are treated to airport-style security any time they board the ship. Any items being carried are placed on a conveyor belt and run through an x-ray machine. Then, each passenger must pass through a metal detector. There are also security cameras in public areas of the ship that are monitored 24 hours a day by the ship's security staff.
Finally, while the Viking Sun doesn't include the latest in IoT video doorbells, each room does include a doorbell and "peep hole" so a passenger can see who is asking for entry into their stateroom. Staterooms also include a smoke detector, emergency lighting, and fire suppression.
Asking visitors to your home to submit to metal detectors and the x-raying of their personal articles might be considered excessive. However, including security cameras in and around your home that can be viewed remotely on your smart phone has been embraced by many homeowners. Further, enabling location services on each family member's smart phones allows them to find each other, for example, in a time of emergency.
Outdoor Recreation
In addition to the two pools, the Viking Sun includes a sun deck with a variety of outdoor games.  These include:
Shuffle Board
Ping-Pong
Bocce
Putting Greens
Lawn Bowling
Any of these could be implemented in a backyard.
Other Amenities
The Viking Sun offers a number of other amenities that a homeowner might consider for their own home.
Sitting areas are scattered throughout the ship.  These areas offer people a place to:

Relax
Read (a selection of books are available at each sitting area)
Play games. Scrabble and jigsaw puzzles are placed in some sitting areas
Play video games. Some sitting areas include a table with a built-in video game machine

Seamless Wi-Fi is available throughout the ship
The Viking Sun is appointed with artwork throughout the ship. A small audio device used for excursions can be used to take an audio tour of the artwork. A homeowner that collects art could create a tour of their own art collection using Alexa Blueprints.
Theater. The theater on the Viking Sun is used for a variety of presentations and movies.
The Viking Sun provides an incredible collection of luxury, and hi-tech, amenities for its passengers.  But, that doesn't mean that any homeowner couldn't replicate a significant number of these amenities in their own home.
Images by Jay Basen