AONYX, the custom integration firm for a new luxury apartment building on the River Thames in downtown London, knows what it takes for developers to compete in the top end of the city's residential real estate market.
The building features a combination of custom interior finishes, prime location, and extravagant amenities to create an ultra-high-end experience for high net-worth individuals. With apartment prices up to £7.8 million, it's no surprise that the owners outfitted the building with a Control4-powered entertainment area complete with an exquisite 18-seat movie theater, a bowling alley and a billiards room.
Including High-End Versions of Fun Activities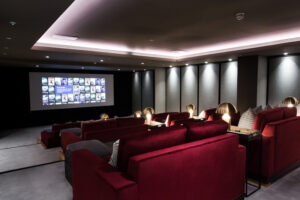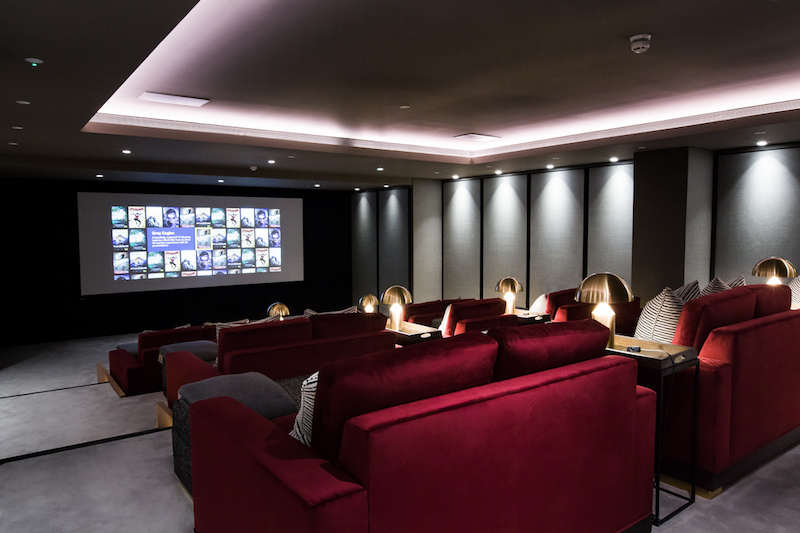 According to AONYX Managing Director Richard Reid, the building's developer knew early on that clients of this stature require catered experiences in addition to luxurious residences, so they decided it was crucial to include high-end versions of fun activities to differentiate from other buildings and entice potential buyers.
"The top end of London's residential real estate market is in a bit of an arms race to provide high-net worth individuals with customized living experiences, and centerpiece amenities like this incredible movie theater make a statement to potential buyers," Reid said. "Every detail matters here, from color-matched custom-painted grilles for the Triad Platinum Series in-ceiling speakers to the hand-built projector enclosure. The most important thing, however, is that the room and system is always reliable and easy to use, and that's why we chose to install Control4 over other automation and media distribution systems."
AONYX Goes with Control4 and Triad
AONYX knew the best solution for the theater and entertainment areas was the simple, intuitive and expandable Control4 system. Using the system's super-simple user interface on mobile devices or a Control4 remote, staff can quickly and easily set up or shut down the entire entertainment area, choose movies or music, and set the volume for each independent area.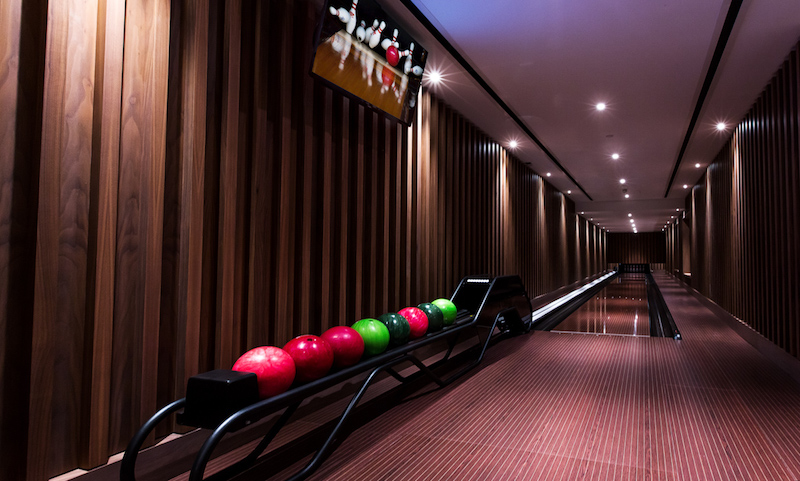 The theater, bowling alley, and billiards room each have hidden Triad speakers in the walls and ceilings to play any audio resident desire through the Control4 multi-room audio system. Each room can play the same music or can use different sources for multiple groups.
In addition to the painted in-ceiling speakers, AONYX also installed acoustic treatments and Triad in-wall speakers behind the theater's fabric walls and behind the screen itself to deliver a commercial-grade surround sound experience for every seat.
Kaleidescape players in each room offer a custom selection of titles chosen by property management, while Apple TVs enable residents to bring their own content or connect to subscription streaming services.
All the Technology is Hidden
"In buildings like this, the goal is to ensure residents can live carefree and not have to trouble themselves with details or procedures of building functions," said Oliver Benson, operations director at AONYX, "All the hidden technology in these rooms presents an out-of-sight, out-of-mind experience that provides all the benefits of top-shelf tech with none of the headaches. The property managers are even planning to offer new film screenings, private events and potentially offer the space for booking to outside parties."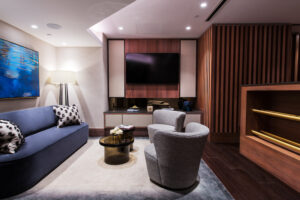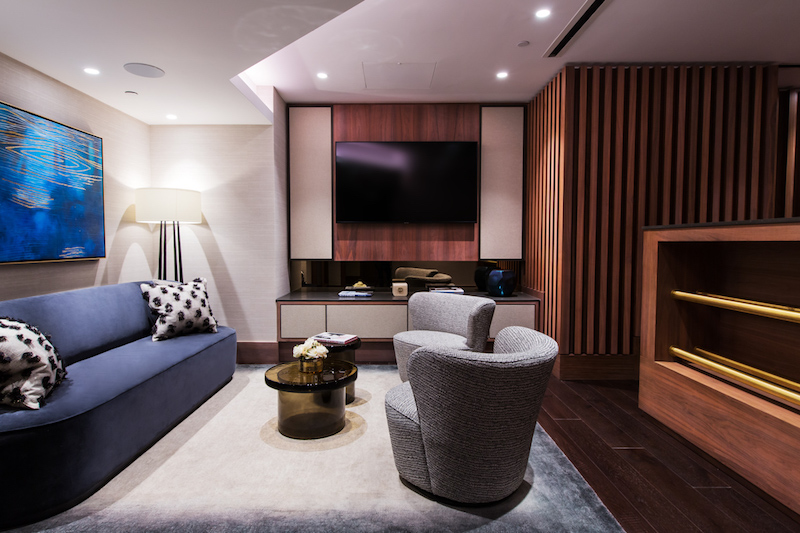 The billiards room and bowling alley also feature TVs that receive video signal through the Control4 system, and each display can play its own content or share a video stream with the other areas. This flexible system allows larger parties to enjoy the full entertainment options together, or separate groups to use separate rooms simultaneously.
Residents can book the theater and other spaces through a digital reservation system. Because it's a basement entertainment area, AONYX beefed up the space's wireless networking with professional-grade Pakedge gear so there is plenty of bandwidth to support dozens of guests and the AV system.
"Using the latest technologies and finest finishes, we help design and integrate world-class amenities to satisfy the upper echelon of homeowners," Reid said. "With Control 4 and Triad, we can bring commercial movie magic to private spaces in a way that's intuitive, expandable and able to blend in with any aesthetic."