Aside from the east coast location, Google's "Made for Google" event yesterday in Brooklyn, NY, was interesting and somewhat unlike their competitors' introduction events in a number of ways. First, the relatively small audience was quiet without the applause and cheers at an Apple event. Similarly, the presentations were somewhat low key without the bombast made famous when Steve Balmer headed Microsoft events. Many of the presenters had a professional, rather than evangelist, manner.
With many, but not all, of the new products and their features already leaked, some of what was shown was not really a surprise. Thus, rather than being a series of tightly focused, product specific segments, there was a running thread that highlighted how each product spoke to a series of key feature points.
Themes constantly referenced were, in no particular order, usability and user needs, human-centric industrial design, sustainability, data security with an emphasis towards local, on-device processing and computation, and portability of feature services across various device categories.
We'll leave coverage and details on the new Pixel phones and Pixel Books to other media outlets focusing on those specific product areas. Our focus here is on home control, entertainment, and connectivity.
Nest Aware
With that in mind, the first item is the upcoming, new version Nest Aware. While the features are important, most consumers will undoubtedly be drawn to it by the pricing. The current three-tier pricing that is levied for each camera will be simplified to new two tiers, which in both cases will include all Nest cameras, speakers, and displays in the home. The $6/month level provides 30 days of event video history for, as opposed to the current 5-day history for $5/month. The new $12/month Nest Aware Plus level ups the current 10 days for $10/month or 30 days for $30/month to 60 days of event video history and 10 days of 24/7 video history.
As important are the new features for both plans. Sound detection will alert the user to unusual events such as a smoke detector or glass breaking or send alerts when a camera detects a package or other activity at a front door. In conjunction with that, the user may call 911 or other emergency services to report an event alert using the home location's first responders feature, regardless of where the alert is being received. This is a great idea for travelers.
A tie here to the broad theme of privacy is that any audio recording is held on the device, rather than sent to the cloud. The user is then sent an alert and can decide whether to call for further assistance based on the clip content. A red light will also illuminate on the device to show that a recording and notification is being made. Stored audio clips may be deleted at any time from the Home app.
Nest Mini
Another new product, available for preorder now with a projected availability date of October 22 is the Nest Mini. Priced at the same $49 retail as the original Google Home Mini, the Nest Mini definitely carries through the themes of the new Google products.

From a sustainability standpoint, the iconic fabric covering is now made of 100 percent post-consumer recycled materials, while the plastic enclosure is manufactured from 35 percent post-consumer recycled plastic bottles. In fact, a single half-liter plastic bottle makes enough fabric to cover two Nest Minis. On the ease-of-use/human-centric design standpoint, merely waving your hand over the speaker or getting close to it lights up the LED indicators for the touch controls. Voice command performance is also improved due to the addition of a third mic.
The sound is said to be better with twice the low frequency performance in the 60Hz to 100Hz range, while the overall volume dynamically adjusts system volume in response to background noise.
Pixel Buds
A different audio product will be Pixel Buds, available in Spring 2020 for $179. As a contender in the crowded TWS in-ear market, competing not only with Apple and other third-party brands such as 1More and Plantronics, but soon with Amazon, as well. The Buds were built based on "human factors" research to provide a snug, "won't fall out" design that is flat to the ear. A spatial vent underneath each Bud alleviates the "plugged-ear" feeling while at the same time providing sound isolation with a bit of environmental sound for situational awareness.
As with the audio design in the Nest Mini, Adaptive Sound adjusts the volume level as you move from noisy to quiet spaces without the need to constantly raise or lower the volume. On the "talk" side, each Bud has two mics along with a "voice accelerometer" that detects sound through jawbone vibrations. Together, that complement allows clear voice transmission even in windy or noisy situations. Range is quoted at the equivalent of 300 feet outdoors or three rooms away, indoors. Battery life is quoted at five hours of listening time on a single charge, with up to 24 hours using the wireless charging case.
Nest Wifi
Given that virtually every Google hardware and software product depends on connectivity, it should come as no surprise to hear that a new Nest Wifi product was announced. It succeeds the three-year-old Google Wifi system that was claimed to be the number-one selling mesh system and in 2019 was said to be the top-selling router of any kind.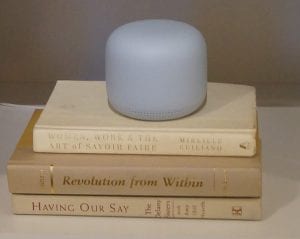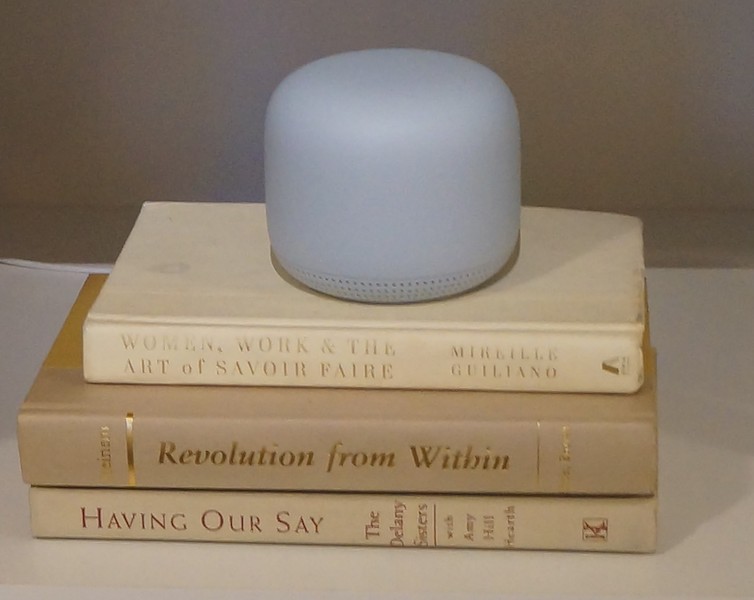 That's a hard benchmark to top, so the new Nest Wifi is touted as being "faster, stronger and better" than the original model. Up to 25-percent greater coverage and speeds up to 2.2 Gbps were quoted. The basic package of a router and access point should handle more than 200 smart home devices while processing multiple 4K video streams in typical home layouts up to 3,800 square feet. A three-pack that includes a second point should cover up to 5,400 square feet.
In parallel with the Wi-Fi performance upgrades, software has been improved for even easier and more reliable setup, configuration, and ongoing system management. Sustainability is there, too, with the same use of recycled plastic bottle material for the units' fabric covering. Additional connectivity with smart home devices is provided by Thread and BLE.
The most unique, though perhaps not surprising, feature is the addition of a speaker, mics, and the Google Assistant to the Nest Wifi point. This means that you can not only control and configure the Wi-Fi system but also have all the search and content playback features of the new Nest Mini.
Availability will be in November through the Google Store, Target, Best Buy, and other retailers at $269 for the two-unit set of a router and point, with a three pack that adds an additional point at $349.
Google's Stadia Game System
The final product of interest here is Google's Stadia game system. Previously discussed and leaked, the updates included a firm price of $129.99 for the "Founder's Edition that includes a Stadia controller, a Chromecast Ultra, and a three-month Stadia Pro subscription. Keep in mind that Stadia is a totally cloud-based system. That means that games require no local storage, and they may be played across a variety of compatible screen devices. On the other hand, there is a $9.99/month Stadia Pro subscription required beyond the three-month trial.
For those who already own a Chromecast or wish to play on a compatible screen or device, the Stadia controller alone will sell for $69 in a choice of black, white, or "Wasabi". The controller has dual-band 802.11 a/b/g/n/ac WiFi for cloud connection, BLE and a USB-C port for charging or wired game play. There is a 3.5mm jack for wired headsets and mics; the USB-C port may also be used for that purpose. A Google Assistant button lets the user trigger the mic for commands while a Capture button gives quick access to still image and video capture.
The cloud-only Stadia concept is as unique in the gaming world as its Chromecast companion is in the streaming product world. The initial list of game publishers and titles is impressive, with more to come.
As always, it is important to note what product areas did not receive new product upgrades, many rumors on some to the contrary. There were no new Nest thermostats of cameras. Nor were there any new Chromecasts, despite the relative age of those products in comparison to the new models from the likes of Roku, FireTV Cube, and TiVo. It will be interesting to see if there will be any last-minute reveals in those areas as we move into the holiday season.
Buckle those connected seat belts. It is going to be an interesting ride!