The MX180 AV Processor from McIntosh was designed with advanced customization and processing capabilities, allowing full enjoyment of today's 4K video plus tomorrow's 8K content.
The processor supports 8K/60Hz and 4K/120Hz on all seven Ultra-High-Speed HDMI ports (five inputs and two outputs). Additionally, each HDMI port supports HDCP 2.3, 4:4:4 Color, Rec. 2020, Dynamic Lip-sync, and 3D Video pass-through as well as enhanced features, including Auto Low Latency Mode (ALLM), Quick Frame Transport (QFT), Quick Media Switching (QMS), and Variable Refresh Rate (VRR).
The MX180 supports numerous high dynamic range formats, including HDR (static HDR), Dynamic HDR, HDR10+, HLG, and Dolby Vision (including low latency). It also includes 16 balanced audio outputs for popular 15.1 or 9.1.6 surround sound speaker configurations, among others. It includes a variety of digital and analog inputs and outputs, including a Moving Magnet phono input.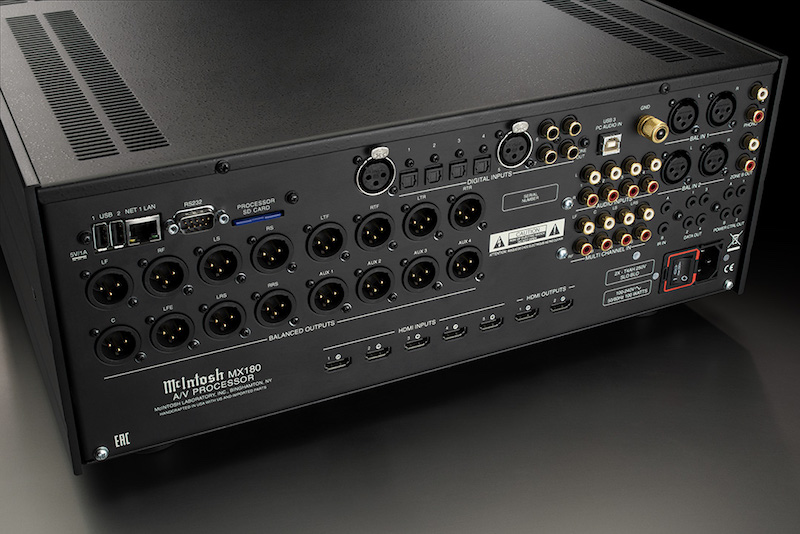 The new McIntosh processor is compatible with leading 3D surround sound formats, including Dolby Atmos, DTS:X Pro, and Auro-3D. Its two HDMI outputs can simultaneously output content from one source to two separate screens or can output different content from two different sources to two separate screens.
One HDMI output on the MX180 features both Audio Return Channel (ARC) and Enhanced Audio Return Channel (eARC) functionality, the processor comes with RoomPerfect room correction technology to measure and adjust the audio output to compensate for the specific acoustic properties for the space
The MX180 features some of the latest analog to digital convertor technology to maximize the audio quality of analog sources. Bass and treble controls offer further audio fine-tuning. It also has a two-channel Zone B output to send audio to a second zone in the house.
The processor utilizes the latest technological advancements in processing power to run cooler than previous McIntosh home theater processors and has a robust and simplified setup program that allows for customization and optimization based on specific home theater and speaker needs. It comes with the iconic McIntosh design of a black glass front panel, control knobs, illuminated logo and custom aluminum end caps. The MX180 can be paired with a variety of amplifiers and speakers to make up a complete home theater system.
Orders for the MX180 can now be placed with Authorized McIntosh dealers. Shipping began in February 2022 to the United States and Canada, and then to the rest of the world shortly thereafter. Suggested retail price (VAT, shipping and any customs duties related to current standards of individual countries are excluded): $17,000 USD.
Related: McIntosh MB20 Transceiver Adds Bluetooth Streaming to Any Audio System