Metra Home Theater Group's new Helios Smart Power Surge Protector and Conditioner, which will debut at CES next month, includes a free mobile app that allows users to control outlets on the surge protector remotely. App users can conveniently turn devices plugged into the surge protector on and off and create schedules for power usage.
Additionally, this strip conditions the power being sent to devices and connected coaxial cables. As smart home integration becomes more popular with consumers, this simple and easy solution allows non-smart electronics to be controlled remotely, with no hub or complex programming required.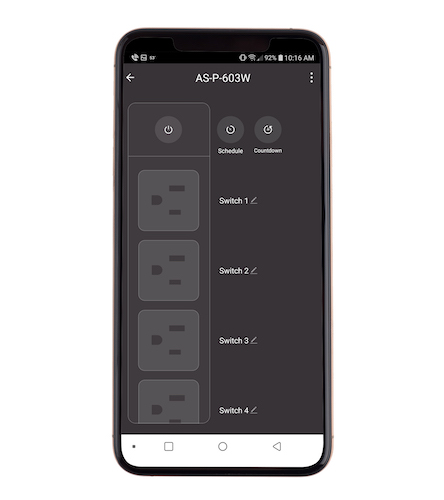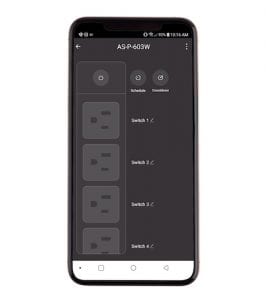 The Helios AS-P-603W power strip features a total of nine AC outlets with four switched rear outlets, one easy-access always-on front outlet, four "smart" outlets controlled via the free mobile app (pictured left), plus two USB ports of USB A and USB C for portable device charging. The product has an eight-foot cord and features power surge protection up to 2,160 joules, has a 120volt/15A rating and is accompanied by 65dB EMI/RMI noise filtration for power conditioning.
Because the Helios AS-P-603W is designed to be sleek and user-friendly, it comes with metal housing that is rack-mountable, an LED display for voltage, and a remote 12V DC trigger for the switched outlets. The product also comes with a three-year limited warranty and is sold in thoughtfully designed retail packaging. Look for this new product on display at CES from January 7-10 at booth 11435 in the Central Hall of the Las Vegas Convention Center.