While I'm no expert in thermal management, windows, or window shades, I do know what a drafty house feels like during a cold winter day in the Midwest. So, when I received a promotional kit from the public relations firm for Hunter Douglas, promising to show me how window coverings can improve efficiency and comfort in my home, I was intrigued.
Having recently installed my first AC-powered window shade (courtesy of company called PowerShades), I was already a big fan of what I often call the most undersold technology in the smart home. One day I shall live in a house where every window has an automated window shade that lowers and rises with the sun in the winter and filters light during the hottest time of day in the summer. For now, I have just one PowerShades window shade on a large set of windows located right behind my family room sofa… and a demo kit from Hunter Douglas. More on that later.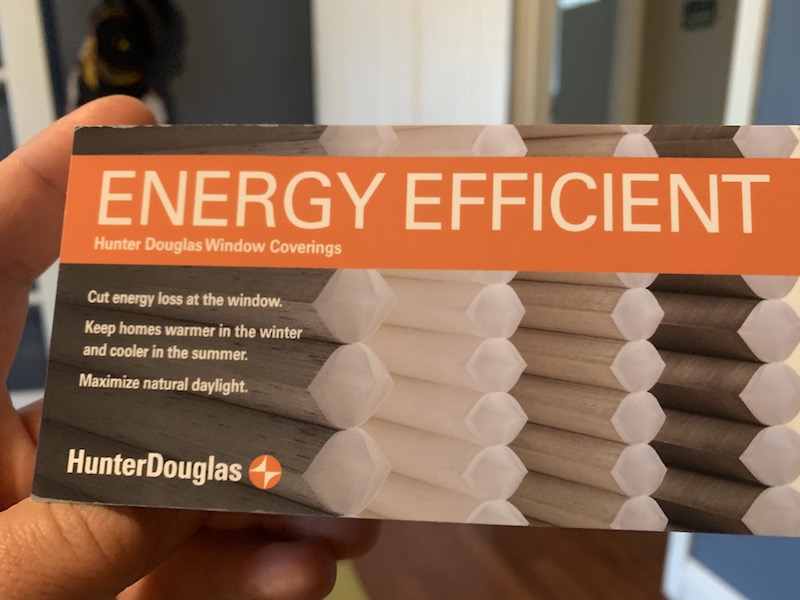 I only have one window shade because almost all of my other windows are already covered by high-quality wooden blinds that I'd rather not replace because I'm not a wasteful person. There were only a few windows that were left "clean" by the prior owners of our home, and until recently they only had drapes or sconces. Those big windows behind the couch were particularly problematic in this regard because of how much late afternoon sun tended to blast through the room in the summer months and a cold draft would hit you in the back of the neck during cold winter nights. Although I haven't yet spent a summer with my new PowerShades shade, pushing a button to close it at night since installing it in December has certainly made me think I feel warmer while I'm watching my favorite Netflix shows over the winter months. But, how much warmer?
Enter Hunter Douglas and their fun little sales and marketing kit. In the mail I received a three-and-half-inch long rocket ship shaped "professional non-contact infrared thermometer" from the manufacturer Westward (and branded with the Hunter Douglas logo). This device, according to my press materials, was sent to me so I could quickly assess the surface temperature of objects, such as an uncovered window and the sample shade material also included in the package. Now, I know a device like this would be easy to purchase on my own, but I'd never thought to buy one, so never really investigated how cold the temperatures were around my home's windows, which haven't been replaced since the house was built in 1988.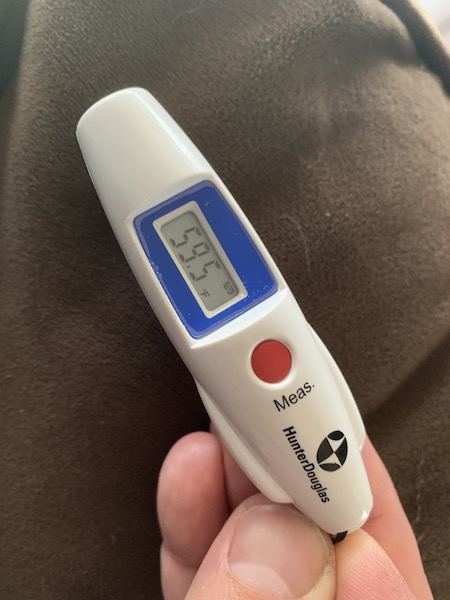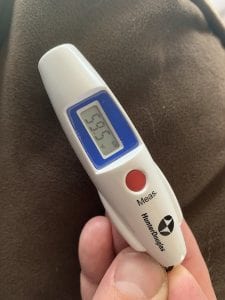 The first thing I did when I opened the thermometer was to walk around "shooting" its infrared beam at various surfaces throughout the house, with a special emphasis on the windows. I won't bore you with my various discoveries, but for sake of this discussion I found that the surface temp of my windows on a cloudy, 37-degree day were a chilly 59 degrees Fahrenheit. Placing a high-quality lined drapery material in front of that same window changed the temp to 67, which was the same temp as the interior reading behind my aforementioned PowerShades shade. Last, I wanted to see what the sample shade material sent by Hunter Douglas did for my results.
While Hunter Douglas offers a wide assortment of shade materials in a variety of colors, for this efficiency exercise, they sent a sample of their gray-colored Duette honeycomb-style shades, which were recently certified by the Attachments Energy Rating Council (AERC) for their energy performance. Hunter Douglas is the first company to rate interior window covering products with AERC.
AERC provides third-party certification of the energy-saving potential of a window attachment product that uses a process of material testing and window modeling to gauge the degree to which a window attachment – such as a shade, blind, or storm window – will improve the performance of that window in reducing heating and cooling usage. Products certified by the AERC have two ratings: one for Cool Climate, which indicates potential energy savings for home heating versus unprotected windows, and another for Warm Climate, which does the same for air conditioning.
Hunter Douglas promotes several benefits of widespread installation of energy-efficient shades. In older homes, window systems typically account for 25 percent of annual heating and cooling costs but can be responsible for as much as 40 percent. This means that many homeowners are spending more money than necessary on heating and air conditioning. DOE research has shown that window attachment products have the potential to reduce that energy usage significantly.
What was the result of my little experiment? The temperature reading from behind the honeycomb-style shade sample was a cozy 73 degrees. My assumption is that the same temperature would hold on a hot sunny day as well, where the "unshaded" surface temp might hit the high 90s in direct sunlight. Impressive.
While much has been made recently about the importance of daylight exposure for properly maintaining circadian rhythms and mental health, it's also nice to know that there are materials like those provided by top window shades manufacturers that can help keep out the cold or heat when you'd rather not replace your windows, as well as provide privacy and energy savings. Like I said, one day I want a house with motorized, automated, energy efficient window shades on every window. For now, I'll have to dream (and throw on a sweater in the winter.)