NAD Electronics has launched the T 758 V3i – a performance update to the award-winning T 758 AV Surround Sound Receiver. The surround sound receiver will now come ready with Dolby Atmos, DTS Master Audio, BluOS high-res multi-room audio, Dirac Live, 4KUHD Video and Apple AirPlay 2 all built-in.
The T 758 V3i ($1,499 U.S. MSRP) begins shipping in August. As with all NAD components, the company's latest offering continues their "simple is better" design philosophy. This approach contributes to ease of use and maximizes performance where it counts.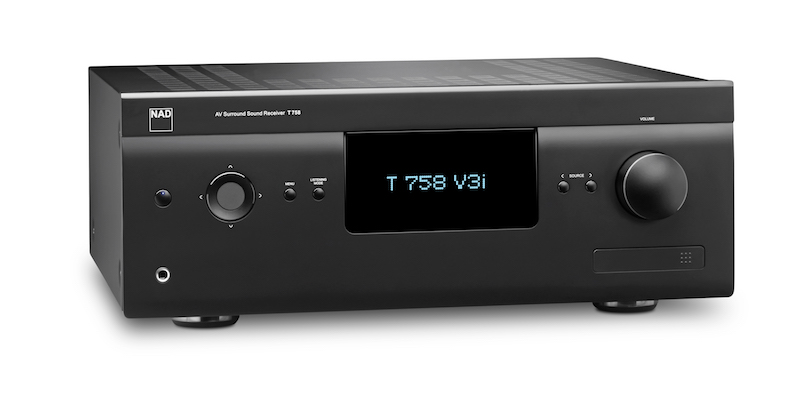 The T 758 V3i features NAD's signature sound quality and complete compatibility with all the latest features and music and movie formats. Most AV receivers available on the market today focus predominantly on video and surround sound aspects, leaving audio circuitry almost as an afterthought. NAD firmly believes that there are many people for whom music will always come first. With NAD's reputation for high value/high performance, it was obvious that the T 758 V3i would have to please both audiophiles and home theater enthusiasts.
"NAD carefully evaluates how customers use our products and only includes the features that are essential for great audio and video performance," commented Joe de Jesus, NAD AV and custom installation product manager. "In addition, our Modular Design Construction feature offers the real benefit of being able to add new technologies as they become available, greatly enhancing the value proposition. So, with the T758 V3i, we are excited to add AirPlay 2 to complement other key technologies such as Dolby Atmos, DiracLive, 4K UHD Video, and BluOS music streaming."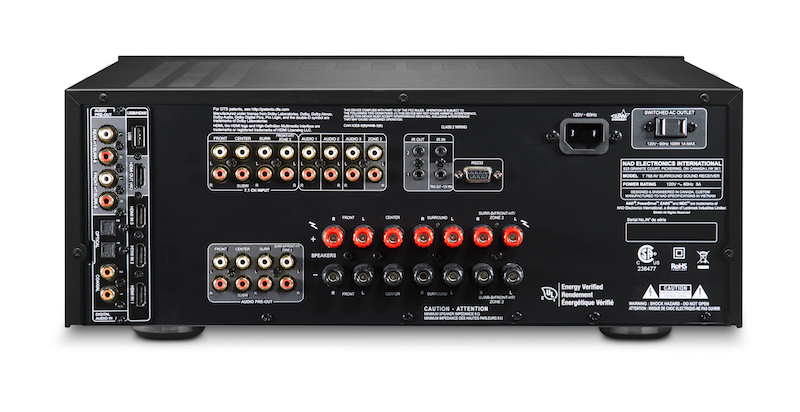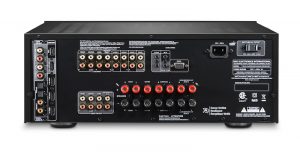 Performance-minded enthusiasts want to embrace the ever-changing world of AV technology without destroying their original investment. So, NAD devised their most important innovation in a decade: Modular Design Construction, an uncommon answer to technology obsolescence. Digital audio and video circuits are on replaceable modules. With MDC, the ability to easily upgrade the T 758 V3i to include future digital formats is totally unique and unprecedented.'
Popular surround sound formats, including HD formats Dolby Atmos and DTS Master Audio, are decoded using the latest generation of high-speed multi-core DSP. Stereo source material can be converted to surround sound using our exclusive EARS surround mode, praised by reviewers for its natural sound quality. With full support for High Res Audio formats like MQA (Master Quality Authenticated) included in the BluOS Player, the T 758 V3i is unique. Add to this NAD's exclusive PowerDrive amplifier featuring high current combined with high Dynamic Power to bring out the very best in any speaker. With both music and movies, the T 758 V3i's heritage reveals its power with immense depth, clarity, and incredible detail.
The T 758 V3i offers the latest digital video technology, including Ultra video at resolutions up to 3840×2160 pixels at 60 frames per second with 4:4:4 color gamut and High Dynamic Range support.
Analog video sources are also supported on HDMI for simple "one wire" connection to a flat screen or projector. NAD leaves the video processing in the display, avoiding multiple format conversions that plague lesser AVRs. It also includes popular HDMI features, Audio Return Channel (ARC) and Consumer Electronic Control (CEC).
The receiver's user interface is designed to be both flexible and easy to use. Each source component retains the same custom settings every time it is selected for viewing, and there are no "empty inputs" to clutter or confuse. In addition, AV presets allow custom setups for different types of program material (drama, action, musical, etc.) tailoring the performance to the listener's taste. Inputs can even be renamed to match specific components.
The T 758 V3i also includes Apple AirPlay 2 built-in for easy integration into the Apple ecosystem.
The automated setup of surround speakers, via NAD Speaker IQ, is both accurate and easy with the supplied microphone and NAD remote control. A second independent zone is included and can be powered by the internal back-channel amplifiers. Advanced multi-room systems are easily accommodated thanks to its full suite of connections for home automation systems.