MSE Audio has announced the Phase Technology Variable Length Soundbar to enable custom fit soundbars and the Rockustics SquareRoot 6.5 Coaxial Planter Speaker. Both debuted at CEDIA 2019 in booth 3925.
Phase Technology's Variable Length Soundbar is designed with cut-to-length rods to allow the soundbar to match the length of a television screen. Featuring an 8-ohm impedance, the soundbar incorporates three speaker enclosures with six three-inch ultra-long throw polypropylene subwoofers with NBR surround sound and a 0.75-inch synthetic soft dome tweeter.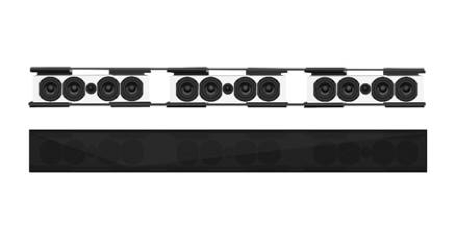 "The Variable Length Soundbar creates a customized solution for nearly any installation space, meanwhile, providing the award-winning sound quality that MSE Audio is known for," Michael Sipe, director of U.S. sales for MSE Audio. "Built with high-quality materials, the Variable Length Soundbar is a reliable, high-quality solution for any residential home theater system. We look forward to showcasing the Variable Length Soundbar, along with our entire collection of audio solutions at CEDIA 2019."
The Variable Length Soundbar, which measures 3.81 inches deep and 6.1 inches tall, is designed for applications requiring a width of 55 inches and larger. Designed for simplified, yet customized, installation, the Variable Length Soundbar included cut-to-length rods and wall mount brackets.
Rockustics SquareRoot 6.5 Coaxial Planter Speaker
Featuring weep holes to accommodate the watering of live plants, the Rockustics SquareRoot is a fully weatherproof, two-way, omnidirectional loudspeaker.
It is a premium two-way outdoor loudspeaker with a 17-inch by 17-inch wide planter designed to accommodate live plants. Featuring a 6.5-inch polypropylene woofer and a 0.75-inch mylar dome tweeter, the SquareRoot 6.5 is designed to provide a full 360-degrees of omnidirectional audio coverage.
The SquareRoot 6.5 boasts a 4-ohm impedance, 89 dB sensitivity at 2.83W/1M and a frequency response of 65 Hz to 19 kHz (-10 dB). Constructed with rotation-molded, UV-stable polyethylene, the SquareRoot 6.5 is built with quality materials to withstand rain, frost, snow and ice.
"The Rockustics SquareRoot is the ideal solution for any outdoor setting, including pools, decks and patios," Sipe said. "Providing omnidirectional sound, the SquareRoot features MSE Audio's incredible, award-winning sound quality combined with reliable materials and versatile design."
The Rockustics SquareRoot 6.5 features structural and acoustical similarities to the award-winning round OmniPlanters from Rockustics – just available in a new square shape. They are available in Gray Granite and Terra Cotta. For use in commercial applications, the SquareRoot 6.5 can be paired with an optional 64-Watt transformer.