With Polk React, Polk Audio has leaned into its years-long relationship with Amazon to create what the company calls the most advanced Alexa-enabled smart sound bar available today.
Offering Dolby Digital, DTS 5.1 virtual surround sound, along with Alexa Built-in, React was designed by Polk Audio's veteran loudspeaker engineering team in Baltimore.
React can be used as a standalone sound bar or can be paired with Polk Audio SR2 wireless rear surround speakers and/or a React Sub wireless subwoofer for a full 5.1 surround system.
Polk React ($249), SR2 wireless rear surrounds ($199) and React Sub ($199) are currently available for purchase.
Related: Definitive Technology Adds Demand Series Tower Speakers and Center Channel
To deliver a surround sound home theater experience without the need for dedicated rear speakers, Polk React is optimized to get the most out of Dolby Digital and DTS 5.1. However, if listeners want to upgrade to true surround sound and deeper bass without connecting a single wire to the sound bar, they can purchase the new Polk SR2 wireless surround speakers and/or Polk Audio React Sub1.
Polk React Connections to Amazon Alexa
It supports Alexa's Communication feature, which gives users the ability to sync their contacts in the Alexa app and use voice commands to communicate with eligible friends and family in the US, Canada, and Mexico from the sound bar at no cost.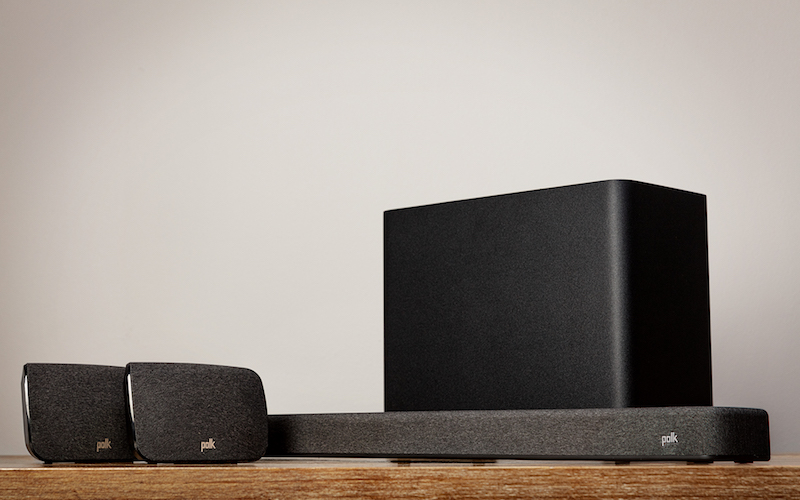 Additionally, React supports Alexa Multi-room Music, enabling listeners to pair multiple Alexa-enabled speakers with the sound bar for whole-home music. To hear commands clearly even at higher volumes, React boasts four far-field microphones and Amazon's proprietary wake word detection and echo cancellation software to augment performance.
Polk React users can ask Alexa to execute simple sound bar tasks like adjusting volume and bass levels, and selecting listening modes. However, to expand voice control for the home theater, React also works with other Alexa devices like a Fire TV Stick or Fire TV Blaster.
Syncing a Fire TV Stick with React enables users to queue up and play movies or TV shows without touching a remote, while pairing React with a Fire TV Blaster enables voice control of TVs, cable boxes and other devices. Plus, automated over-the-air software updates ensure React stays up to date with new Alexa capabilities and soundbar features, so users don't have to lift a finger.
"Polk Audio was the first audio company to partner with Amazon and create an Alexa-controlled sound bar in 2018. While the fruit of that initial effort – the Polk Command Bar – was a big success, we learned a lot about how to enhance a sound bar for an even better voice-controlled home theater experience," said Michael McCole, senior marketing manager for sound bars at Polk Audio.
"Polk React is the realization of the learnings we gained from the Command Bar," McCole added. "We worked even more closely with Amazon to improve compatibility with other Alexa devices, create a simpler set up process, and make it more seamless to operate within the Alexa app. Also, since it's a Polk Audio product, listeners can be assured it will always make their TV sound excellent. Great audio is all Polk does."
Streamlined Design
React was designed to be easy to install and integrates with almost every flat panel TV display and its remote control for intuitive system operation and setup. Given its low-profile design, React does not block remote IR sensors and provides a low-profile on furniture or mounted on the wall.
Featuring Polk Audio's proprietary Voice Adjust technology, listeners can precisely tweak voice levels and make dialogue crystal clear without needing to crank up the volume. One-button preset sound modes ensure movies ("Movie Mode") and music ("Music Mode") sound great, while a dedicated "Night Mode" prevents the sound from disturbing family or neighbors by reducing bass levels and enhancing Voice Adjust to deliver clearer dialogue. React also includes Bluetooth music streaming for when users want to get their groove on.
SR2 Wireless Surround Speakers
The Polk Audio SR2 wireless surround satellite speakers provide life-like home cinema surround sound performance to Polk React from a powerful internal amplifier and custom-tuned drivers. The SR2 speakers offer improved dispersion, for additional dimensionality. Because the speakers connect wirelessly to the React sound bar, there is no need to run speaker wires across the room.
The Polk Audio SR2 surround speakers are compatible with the React sound bar as well as the Polk Magnifi 2 and future Magnifi and React series sound bars.
React Sub
The Polk React Sub wireless subwoofer was designed to deliver deep, impactful bass. The React Sub features a 7-inch, long-throw woofer mounted in an unassuming, tuned enclosure that could blends into a home's décor.
The React Sub's low-turbulence, flared port tube ensures tight, responsive bass performance with plenty of impact. Polk's innovative Bass Adjust EQ feature automatically adjusts a React series sound bar's settings to accommodate the React Sub's additional bass output. Because React series sound bars are controllable using Amazon Alexa, users can turn up or down the React system's bass level with their voice. Setup is effortless—simply plug the React subwoofer into a power outlet, push two buttons—setup is complete.
The Polk React sound bar ($249), SR2 wireless surround speakers ($199) and React Sub ($199) are currently available on the Polk Audio website, Amazon and other authorized resellers.