Samsung's "Unpack & Discover" virtual event on Tuesday expanded on various entertainment-centric products unveiled during January's All-Digital CES, updated us on models previously revealed, and explained why some new products and features were taken out of their package of video/audio products.
Related: Samsung's Bot Handy Will Do Your Dishes AND Grab You A Drink
The biggest example centered around Samsung's now expanded line of MICRO LED (sic), which is the actual product name as well as the technology. While the core technology is the same as the company's popular The Wall models, these carry the new name. Importantly for those planning to sell, purchase or install these new sets, they are a single, unified, component. This differs significantly from the module-based configuration of The Wall. While this approach makes them easier to install, first be certain that you can get them into the room!
The line is now confirmed to include four models: 110-inch, 99-inch, 88-inch, and 76-inch. Final pricing is still to be announced, but we now have availability dates. The two larger models will ship in late March, and the 88-inch set will launch this fall. The 76-inch version's availability is still a bit out there and was billed as being "on the future roadmap." Also new is the inclusion of 4Vue, which lets the viewer put four different program feeds on the screen at once.
Samsung's Implementation of mini LED
Moving a bit down the technology ladder, Samsung fleshed out the details on their implementation of mini LED, which they call Neo QLED. Featuring a Neo Quantum Processor and Quantum Mini LEDs, Neo QLED offers increased brightness and more dimming zones, as well as some interesting new features. For gamers, some models offer the first TV implementation of AMD's Freesync Premium Pro for use with compatible PC video cards, along with 21:9 and 32:9 letterboxed viewing modes for a wider view of the game landscape.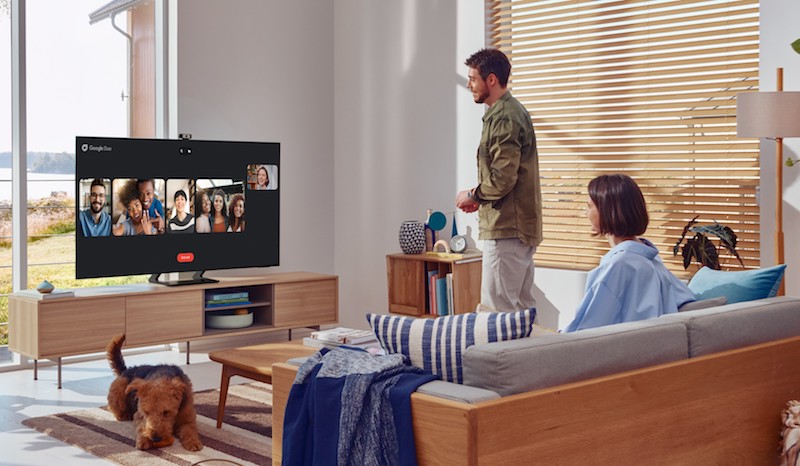 Neo QLED sets may also be connected to a range of compatible Logitech webcams to enable video calls via Google Duo as well as AI monitoring of exercise activity using the on-board Samsung Health's Health Trainer feature. When connected to a compatible smart phone, the user can call up and arrange the placement of up to four separate input views.
Finally, these are among the first TVs with built-in ATSC/Next Gen TV tuners in all 8K models and the QN90A 4k models. Sizes are 65, 75, and 85 inches for 8K and 50, 55, 65, 75, and 85 inches, depending on the model range.
Though not related specifically to Samsung TVs, as part of the various partnership presentations, Sarah Lyons, EVP for global product management at HBO Max revealed that this spring the new Warner theatrical movies will be available with HDR-10. This a welcome announcement for critical viewers.
Customizing The Frame
While MICRO LED and mini LED via the Neo QLED will be the biggest newsmakers for some, there were quite a few revelations covering the broad range of Samsung TV products, as well. For example, the very successful The Frame line has a new option for allowing customers to "Make Your Own TV" with new bezel colors, stands, and mounting options.
One clever addition for The Frame is "My Shelf," which creates bookshelves around the TV for a very built-in look. Photo storage capability has been increased to 6 GB, so that up to 1,200 full UHD images may be stored. Additional Art Store partnerships will now include NAVA and Etsy.
The Latest on The Terrace, Sero, and The Premiere
For those looking to place a TV outdoors, The Terrace adds a new 75-inch "Full Sun" model, which has increased heat and weather resistance capabilities. Back inside, the Sero models uniquely switch automatically from traditional horizontal, landscape, orientation to a vertical, portrait orientation. AirPlay 2 has been added for both position modes, and TikTok is also in both view modes.
Beyond the traditional screen types, The Premiere is said to be the industry's first triple-laser, 4K, short-throw projector. Screen size, depending on model, can range up to 130 inches. New this year, Samsung will also offer rollable screens that are optimized for this type of projection.
The Smart Monitor and Odyssey G9
An interesting new product concept for Samsung is the Smart Monitor, which combines work from home (WFH) and entertainment uses. Thanks to built-in Microsoft Office 365, Wi-Fi, and Bluetooth connectivity, wireless DeX with tap-to-play, and Apple AirPlay 2, it is easier to access and work with files from the cloud.
When you need to take a break and relax, there are a wide array of popular Smart TV apps controlled by a remote or the Bixby voice control assistant. Samsung promotes this as a "Do-It-All Monitor." Based on the concept, execution, and feature set, it may be just that.
Finally, also on the monitor front, Samsung's Odyssey G9 is a 49-inch, 1000R curved monitor suitable for both gaming and work productivity applications.
The Samsung Q950A Soundbar
Last, but certainly not least from the Unpack & Discover presentation, Samsung upped their game for home theater audio with the Q950A soundbar, designed in the U.S. at Samsung's audio lab in California. Using 21 custom-designed drivers, it is the industry's first 11.1.4 soundbar with both Dolby Atmos and DTS:X for full object-based audio.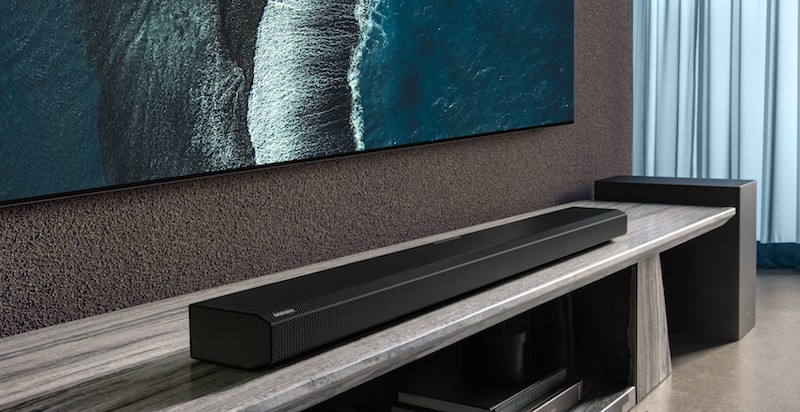 Like any package that you unpack, there is often a mix of things you've seen or heard about before and some new surprises. Samsung's "Unpack & Discover" event certainly gave us some of both. In a normal year, we would have seen most, if not all, of these products at CES, but we're still in the "new NOT normal."
Many of these products are available now, with the rest to follow throughout 2021. Let's hope that we can eliminate the "NOT" and get to the "new normal" where we can see all of these in person. That is something worth waiting for.