Interacting with your patio furniture may not seem like a crucial development in the timeline of human existence, but it's changing lives in some surprising ways.
As a connoisseur of the backyard barbecue, I consider myself an authority on outdoor entertaining. From deli-style lighting twinkling in the trees to a perfectly curated party playlist, my guests know what to expect when they show up for a summertime celebration.
But providing everything your guests expect isn't always an easy feat. Assuming I have the best in outdoor waterproof bluetooth speakers, it's still another object on my table or fake rock in my garden. I may need to charge my phone to keep the streaming music flowing, so now I need an extension cord, which is great because I'll need one to run the mood lighting anyway.
At this point, most of my outdoor needs are met, albeit with some extra steps and a lot of equipment. Now, I just need to adjust my patio umbrella so it's actually providing shade to my rapidly sunburning guests. Fortunately, I'm great at multitasking, so I can still hold an engaging conversation while fiddling with a hand-crank.
If this is a scenario you've experienced yourself, you know what an orchestrated effort outdoor entertaining can be. These complications were in the forefront of Armen Gharabegian's mind when he began developing Shadecraft, an American robotics and technology company focused on improving human life outdoors.
Gharabegian set out to create products that would simplify and enhance the outdoor lifestyle. With the creation of Sunflower, an autonomous robot parasol, the Shadecraft team cut out all the unnecessary equipment associated with outdoor entertaining.
Sunflower moves with the sun, ensuring its solar panel receives a full charge and the table is always shaded. Built-in Harman/Kardon speakers provide top-quality sound, voice activation, and smart assistant compatibility. Plus, solar-charged variable-color lighting will keep you well-lit late into the night. 
The Sunflower also houses a camera for capturing candid shots of friends and family, or for providing peace of mind as a security camera. Many of Sunflower's features can be controlled via the SmartShade app, available on IoS and Android devices.
The coolest part of having a smart umbrella? Its sensors detect inclement weather, so it will open or close based on wind speeds or UV intensity. It also offers LTE connectivity, Wi-Fi, Bluetooth, and USB charging ports.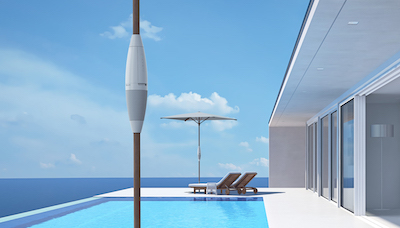 For a more affordable option, ShadeCraft is now offering the Bloom. The Bloom can be added to most non-tilting parasols, transforming a common umbrella into an IoT-equipped outdoor hub.
Gharabegian said of its development: "We had a lot of requests from consumers and people interested in our product asking us to find a similar solution that they could afford. For example, a veteran came up to me in a wheelchair and said, 'I've been waiting for something like this so I don't have to go outside, and back in, and outside, and back in.'" Gharabegian continued, "This was a really emotional thing for us to understand, that we're solving a real problem."
Like the Sunflower, the Bloom offers voice activation, premium speakers, and app control. For outdoor enthusiasts, the BLOOM promises to make entertaining a much easier process. But perhaps more importantly, Shadecraft's products are helping the elderly, people with disabilities, and busy families to have more control over their outdoor environment. They're not just making life easier, they're making life better.