OK, I admit it, I've been going to International CES for just about 45 years. Every time you commune with more than 170,000 of your closest techno-friends,
it is a gamble as to whether you will see some breakthrough technologies, products, or services, or if it is one of those "more of the same" years. However, among the literally millions of square feet of exhibit space the one thing that never changes is the appearance of things that are classified as "silly." Those ideas that make you think that someone was very short on sleep when they put them together or maybe just trying to pull one over on the public.
As a respite from the heavy technology news from CES, let's take a look at some of the things that seemed a bit off beat.
T560 Vinyl Recorder Starter Kit
At a show consumed with stream service-oriented digital audio and playback devices, one could not help getting a kick out of the T560 "Vinyl Recorder Starter Kit" from "vinylrecorder.com." After taking the time to convert your analog records, tapes, and cassettes as well as your CDs to MP3, who would have thought that you might want to take a digital recording and convert it back into a vinyl record?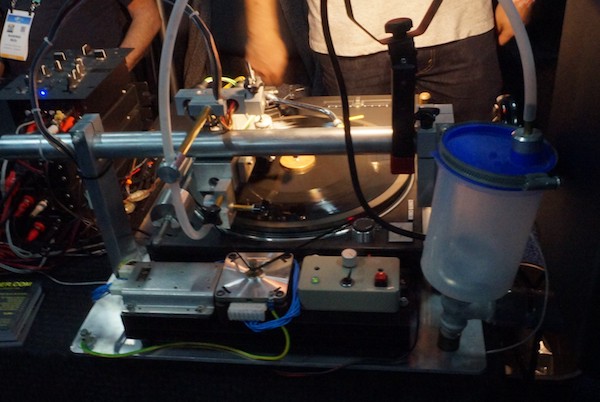 Sounds a bit silly but for about $4,000 (plus any additional accessories), but you get a rig that cuts vinyl dub plates and lacquer masters. Do you want to make a real demo disc? Do you want to have something new to play on a turntable, new or old? This is an option if you do enough to warrant the cost, have the interest, energy, and skill to work with a somewhat complex device. Do you want something to brag about in response to a neighbor who boasts about how many terabytes their music server is? If that's the case, this is a product from CES that is for you. Otherwise, yes, it does seem a bit out of place, if not exactly silly, in the digital world.
NeuraSpud
Moving from the "practical for some", but silly for others, let's move to something that is "pure silly." Perhaps the most unintended hit of CES 2020 was the NeuraSpud, also known as the "Smart Potato. Hidden down in the lower level of the Sands Expo, it was part of the "La French Tech" area of Eureka Park. It proved that the French not only have great technology, but they have a sense of humor, as well.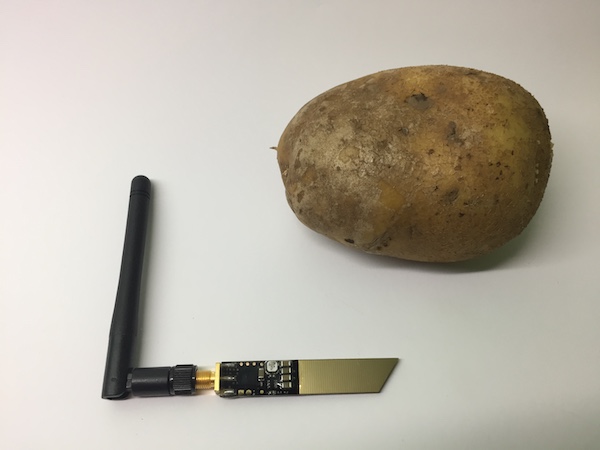 If you think that the old "Magic Eight Ball", where you ask if a question and then turn it over to find a canned answer brought up to date and stuck inside a potato, that is what the NeuraSpud is. Pair it to a phone app, ask a question, and it responds with an answer using the "smart" power of a potato.
OK, not really. YES, it is indeed silly; that's the whole point. Its inventor, Nicholas Baldeck, embedded circuitry and Wi-Fi with the "rubber ducky" antenna sticking out of the end of the spud to poke fun at our growing dependence on "smart devices." At a conference where the word "smart" is affixed to everything from toilets to diapers to toothbrushes and almost everything else, the NeuraSpud gave everyone a laugh and something to ponder.
Personal note: This may be silly, but the product is real. Baldeck has an Indiegogo funding campaign, and if the goal is met he will actually build them. I want one. Come on, I know YOU want one, too. The first 1,000 backers will receive one for $29, batteries included but not the potato. Let's help Baldeck get "the last laugh".
Baby Brezza Formula Pro Advanced
On the topic of "Smart This and Smart That" at CES, consider the Baby Brezza Formula Pro Advanced. The best way to describe this is to think of a Wi-Fi-controlled Keurig or Nespresso that dispenses warm, properly mixed baby formula rather than coffee, tea, or hot chocolate. OK, I get it, parents are busy and often frazzled with a new baby. However, isn't the personal involvement of preparing formula for a child part of the parental bonding experience?
The Bartesian
On the other hand, at the other end of the "drink" spectrum, the Bartesian was at CES to perhaps the relieve the tension of the day after the baby is asleep. Similar in concept to the pod-based hot beverage makers, and along the lines of Keurig's own DrinkMaker, you stock the device with the desired spirits and water, insert a capsule, select the strength and you have you drink in seconds. Sounds a bit silly to me, but who knows. It won a CES Innovations award!
Ovis, the AI-Powered Suitcase
Perhaps one of the "Smart" things that the inventor of the Smart Potato would say is overkill was Ovis, the first AI-Powered Suitcase. This has been shown before, but at CES 2020 is debuted as a production item priced at $800. If you can't stand pulling your carry-on around the airport, then this is for you. Put on the wristband so Ovis knows who and where you are, make sure its cameras can see you, and it will follow you around like a puppy dog.
Silly? Perhaps not for those in wheelchairs or with similar body mechanical issues, but I'd feel really uncomfortable not having my hands on the wheelie to make 100-percent certain it is there. What if you forget it at the coffee shop? For $800 I can buy a very expensive piece of luggage and a tracking device such as a Tile and have enough money left over to pay for a large part of the air fare. Silly? ForwardX, the company behind Ovis, raised close to four million dollars to crowdfund the idea. Silly? Let's just say that I found it spooky.
Rollbot
Another product, or perhaps more of a "product concept" was the "Rollbot" shown by P&G's Charmin brand. Here's another idea that the Smart Potato inventor would say is the point of his invention.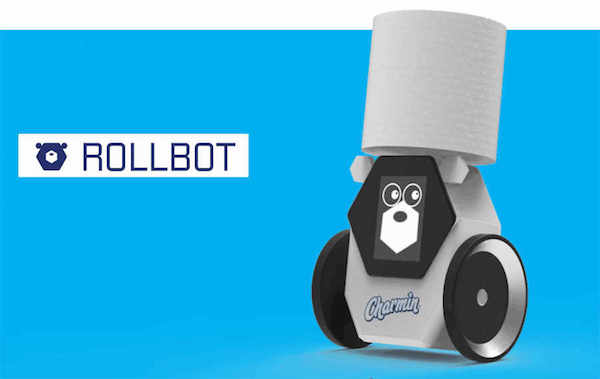 Yes, everyone has been in the bathroom and found that there is no toilet paper. OH NO! Technology to the rescue here. Use your phone app and a robot will not only bring you a roll from the closet, it will know if you want "Ultra Soft" or "Ultra Strong." Will this ever make it into the market? One has to doubt it, though you have to give P&G credit for finding a way to draw attention to their brands.
An important note: Rollbot will bring you the toilet paper but cannot yet put it on the roller. If only they added robotics, AI, and deep learning so that it would know who was in the bathroom and whether they are a "roll from the top" or "roll from the back" person. Let's see that at next year's CES. For now, it's fun, but silly.
Wavee Toothbrush Speaker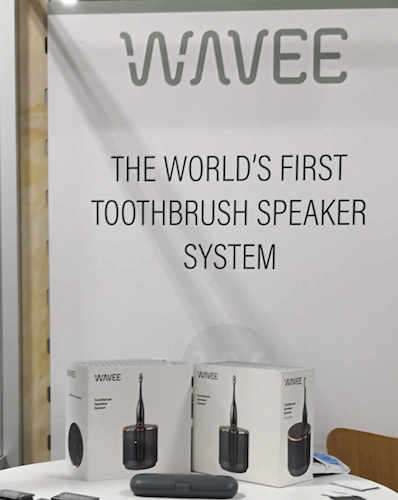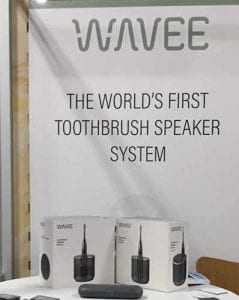 Sometimes "silly" isn't due to the product or concept itself, but rather it's the value proposition. A good example seen in Eureka Park was Wavee "The World's First Toothbrush Speaker System." On the surface, it was an interesting idea to combine two useful products in one: a powered toothbrush and a smart speaker.
Let's submit that, form factor notwithstanding, the speaker is good, and the toothbrush delivers what is needed for adequate dental hygiene. However, the projected retail price, according to Wavee's own Kickstarter page where it should be noted funding is complete, will be $279.
Stop for a minute and add up the price of a good electric toothbrush and one of the Alexa or Google Assistant-powered speakers available. You'll be able to buy both and have money left over for lots of toothpaste, streaming music subscriptions, and a bit more. Remember, sometimes the idea isn't "silly," but the price just might make it a silly purchase.
Autonomous Personal Aircraft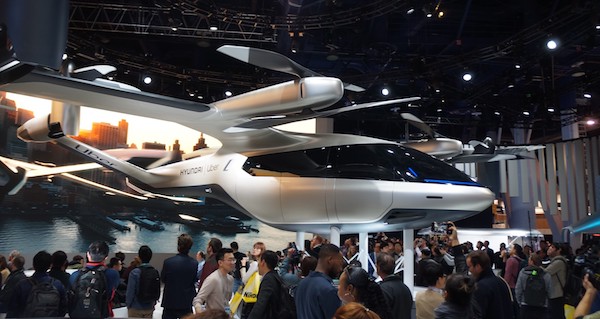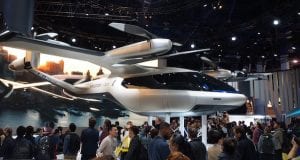 Silly is in the eye of the beholder. Autonomous vehicles were all the rage at CES, and it isn't a stretch to say that at some point in the future they will be commonplace. However, one of the big draws at CES was the Nexus 4EX from Bell and the S-AI four-seater concept project from Hyundai and Uber Elevate. I know, I know, at a CES 1903 we'd follow our tune that at a Wright Brothers booth" when it says, "They all laughed at Wilbur and his brother when they said that man would fly." We know who got the "last laugh" there, but let's see if the public will accept flying around with no one at the controls. Silly? Let's all live long enough to find out!
Sony's Concept Car
Sometimes an idea or product shown at CES is, itself, not silly but the reports about it are. Along the lines of believing that Rollbot will be sold, note that Sony showed a concept car called Vision-S. Make no mistake, it looked beautiful, had all the technology you could ask for and more, and presumably would best the 100-mile range (on a good day) of my own EV by two, three, or four times. If they made it, I'd lust after one. But that's where it gets a bit silly.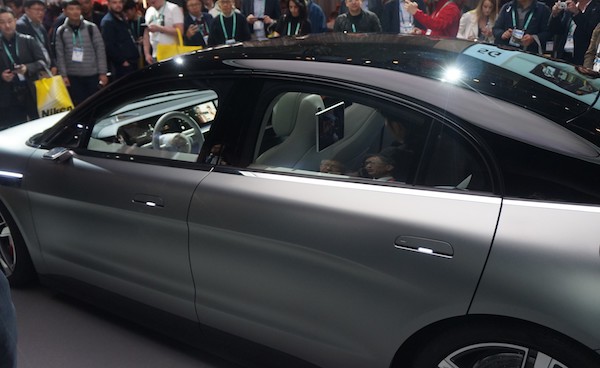 Walking around CES, you heard hallway talk along the lines of "Sony is bringing out a car." There is a remote chance that would happen, but a VERY remote chance. What Sony does, and will continue to do is deliver breakthrough sensors and associated software that, no pun intended, "drive" the high-tech cars from the major manufacturers. What better way to show how it comes together than by creating a concept vehicle, but I'd bet that thinking that Sony will ever make a Sony branded car is silly.
Perhaps all of this is precisely the reason CES and other shows like it exists. Along with the huge displays with current and forthcoming products and services from brands large and small, CES is a gathering point for innovators and dreamers from around the world. Particularly in the age of Kickstarter and Indiegogo, where the first thing I ask a startup in the Eureka Park area is "Are you funded yet? Have you reached your goal?" there is an amazing mix of "real" products and products that, at first laugh, seem "silly." Giving dreamers a chance to expose their ideas and dreams is a great way to see if what any one of us find silly is a viable concept that might change our lives.
Let's take a level-headed view and keep watching. Remember, you'll never know who will be "eating humble pie" and "Who'll have the last laugh…"