Products That Take the Work Out of Having Fun Outside
Although I can't predict if your part of the world will still be hunkered down by the time you read this, I can say that winter will turn into spring, pandemic or not, as it inevitably has ever since the invention of the four seasons. At that point, there's more than enough outdoor technology for homeowners to make sure next year will be full of fresh-air experiences to remember for a long time to come.
Pooling Resources for the Smart Home
Anyone who has ever owned a swimming pool knows that maintaining the water so that it stays clean and healthy can be time-consuming and expensive. pHin makes caring for all sizes of pools (plus hot tubs and swim spas, too) about as simple and worry-free as it can be. pHin's floating Smart Monitor bobs around in your pool automatically measuring the pH, sanitizer, and temperature levels more than a thousand times per week – not once a week as you might currently be doing. It then analyzes the data and sends alerts when you need to adjust your chemicals.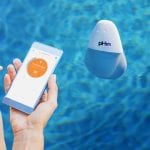 pHin supports most major brands. After scanning a supported chemical's barcode, the pHin app will calculate the precise amount you should add to the water, so you never have to worry about over-chlorinated or out-of-balance water. The pHin Smart Monitor, Wireless Bridge, and Mobile App are $349, and the package includes a one-year Monitoring Subscription for alerts and chemical recommendations. After the first year, a Monitoring Subscription is $99/year and includes a one-year hardware warranty extension with each renewal.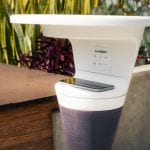 After packing about as much automation and technology as possible – app control, voice activation, solar power, on-board Bluetooth/Wi-Fi/cellular capabilities, integrated audio system, controlled lighting, environmental sensors, and device charging – into the $7,500 Blossom, a truly one-of-a-kind outdoor umbrella, the ShadeCraft folks have now come up with the equally amazing but much more affordable Suntable.
As the name suggests, the Suntable is a solar-powered table incorporating built-in Bluetooth speakers with 360-degree dispersion, an integrated solar panel that recharges an internal battery, plus a shaded shelf with wireless and USB charging capabilities for charging smartphones. At 26.5 inches tall with a 15-inch diameter circular top, the Suntable is conveniently portable with a removable pedestal base and can be used inside, outside, on a balcony, or at a picnic or tailgate party. ShadeCraft says the stout solar stand is expected to retail for $499 after it starts shipping in August of 2020.
Oh, Buoy, a Floating Remote!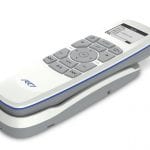 Although there's an app for controlling just about anything under the sun, one of the last places you want to be using your smartphone to change the volume, skip a song, or turn on the TV is out in the bright, hot sunshine – especially if it's near your pool's splash zone. RTI's new U3 is a completely sealed, weather-resistant remote control that lets chlorinated water roll off its back, and it conveniently floats when dropped in the pool or hot tub. RTI says the $549 buoyant controller utilizes the company's dual-RF platform, "supporting both 433-MHz RF for one-way control and 2.4-GHz ZigBee for bi-directional communication with RTI processors and supported third-party electronics like music servers, lighting, and pool control systems." Thanks to its built-in e-paper display, the U3 is easy to read in bright sunlight, and its fully programmable soft-touch buttons provide quick access to commonly used functions. The U3 incorporates inductive charging technology and downloads updates wirelessly, so once an integrator customizes it, the U3 is virtually maintenance-free.
Ground Rules for Robotic Lawn Care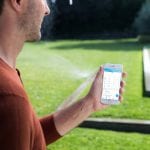 The closest I've come to having a green thumb was decorating a St. Patrick's Day cake. Rachio's multi-zone smart irrigation system controllers, the Rachio 3 ($229.99) and Rachio 3e ($149.99), are perfect for botanically challenged people like me because they include the company's "Weather Intelligence" technology that "automatically skips unnecessary watering with features like Rain Skip, Wind Skip, Freeze Skip, Saturation Skip, and Seasonal Shift."
Rachio recently added a new line of Thrive Lawn Champion natural lawn care treatments that include microalgae specially grown for soil use. Rachio says optimum results – greener grass with a more robust, healthier root system – requires a combination of the proper lawn care treatments with a site-appropriate amount of irrigation and timing. After answering a brief questionnaire regarding your goals on Rachio's website and providing the size and geographic location of your lawn, the company will create an individually tailored lawn care plan, and ship a Rachio Thrive starter kit containing a Rachio 3 and a 90-day supply (for two applications, 45 days apart) of Rachio's Thrive Lawn Champion treatment. Once you've begun the program, Rachio's app will automatically adjust your watering to maximize treatment impact and alert you when it's time to re-apply.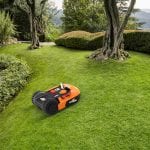 One problem with having a healthy, vigorous lawn is that it requires regular mowing to keep it that way. That used to mean regularly sweating away a good part of the day walking behind (or riding on) a noisy, obnoxious lawnmower. Using "razor-like blades [that] clip a little at a time, naturally fertilizing your yard," the latest WORX Landroid-series of robotic lawnmowers not only do the mowing for you, they also include what the company calls "Artificial Intelligence Algorithm (AIA) technology" that allows the Landroid to "learn the best, customized cutting pattern to get the job done according to your yard."
The Landroid can be fully controlled via a mobile app (iOS and Android), is customizable with optional accessories (including an anti-collision system that uses automotive-grade ultrasonic sensors), and automatically returns to its charging base when it senses rain or to top off its 20-volt 4AH lithium battery.
I Like the Night Light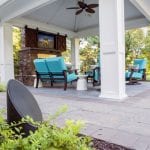 Outdoor fun shouldn't have to stop once the sun goes down, but there's a better way to keep the party going than handing out baseball caps with LED lights in the brim. Coastal Source offers a line of outdoor landscape lighting fixtures ranging from basic utilitarian to pleasantly whimsical that can be used for path lighting, pinpoint or area-wash lighting, step lighting, tree lighting, niche lighting, and more. Irrigation, fertilizer, insects (and insecticides), weed trimmers, and salt spray take a heavy toll on landscape lighting systems. As a result, Coastal Source's fixtures are made entirely of brass and are 100-percent sealed using multiple O-rings to keep out debris, bugs, and moisture. The company's patented Coastal Connector is designed to reduce the time it takes to design, install, and maintain landscape lighting systems – and minimize unreliable, faulty connections, the number-one cause of lighting system failures.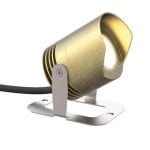 Holm also offers a broad line of architectural and landscape lighting products, and its uTide underwater light and the super-compact uPebble-7 underwater fixtures can be installed to illuminate virtually any water feature. Each includes Cree integrated LEDs, utilizes brass construction, is phase and PWM dimmable, and comes with color temperature filters for various artistic effects.
Bug-free Technology
Whether it's a deck, patio, gazebo, or a cabana, Mother Nature doesn't care what you call your home's outdoor living space. Screen Innovations' Zen outdoor motorized shading systems allow homeowners to create completely sealed outdoor living spaces – essentially turning them into indoor living spaces – automatically at the touch of a button. Zen shades are available in a wide variety of fabrics, and the company's Shy-Zip side channels keep bugs out of the enclosed area while keeping cool air in.
Zen shade motors have built-in obstacle detection that stops and reverses the shade's direction in case raucous children, rogue pets, or random pieces of furniture happen to get in the way when the shade is coming down. Screen Innovations offers the Zen outdoor shade hardware in a choice of nine exterior colors for both enclosed and open-roll versions with a wide variety of connectivity options for integration with home automation systems.
Joplin, MO-based PowerShades is a relatively new name in the motorized window covering industry, but they're no strangers to the often-unpredictable weather in the Midwest. The company's exterior shades are available with four different styles of hardware enclosures (including square front, round front, and open roll) in nine colors. PowerShades says its fully customizable shades work with major automation platforms, such as URC, SmartThings, ELAN, Crestron, Control4, RTI, and Amazon Alexa.
Deck Chair Cinema
I'm always amazed at how many people are amazed that there are TVs designed to be installed and used outside, enduring the worst (well, almost the worst) that Mother Nature throws at them. One of the earliest companies to offer TVs specifically made for outdoor use, SunBrite TV currently has three different series of 4K LED HDR outdoor TVs, with the primary usage criteria being the amount of sunlight: the Veranda Series (full shade), the Signature Series (partial shade), and the new Pro 2 Series (full sun). Designed for both commercial and residential installations, the recently released Pro 2 Series models include SunBrite TV's proprietary anti-glare technology, special Day and Night viewing modes, and expanded connectivity options.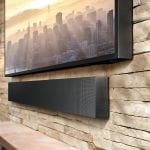 Not to be outdone outside, Samsung's series of outdoor Smart TVs, called The Terrace, includes 65- and 75-inch models ($4,999 and $6,499, respectively) that incorporate QLED 4K HDR displays, anti-reflective screen coatings, adaptive picture technology that automatically optimizes image parameters based on content and ambient lighting, as well as IP55 protection ratings.
Apollo Enclosures doesn't make outdoor TVs, but they do make enclosures (didn't see that coming, did you?) that turn indoor TVs into outdoor TVs. The company's Elite Line of outdoor weatherproof TV enclosures encompasses six models for TVs with screen sizes up to 86-inches. The all-aluminum, powder-coated enclosures include anti-reflective safety glass, Tight Seal technology, and temperature-controlled, filtered airflow systems for protection from temperatures up to 122 F degrees. Apollo Enclosures says two essential advantages of using their enclosures are: 1) with enclosure prices starting at $895, there's a potentially significant overall price saving versus buying a purpose-built outdoor TV, and 2) it offers a future-proof approach since the enclosed TV can be easily replaced at any time with the newest model incorporating the latest features.
A Sod Song
Whether music was invented for relaxation and enjoyment or vice versa, it's a given that maximizing your backyard entertainment requires a good outdoor speaker system. In fact, outdoor speakers have become so popular that it's easy to lose count of the number of speaker companies making weather-resistant versions. The most common style of outdoor speaker has a shape and driver configuration similar to that of indoor bookshelf speakers. For example, many manufacturers offer a variety of compact models with adjustable mounting brackets that make it easy for integrators (as well as DIYers) to mount the speakers close to a wall unobtrusively or under an eaves and point them toward the listening area.
Not all backyards and landscapes are the same, however, and, as you'd expect, there's plenty of out-of-the-box creativity when it comes to outdoor speaker styles. For years, rock speakers (they play classical, jazz, and other music genres, too!), many from companies, like Niles, that specialize in custom integration, have been designed to blend into the surroundings by looking like, you guessed it, rocks. A more recent trend, sometimes referred to as "landscape" or "garden" speakers, packs the speaker drivers into enclosures that resemble landscape spotlight fixtures. Thanks to their smaller size and shape, these speakers can be tucked away in locations where other styles of outdoor speakers either wouldn't fit or would become an eyesore.
Sonance offers systems that include two sizes of spotlight-style speakers, along with multiple outdoor subwoofer options (including models that can be buried in the ground). Origin Acoustics' disguises its latest outdoor speakers to resemble landscape lighting bollards with 360-degree sound dispersion and integrated in-ground subwoofers. James Loudspeaker puts the landscape in the speaker with several outdoor designs that do double duty by also functioning as planters.
Considering the difficulties inherent in installing long runs of speaker wires outdoors, wireless speakers would seem to be a convenient alternative. Wireless audio, though, has its weaknesses, such as limited range, latency and sync delays, and interference. Atlantic Technology says SKAA 2.4 GHz wireless technology "eliminates all issues of other wireless audio systems…delivering sound quality comparable to wired systems" over distances of up to 150 feet. The company's new amplified outdoor speakers include built-in SKAA receivers, allowing them to be used individually or as part of a more extensive SKAA wireless multiroom audio system.
Wire Less, Enjoy More
Taking entertainment outdoors usually means taking access to a home network and, especially, the internet outside, too. It's difficult enough for most folks to get decent Wi-Fi coverage throughout their homes, so extending that coverage outside the house might seem like an impossible dream. But companies that specialize in residential and commercial networking hardware and software, like Access Networks, can not only create seamless Wi-Fi throughout your home, they can also blanket your yard – over as many acres or as much beachfront as you might own – with a high-speed, reliable Wi-Fi signal using inconspicuous outdoor-rated wireless access points. This means you can enjoy streaming media, whether you're inside or out. Perhaps more importantly, a stable outdoor Wi-Fi network enables home automation and other devices, such as pool and spa controllers or Wi-Fi-enabled BBQ grilles (yes, they exist), can be easily accessed and controlled.
Conclusion
Tennyson once wrote that in the spring, a young man's fancy turns to thoughts of love. What he didn't say was that in spring (and summer), everyone else's thoughts fill with the desire to get outside and enjoy the sun, the stars, and some fresh air. Unless you've decided to spend your summer "naked and afraid," whenever and wherever you do step outside, there's plenty of outdoor tech to make it more fun and relaxing than ever.