This March, we're sharing our favorite products right now, including smart security systems and smart hubs.
BodyGuardz
BodyGuardz is providing security of a different sort with a new smart home product line comprising a portable security camera, portable over-door camera, and portable emergency unit. These products were developed to fill a specific gap in the smart home security market for renters and others who prefer portable, convenient peace of mind both at home and while on the go. The first three products in the smart home product line include a Portable 360-degree Security Camera, a Dual Camera Door Security, and a Portable 5-in-1 Emergency Hub.
ChargeHub
The ChargeHub HomeBase Power Bank Docking Station is an at-home charging solution that powers the whole family on-the-go. This Docking Station charges four power banks, plus one additional device using the USB charging port. Each power bank has a durable aluminum case and is color-coordinated with a metallic finish for easy identification. Its powerful 4000 mAh battery capacity will keep devices powered throughout the day.
Circle Media Labs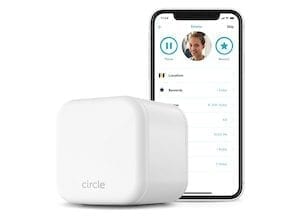 The Circle Home Plus hardware and app from Circle Media Labs is an intriguing "screen time" management solution, designed to help families to find balance, set healthy limits, build good habits, and get the best out of their digital experiences. From laptops and tablets to smart TVs and video game consoles, parents can manage their family members' time spent on internet-connected devices at home and across all mobile devices on any network. The solution leverages a cloud-based architecture.
Nortek Security & Control
Nortek Security & Control has released a new Jandy iAquaLink Driver for its ELAN intelligent home control system, enabling seamless cloud-based integration of iAquaLink-connected RS pool and spa control systems with the ELAN platform. The new ELAN iAquaLink Driver provides automatic discovery of all of AquaLink's features and labels to ensure fast and easy integrations. If a pool's automation is already connected to the web with an iAquaLink antenna, the integrator can use the driver to simply connect ELAN to the iAquaLink cloud service.
Sonos Port
Sonos Port is the versatile streaming component for your stereo or receiver. Connect Port to your traditional stereo to stream music and more. Enjoy control with the Sonos app or Apple AirPlay 2, and easily expand your sound system to more rooms.
RoseWater Energy Group
RoseWater Energy Group has expanded its partnership with Alpine Power Systems, a nationwide provider of backup power, telecom, cable, and motive power that currently manages RoseWater Energy Group's installations of the HUB SB20 Energy and Storage System. Through an expanded partnership, Alpine Power Systems will oversee logistics and warehouse support for the HUB SB20 Energy and Storage System.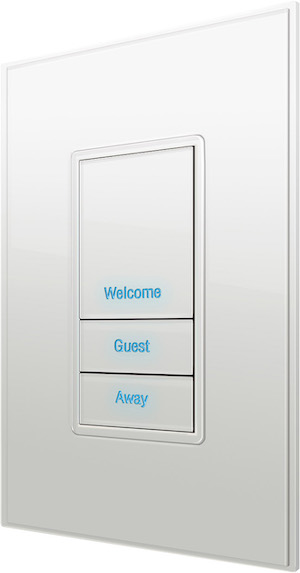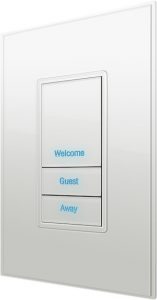 Vantage Controls
Vantage Controls' EasyTouch Glass modular keypad station offers a highly reflective, glass-like look with a smooth touch surface for a one-of-a-kind aesthetic. Available with up to five programmable buttons for different scenes — such as "Welcome," "Away," or "Party" — not only does the keypad allow users to set the lighting in a space with one touch, it can also incorporate control over QMotion automated shading, speakers, and other third-party systems.
Anthem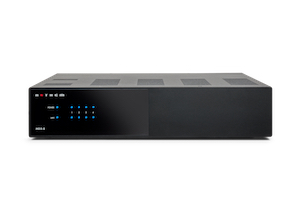 Anthem's new MDX Series of audio distribution systems features fully powered independent-zone subwoofer connections, as well as ARC Genesis room correction for each zone. MDX includes 60 Watts (8 Ohms)/120 Watts (4 Ohms) with all channels driven, or bridges to provide 200 Watts (8 Ohms) to provide eight or 16 channels of Ultra-Class-D amplification, each supported by Advanced Load Monitoring technology. Zones can have custom names, multiple inputs, independent playback, and tuning controls, and can bridge for more power.
Denon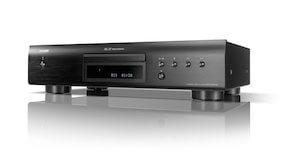 Two new Hi-Fi listening products from Denon, the PMA-600NE integrated amplifier and DCD-600NE CD player, have been designed to deliver superb sound and connectivity at an accessible price. The amplifier is engineered with Denon's Advanced High Current (AHC) single push-pull circuit power amplification technology, delivering 70 watts of power-per-channel (4ohm, 1kHz, THD 0.7 percent, 2 channel). The Denon DCD-600NE CD Player supports CD, CD-R/RW, MP3, and WMA formats and features Denon AL32 Processing technology ensuring discs always sound their best.
Meridian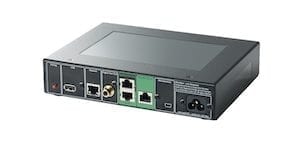 Meridian has begun shipping its new 210 Streamer to help integrators meet client demand for reliable, high-quality audio streaming throughout the home. The device allows the latest music-streaming services to connect to home audio installations via a range of formats, for a flexible and powerful system. It can be connected over Bluetooth or Wi-Fi to any smart phone or tablet, with volume and playback controls synchronized between streaming apps and the Meridian system.
Pro Audio Technology
Pro Audio Technology has created three new model additions to its SR series of invisible-mount loudspeakers – SR-25im, SR-6im, and SR-26im – as well as a new pivot bracket that provides installation flexibility. SR Series are built with the same genuine professional-grade speaker components as PRO's high-end loudspeakers, but in discreet form factors ideal for home theater and multi-room audio environments where superior sound is desired without sacrificing design.
QMotion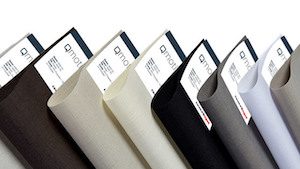 QMotion has launched a new self-service portal on its website that allows integrators to easily browse a wide array of shade fabric styles – nearly 300 options from solar and eco screens to light-filtering decorative sheers and matching room-darkening blackout fabrics – and order memo samples. Anyone can search QMotion's fabrics by openness factor, price group, color group, and special characteristics, such as fire retardant or PVC-free, and then add samples to the cart with a single click.
Savant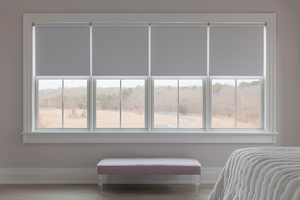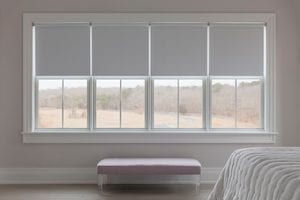 Savant has expanded its window shade offerings to include both battery-powered motor solutions as well as new quiet, high-powered wired motors. Unlike bulky, unsightly motorized shades, all Savant wired or wireless solutions fit into the same low-profile tube and bracketing system, giving integrators a no-compromise window treatment for both new construction and retrofit applications. For retrofit projects, Savant's new rechargeable battery-powered motors install into the same JGeiger bracketing system as the wired solution and are available with more than 400 fabric choices with sheer, translucent, and blackout options.
Dynaudio Custom Installation
The new Performance range marks the entry point to the Dynaudio Custom Installation product lineup. It was designed to deliver high-quality sound in distributed audio, media room, and other architectural audio applications. For installers, specifying Dynaudio Performance speakers means not having to choose between deep or shallow versions of in-wall and in-ceiling speakers. The new lineup keeps things simple with just one relatively shallow depth. They also no longer have to compromise between fit and performance.
NAD
The T 778 represents NAD's philosophy of real-world performance, simplicity of operation, and future upgradability. 7.1.4 Dolby Atmos and DTS Master Audio combine with Dirac Live room correction to deliver hyper-realism that captures every dimension of a performance. Add bit-perfect UHD 4K video processing and the T 778 delivers what the company says is the most accurate sound and image experience possible. Musical performance is optimized with High Res multi-room streaming via BluOS.
AudioControl
AudioControl has introduced two RS Series single-channel subwoofer amplifiers ideally suited for home theater, 2-channel music systems and multi-zone audio applications. Both amplifiers feature AudioControl's DSP feature set. The RS 1000 delivers 1000 watts from a 2U chassis into a 4- or 8-Ohm subwooferr, and the RS 500 delivers 500 watts from a 1U chassis into a 4 or 8-Ohm subwoofer.
Atlona's Opus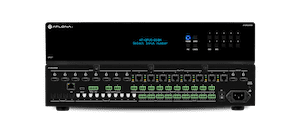 Atlona's Opus series consists of three HDMI-to-HDBaseT matrix switchers and one receiver built for high-performance 4K/HDR and Dolby Vision signal distribution and extension in residential AV environments. Opus products are engineered with a comprehensive range of control and audio matrixing features, making the series ideal for a wide-range applications requiring multi-zone AV distribution.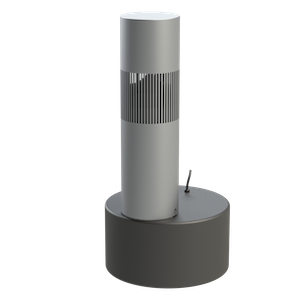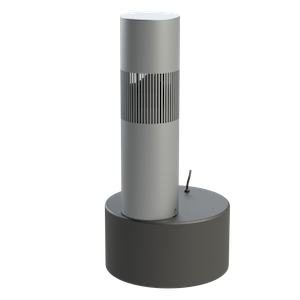 Origin Acoustics
With the Bollard XL, Origin Acoustics took its original Bollard Loudspeaker design and super-sized it. The poly/rubber subwoofer grew from 6.5 inches to 10 inches, and the satellite portion is now a full 6.5-inch two-way loudspeaker. The efforts of these separate portions are combined within a heavy-duty powder-coated Aluminum Bollard Enclosure. The sound is then distributed in either 360 or 180 degrees, depending on the choice of acoustic lens. They are available in three standard colors: silver, black, or bronze.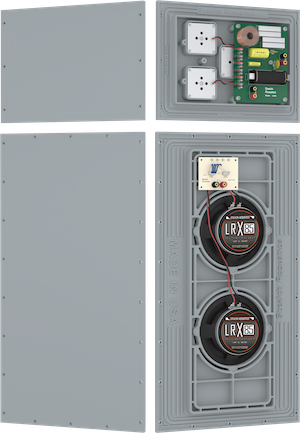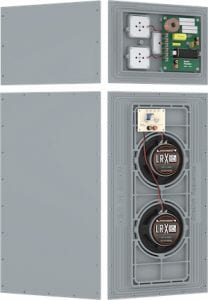 Stealth Acoustics
LRx85 is the latest generation of high-performance, invisible speakers from Stealth Acoustics. They are available in both passive and active versions, allowing for invisible audio in the most critical applications for home theater, listening rooms, and high-performance distributed audio. This two-panel system, which replaces a segment of a flat wall or ceiling with a paintable, non-penetrable flat front speaker system, incorporates five mid-range/high frequency drivers mounted in a unique dual-D'Appolito alignment for noticeable improvement in left/right panoramas and depth of sound stage.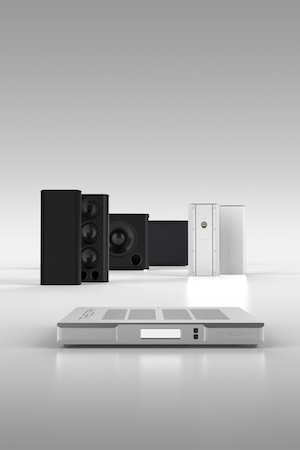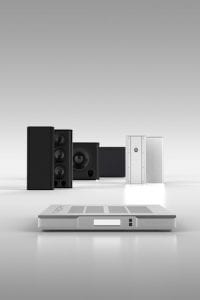 Theory Audio Design
The first seven loudspeaker products from Theory Audio Design consist of three soundbars (sb65, sb75, and sb85) designed to perfectly match with 65-inch, 75-inch and 85-inch flat panel TVs, an all-purpose on-wall loudspeaker model (sb-25) with dual 5.5-inch carbon fiber woofers, as well as two subwoofers (sub12 and sub15) with 12-inch and 15-inch drivers. At the core of all Theory systems lies a 9-channel Amplified Loudspeaker Controller (ALC-1809), with 1,800W per system and 96kHz/32-bit digital signal processing.
Wilson Electronics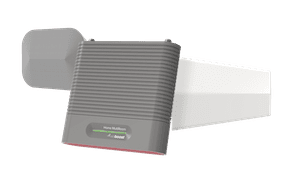 Wilson Electronics has launched the weBoost Home MultiRoom and weBoost Home Complete, two powerful, consumer-friendly indoor cell signal boosters designed to provide solid cellular connectivity in homes up to 5,000 and 7,500 square feet, respectively. Compatible with all mobile devices and wireless carriers in North America, the boosters allow users to enjoy better voice quality, fewer dropped calls, uninterrupted texts and faster data streaming throughout their home.
Epson
The Epson LS500 short-throw Laser Projection TV1 comes with an ultra-high definition ambient light rejecting screen with unique optical layering technology. Capable of displaying 4K HDR content up to 120 inches, it features Epson's proprietary 4K PRO-UHD 4 3LCD technology, a contrast ratio exceeding 2,500,000:1, and advanced HDR5 processing to produce vivid colors and deep blacks for an exceptionally bright, colorful, and sharp picture – regardless of the viewing environment.