The Magic of Motion
Throughout recorded history, human beings have been enchanted and enthralled (or, in some cases, had the bejesus scared out of them) by cleverly designed autonomous mechanisms – non-living objects capable of moving seemingly of their own accord.
During the 5th century BCE in China, courtiers marveled at artificial birds made of wood that could fly. Two hundred years later, geeky Greeks were equally astonished by what's considered to be the world's first cuckoo clock, complete with bells, puppets, and mechanical singing doves. Today, even though I've had various cleaning robots for years, I still can't resist being mesmerized by a Roomba sweeping the kitchen floor. (Not that the to-and-fro of a dirt-sucking robot has quite the bewitching gracefulness of a flying wooden bird or a mechanical singing dove, mind you, but I don't get out much.)
Smart door locks and motorized window treatments can also be attention-grabbers, especially for those unfamiliar with the wizardry of home automation systems. But even for the most experienced with home control – those who say, "meh" to the majority of modern motorization – one category remains irresistibly compelling: automated television mounts and mechanisms that dramatically move TV screens from out-of-the-way (or totally hidden) locations to the ideal viewing positions.
Of course, TVs that rise out of luxurious credenzas or drop down from hidden alcoves in ceilings are not new. This type of specialized motorization has long been part of the daunting realm of high-end custom integrators possessing the resources, expertise, disposition, and (most importantly) available client budget to accomplish what's often an audacious one-off task. Intrepid do-it-yourselfers – be they competent or clueless – have also been known to dabble here.
Regardless of their background, though, pro and amateur alike have historically been required to cobble together actuators and other necessary pieces and parts from a variety of manufacturers. Thankfully, there's good news for anyone with a hankering for this sort of modern magic: motion and motorization are becoming more mainstream, and the number of available off-the-shelf solutions is quite impressive.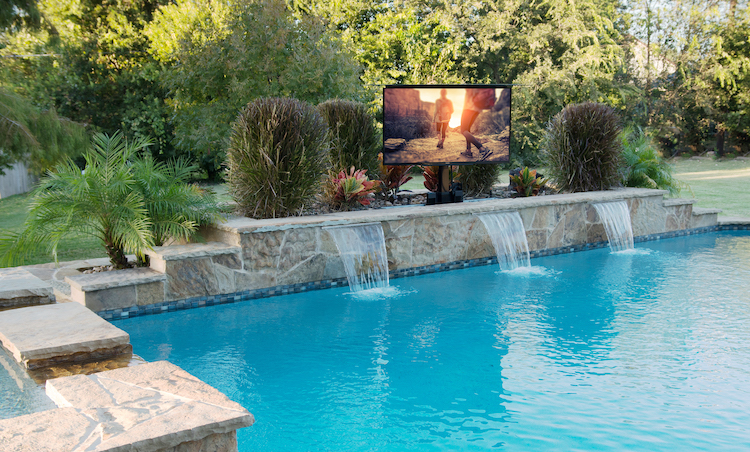 Home is Where the Hearth – and the TV – Are
Much like the farmer and the cowman in the musical Oklahoma!, the TV and the fireplace should be friends. Yet, for a variety of reasons, they're not. For starters, each one wants to be the focal point of the room, and neither likes to share (talk about awkward…) Built-in fireplaces aren't moveable, and while TVs up to a certain size aren't exceptionally heavy, displays over 40 inches in diagonal are usually unwieldy enough to require more than one person to lug them around the room. Then there's the inconvenient fact that TVs, like nearly all electronic gadgets, aren't particularly fond of heat, especially temperatures high enough to burn logs or natural gas in a fireplace.
Mounting the TV above the fireplace's mantel can be a livable, temperate compromise – except that it almost always puts the TV in an unnaturally and uncomfortably high viewing location.
For several years, MantelMount has offered a series of pull-down TV mounts designed to make the farmer and the cow… I mean, the fireplace and the TV become best buddies. These manually operated mounts safely secure the TV above the mantel while the room is filled with the glowing warmth of a fire. When the fire's out and it's time to watch the warming glow of the TV, a convenient handle below the screen allows the TV to be easily pulled down to a lower, more-comfortable viewing location in front of the fireplace opening.
The company's newest model, the MM860 Pro Robotic TV Mount ($1,999), eliminates the need for human involvement. (Well, not totally – someone still needs to be there to watch TV.) When triggered, this jaw-and-TV-dropping mount is capable of simultaneously lowering by up to 30 degrees of drop and swiveling up to 25 degrees left/right before stopping at any of several preprogrammed positions. The MM860 Pro incorporates heavy-duty steel (3-5.5mm), and MantelMount says it's designed to hold TVs ranging from 55 to 100 inches, weighing as much as 125 lbs. The powder-coated matte finish is paintable, and the mount can be used in recessed or surface retrofit installations.
The MM860 Pro comes with an RF remote, but it can be operated by IR-based universal remotes along with home automation systems from Control4, URC, RTI, Crestron, Savant, and Logitech.
Stealthy Jack-in-the-Box TV 
As with fireplaces, TVs often have intractable differences with Mother Nature. Even when a television is specifically designed to withstand the elements, it can nevertheless become a stark, rectangular eyesore amidst an otherwise carefully tended landscape when there's no image on the screen. Although Mount Vernon, WA-based Stealth Acoustics is best known for its line of full-range invisible architectural loudspeakers and wall-mountable art speakers, the company also offers three configurations of LED-based "outdoor entertainment solutions" it refers to as the Stealth Patio Theater (SPT) line.
You could think of the Stealth Patio Theater models as the ultimate Back Yard Jack-in-the-Box TV, as each SPT can be ordered as a complete, turn-key weather-resistant outdoor home entertainment system with screen sizes ranging from 103 to over 184 inches in diagonal and "built-in high-performance invisible Stealth speakers and subwoofers in 3.1 to Atmos audio configurations."
Stealth Acoustics says that all of the SPT enclosures are custom-built using marine-grade Baltic plywood and are spar-varnished inside and out to provide weather protection for the LED screen and lift mechanisms stored inside. With an SPT Extreme model, when the nature lover wants to watch TV, the LED-based display slowly rises out of the rectangular pedestal enclosure, which also houses the invisible speaker package. Because it utilizes a fixed flat screen, the SPT Extreme cabinet must be taller and wider than the display itself. This means that even the "stealthiest" SPT Extreme model (the 103-inch diagonal SPT P3-103) requires an enclosure that's at least 55.5-inches high (when fully retracted).
For homeowners unable or unwilling to give up that much real estate to hide a TV or for applications, Stealth Acoustics recently unveiled the company's newest SPT model, the Transformer. Expected to ship in the spring of 2020, the Transformer is a fold-away TV system that can squeeze a 120-inch diagonal LED-based screen into a trunk-like enclosure by folding the screen in half lengthwise and then storing it horizontally. Surprisingly, Stealth Acoustics says the unique design requires only two actuators: one for lifting and lowering the lid of the enclosure, and one that simultaneously raises (or lowers) and unfolds (or folds) the TV screen via an elegant side-mounted ratcheting system.
The Transformer is available with all of the necessary AV and control electronics contained within the fiberglass-finished enclosure, including built-in LCR speakers and subwoofers. Because of its smaller size, lower overall profile, and all-in-one design, the Transformer can be installed in a fixed location or used as the ultimate portable TV for tailgating, camping, or climbing Mt. Everest.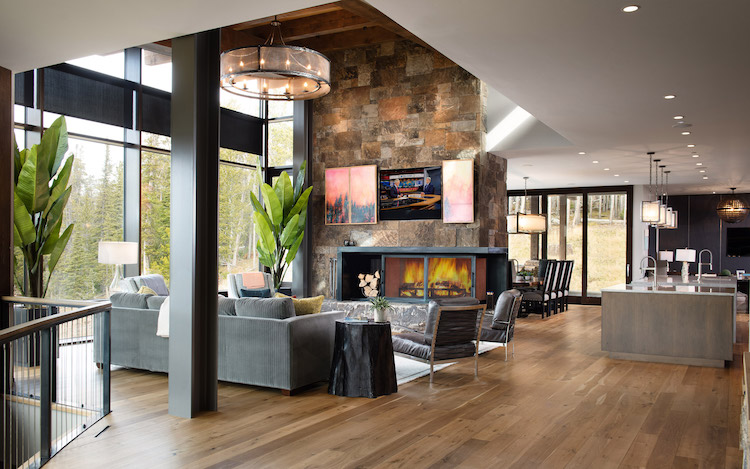 RoboTV
You're probably familiar with the old adage that says, "The bigger they are, the harder they fall." When it comes to the motorization of TVs, you could also say, "The bigger they are, the more difficult they are to lift." That may be one of the reasons why the Model L-75s from Nexus 21 looks a bit like an early prototype for one of the human-hunting robots in The Terminator. You don't have to worry about this mechanical beast of burden scaring the kids or causing the neighbors to call the RoboCops, though, since the majority of the mechanism – including the multiple, interconnecting, telescoping lift columns, the motors and wiring, and the connectivity circuitry – remains hidden in the enclosure or behind the TV when it's in the fully raised position.
Nexus 21 says the Model L-75s can lift TV screens as large as 75 inches in diagonal over a range of up to 52-inches of travel in as little as 18 seconds, or about one-fourth the run time of a typical erectile disfunction ad on TV. The Model L-75s also includes a 360-degree manual swivel capability and comes with an RF remote or with a control system integration kit that includes an IR remote and contact closure interface. The company also offers an optional Stealth Control Module that will allow operation of the Model L-75s with an existing TV remote control.
Nexus 21's Model E-550 is designed to lift projectors weighing up to 100 lbs that are as large as 23.5 inches wide x 23.5 inches long x 9-inches tall. (The company estimates that the Model E-550 can accommodate over 400 different projector models.) It offers 10 inches of downward travel and can fully extend with "near-silent operation" in 10 seconds. There are no exposed gears, tracks, or scissor mechanisms to clutter up the ceiling so, when the unit is retracted, the projector Model E-550 lift becomes as invisible as the motorized screen.
Presto Chango
One of the best things about watching a fast-paced science fiction flick or an edge-of-your-seat drama is being caught off-guard by a spectacular "Wow, I didn't see that one coming" plot twist. Based in Britain and North America, Future Automation is a one-of-a-kind company specializing in automated mechanisms that can conceal and reveal displays and projectors from some of the most surprising and unanticipated locations in your home.
Future Automation's HL, for example, is a horizontal TV lift mechanism that can seamlessly hide TVs as large as 65 inches inside walls or fireplaces when not in use, and then gracefully slide the TV into the open when it turns on. Options include a Smart Airflow Control fan configuration for reducing heat in the enclosure, as well as a universal speaker mount bracket that allows a soundbar to be mounted under the display.
Future Automation offers a couple of additional ways of hiding flat-screen TVs inside walls, but these concealment configurations don't involve moving the displays at all. Instead, the company's PIC Picture Lift Mechanism and PICSIDE Picture Side Mechanism allow you to mount pictures, mirrors, or pretty panels in front of recessed, in-wall mounted TVs up to 60-inches. When triggered, the PIC elegantly raises (or lowers) the attached artwork to reveal the hidden screen. The PICSIDE slides the attached panel to the left or right to unveil the TV and adds a bit of drama by utilizing a "ramped" start and finish motion profile. Both models are available with a variety of control options, including RS232, contact closure, IR, and RF.
Don't Letterbox Me In
Dedicated home theater rooms don't have to obey the same rules of decor as do multi-use rooms that have to accommodate activities other than watching movies. As a result, screens and projectors don't have to disappear after the final credits roll. But if you're enough of a movie buff to have a dedicated home cinema room, you know that not all movies share the same aspect ratio – and the terms "pan-and-scan" and "letterboxed" are probably right there with "colorization" as the stuff of your nightmares. Although Screen Innovations can't help with the latter, the company's new Transformer fixed projection screen uses what appears to be cinematic magic (but what is really a very clever application of motorization) to banish the former from your home theater. In fact, the company claims that the Transformer is "the first ever projection screen that changes shape to fit your content." It doesn't matter whether the source material you're watching is 16:9, 17:9, or 2.40:1, (or, according to Screen Innovations, anything in-between), the Transformer's proprietary telescoping frame system can adjust on-the-fly to make sure you never have to endure the horrors of black bars along the sides of the image.
The Transformer's ability to handle such a wide (no pun intended) variety of aspect ratios begins with the fact that the screen height remains constant while the left and right edges of the frame seamlessly – yes, literally – move inward or outward as necessary to fit the entire image onto the screen's surface material. The expandable structure consists of a 6-inch aluminum extrusion that is hand-wrapped in velvet and is available in a maximum screen diagonal of 255 inches (in a 2.40:1 configuration).
Screen Innovations says the Transformer is available using any one of 10 of the company's projection surface materials, including acoustically transparent versions, as well as the company's ambient-light rejecting Slate material. The Transformer ships with an included wall switch (with optional dry contact) and can be controlled by third-party automation systems using IP via Screen Innovations' IP based PoE powered automation and control gateway (SIFI).
There will no doubt come a day when society's acceptance of technology has so totally crossed the uncanny valley that androids, robots, cyborgs, and all manner of biomechatronic creations will seem as old hat as a 1990s flip phone. In the meantime, TVs that move by themselves from out-of-the-way or totally hidden positions to the ideal viewing locations for everyone in the room – or in the yard – will continue to command attention and admiration. In fact, depending upon what you've chosen to watch on the newly revealed screen, the motorization might be more moving for the audience than the content.