While the cancellation of in-person meetings, conferences, and press events is helping to stop the spread of COVID-19, it is also having the parallel effect of curtailing the ability of consumer products brands to get the word out about their new product offerings for the fall and holiday selling season. Here, in a strange way, technology comes to the rescue of technology with various video conferencing services filling the void. Such it was for Vizio when they spoke to the press about their new "2021" product lines.
By way of background, though less than 20 years old, Vizio has quickly risen to the top tier and consistently ranking as one of the top five brands – if not higher – in the U.S. market. Known for high technology at very affordable pricing, Vizio has put its stake in the ground previously occupied by the old-line legacy brands.
On the video side of the market, Vizio will refresh their "V-Series," "M-Series Quantum," "P-Series Quantum," and "P-Series Quantum X" lines with a variety of new features and technologies. Significantly, Vizio will soon be releasing their first OLED-based products.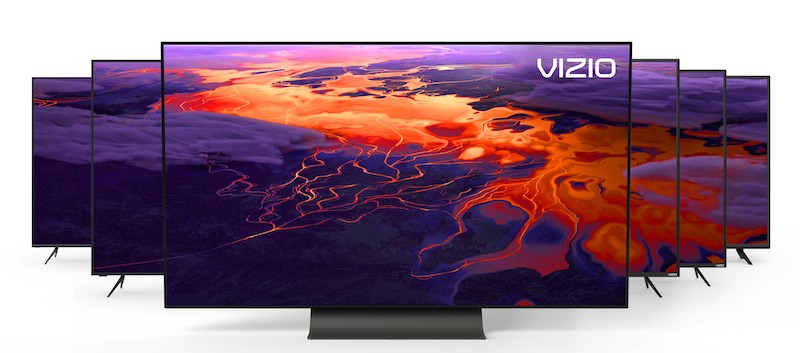 Common among all four lines will be "SmartCast 4.0," the latest iteration of Vizio's Smart TV platform service. Merging together a wide variety of third-party apps, viewing content from phones or tablets, voice search and control, and smart home control under an updated and unified user interface, Vizio's SmartCast is now joining the rest of the streaming world by greatly expanding their range of free-to-user channels that offer a wide range of entertainment, music, movie, sports, and news programming without the need for signup or subscriptions. Similar to other aggregated content offerings, such as the Roku Channel and Tivo+, or channels such as Pluto and Tubi, Vizio's WatchFree will give consumers who are starting to suffer from "subscription fatigue and overload" a way to step aside from the increasing impact on stretched to the limit home budgets.
This update to SmartCast will bring newer channel services such as Disney+ to the list that already includes Netflix, Hulu, YouTube TV, Prime Video, and many more. Coming soon will be Apple TV+ and Peacock. As is the case with some other streaming devices, such as Roku and Fire TV, HBO Max will not be available as a native app, but it may be streamed to the TV via Apple AirPlay 2 or Chromecast. Home and voice control will be available via Siri, Amazon Alexa, and Google Assistant. All new Vizio TVs will feature this latest version of SmartCast and it will be automatically updated to Vizio SmartCast TVs back to 2016.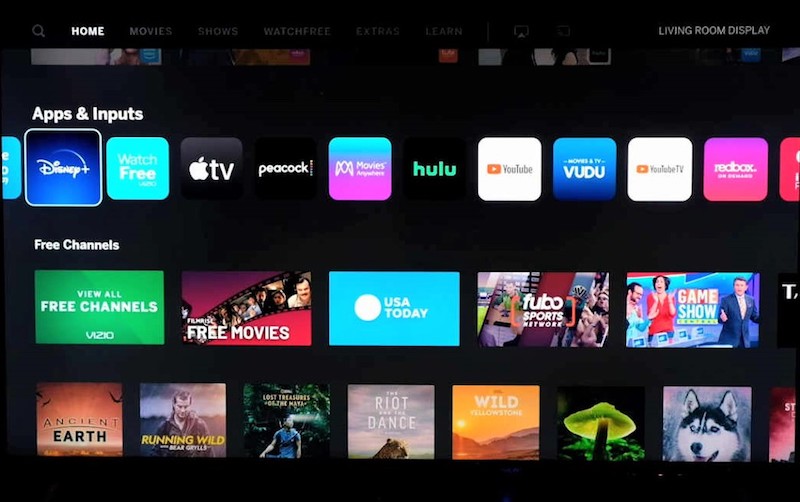 While perhaps best known for their video products, Vizio has also become a major force in audio, as they are now the top-selling sound bar brand in the U.S. A trio of new models is on the way, all featuring DTS Virtual:X for expanded sound fields regardless of the number of channels in either the source or the soundbar. Equally important in the world of Smart TVs, where content is captured directly in the TV such as with Vizio's own SmartCast models, all of the new Vizio soundbars include HDMI with Audio Return Channel (ARC). That enables one-wire connection between the TV and bar, eliminating the need for a separate analog or digital audio connection.
The V-series models are the V21, a 2.1 channel mode available now at $179.99 and the V51, a 5.1 channel model available on July 5 at $249.99. Both include wireless subwoofers. The step-up M-Series' M21 uses dual 3-inch subwoofer drivers, rather than an external sub – a good alternative when room size or design does not allow for a separate sub. A unique M-Series feature is an internal gravity sensor that automatically detects whether the soundbar is wall-mounted or placed under the TV and adjusts the left-to-right speaker orientation accordingly. The M21 will be available starting July 26 at $149.99.
At the top of Vizio's sound bar line, the new Elevate literally "raises the bar" in the fast-growing category of soundbars with Dolby Atmos and DTS:X. Featuring 18 speakers across 10 channels, including two surround speakers and a wireless subwoofer, Elevate is capable of configurations up to 5.1.4. Its unique Adaptive Height Speakers at the end of the 48-inch long anodized aluminum body automatically rotate upward when Dolby Atmos or DTS:X content is detected. That will deliver the full object-based, immersive sound that the two formats are designed for without the need for separate elevation or ceiling-mounted speakers. When the content returns to traditional 2-channel stereo or standard surround formats, the speakers again rotate automatically to a front-facing position for a more precise and wider soundstage, as well as increased volume.
Elevate will be priced at $999, with availability scheduled for this fall.
Of course, at the end of the day, Vizio has made its mark in the industry as a TV brand, and their new models seek to expand on the well-deserved reputation. At the top of the list are a pair OLED models, adding to Vizio's expansive line of LCD/LED and Quantum Dot products. The 65- and 55-inch models, to be priced at $1,999 and $1,699, respectively when they become available this fall, deliver the color, brightness, contrast, and deep blacks that sets OLED apart from LCD-based displays.
Along with SmartCast and Vizio's IQ Ultra processor, the OLED models feature two HDMI 2.1 inputs with the full suite of 48Gbps speed and a borderless design. Also found on the new P-series Quantum and Quantum-X models, the Ultra processor supports a new ProGaming Engine that includes auto low latency, Variable Refresh Rate (VRR), and 4K resolution from 40Hz to 120Hz, to accommodate the ever-changing input from advanced video game consoles such as the forthcoming PlayStation 5 and Xbox X. Video enthusiasts are often split between those who favor OLED and those who are partial to QLED. With their first two OLED models, Vizio is now able to satisfy both camps.
On the LCD-based sets with LED backlighting and Full Array Local Dimming (FALD) Vizio has also upped its game. The top-line P-Series Quantum X models feature up to 792 local dimming zones and up to 3000 nits of peak brightness and 800 nits of full screen brightness (for the 85-inch model. The 75- and 65-inch models have 480 and 384 FALD zones and 2800 and 3000 nits of peak brightness, respectively. Sharing the same IQ Ultra processor as the OLED models, they also have the two full HDMI 2.1 inputs and ProGaming Engine. At $2,999.99, $1,999.99, and $1,499.99 these products as certain to become benchmarks.
One step down is the P-Series Quantum with 75- and 65-inch models at $1,699.99 and $1,199.99. Although they have fewer FALD zones and lower brightness than their "X" line siblings, they have the same Ultra processor, 120Hz VRR frame rate and thin bezel along with the rest of this year's Vizio feature set.
Perhaps the biggest piece of Vizio's sales pie will come from the M-Series Quantum models. They step down a bit in terms of FALD zones and brightness, and their IQ Active (rather than Ultra) processor is capable of up to 60Hz VRR. That aside, they still have the ProGaming Engine, HDMI 2.1, and VRR. On the HDR side there will now be HDR-10+ along with Dolby Vision and HLG, as do all of the new 2021 model lines. What you give up in terms of zones, brightness, and color volume you more than get back with regard to the price/value equation.
This year, there will be two "M-Series" ranges. The "MQ8-Series" versions will be available exclusively from Amazon in 65- and 55-inch sizes at $749.00 and $549.99. The "MQ7-Series" will be available through most major retailers in 65-, 55-, and 50-inch sizes at $699.99, $499.99, and $399.99. Their specs are 600 nits peak brightness and 30 FALD zones, rather than 800 nits and 90 zones for the MQ8 (400 nits and 16 zones in the MQ7's 50-inch model).
Rounding out the offerings is the V-Series. The extensive range of screen sizes starts at 75 inches down to 40 inches, and it has the slightly less powered V-Gaming, rather than the ProGaming Engine. Brightness is lower than the rest of the line, and there is no Quantum Dot technology. However, the V-Series models hold true to the high-performance roots with all of the HDR formats, SmartCast and HDMI 2.1. Pricing starts at $799.99 for the V755 model and is as low as $229.99. The latter, albeit for a 40-inch set, makes it possible to take advantage of HDMI 2.1 and all the HDR formats at a very affordable price.
There is no question that through its product offerings and pricing, Vizio has definitely had an impact on the TV and soundbar markets. With this impressive lineup of new products, 2021 looks to be another banner year for Vizio.
Caption: Vizio's TV lineup for 2021 includes a wide range of features and technologies including their first OLED models, shown in the center.
Caption: SmartCast, Vizio's proprietary Smart TV" system, will be upgraded this year to include many new services such as Peacock along with advanced voice control and search features.