Consistent, Repeatable Project Success
"It's the most radical and exciting business move that Audio/Video Systems has undertaken since lighting control, and it has nothing to do with voice assistants, wellness, or the hottest trends in home automation," said AVS COO Franklin Karp. It is all about process: pre-building systems in the integrator's Plainview, NY, design lab, so that they're fully tested and proven before they even reach clients' homes.
AVS adopted Millson Custom Solutions' RackFrame product, part of what CEO Richard Millson calls their FrameWork platform, which includes proprietary products, off-site production and testing, and a standardized project process. Millson designs and sells their WireFrame (structured wiring), CinemaFrame (home theater), PictureFrame (TV installations), and RackFrame (equipment rack termination & testing) under their Millson FrameWork umbrella.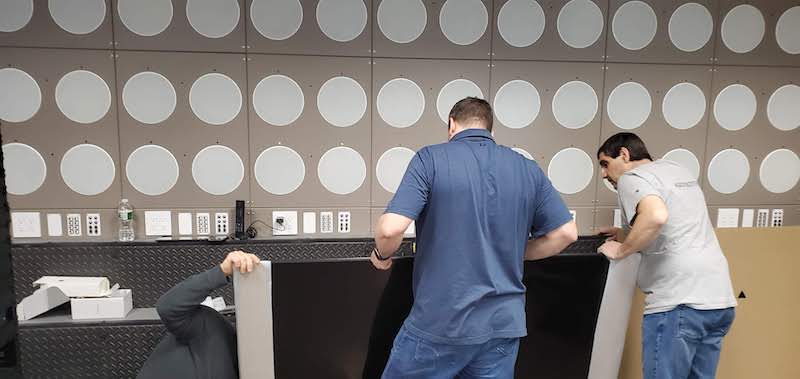 RackFrame, a solution for terminating and connecting equipment racks, supports systems of "any size or complexity," Millson said, and includes specific connections for virtually any signal type used in the industry.
Working with RackFrame, integrators build and wire the equipment racks for a customer's project off-site in their own lab, on their own schedule. When it's time to install the system into the home, it's already been fully wired, programmed, and tested. "If an issue happens to pop up during installation, the technicians on site can troubleshoot and solve it much more quickly," Karp said.
They renovated two rooms of their Long Island facility to implement the FrameWork project process. AVS' technical staff builds the racks in one space, completing and documenting all of the power and signal connections required for that system design. Then they move the rack(s) into the dedicated testing room, where they connect and fully test all functions of the system using a custom Millson patch panel, which allows them to duplicate the functionality of the system to what it will be once installed in the client's home.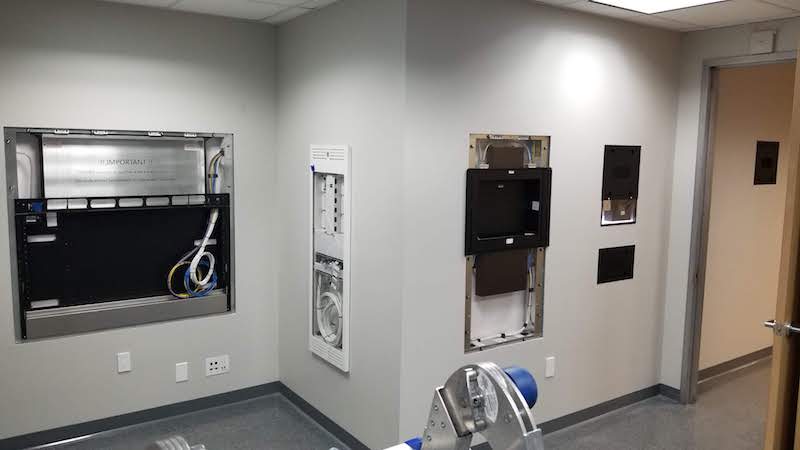 The products, project process, system production, and testing methodology were all originated by Millson. The Vancouver, Canada-based integrator developed their FrameWork platform to create a streamlined, repeatable process for delivering large numbers of projects all at once in multi-dwelling unit (MDU) projects. It turns out that virtually all of what they had developed was equally well suited to single-family-home projects, as well. So Millson decided to share his approach with the custom integration channel, beginning with his colleagues within the HTSA buying group.
"FrameWork is a total operational solution designed to dramatically increase project efficiency and deliver consistent, repeatable success," Millson explained.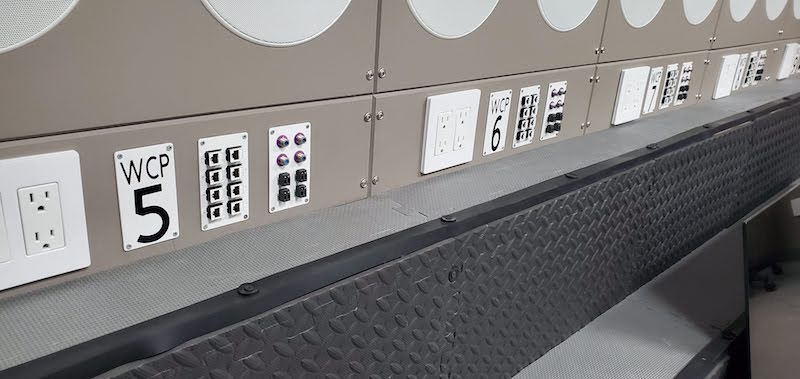 The platform comprises proprietary products, off-site production and testing, and a standardized project process. The quality of components used in their PictureFrame (for hiding equipment behind TVs) and CinemaFrame (an in-wall home cinema solution) products are "absolutely first class," Karp noted.
And according to Karp, pre-testing their systems off-site ahead of time affords AVS far greater control over the installation timeline. In the past, the integrator was always subject to the schedule set by the general contractor who is "always in a rush," Karp said. Dust can get into the equipment and wiring, and projects are often most hurried near the end when everyone is on site at the same time trying to meet the construction move-in date. "Even if you have the rack hermetically sealed, dust still seems to get in somehow," said the custom installation industry veteran.
Now, during the wiring stage of construction, the miles of Cat-6 and other cabling are pulled to a central location, organized, terminated, tested, and labeled. With the Millson solution, AVS technicians can terminate and test all cabling before the racks are brought to site, "so nothing's left to chance during the rest of the construction," Karp said. "Speakers are in the ceiling, and wires are terminated, covered, and protected. You put the cover on and walk away; you're done until you come back for the final installation in a clean environment."
At the AVS lab, technicians use the Millson process to build clients' racks for all the electronics that are part of a home's control system. There, they can test up to 32 zones of audio, lighting, every TV, touch panel, camera, and remote in the project – everything but HVAC.
"The time we spend is much more efficient, because guys are heading to the office to work a full day, versus commuting to the city and losing God-knows-how many hours coming and going," the integrator said.
Utilization under the new process "skyrockets," Karp said, and "the delivered quality goes through the roof." AVS' technicians open and test every product in the lab, down to streaming players and set-top boxes that fit into a box behind a TV. "Instead of building everything on site, we're building and testing every part of the systems here, then marking them for delivery to each room or area," he said. "The system for the master bedroom is built, labeled, tested and wrapped, ready for delivery whenever that part of the site is ready for us."
Because everything is tested and ready before delivery, AVS can delay final installation until much later in the project than before, so when they do arrive on the job site, they're entering a clean environment. "No one's painting, no one's doing floors, no one's sanding – all the crap that can negatively impact our final install work," Karp noted.
Because the products being installed have been tested, including software and firmware updates, touch panel set up, remote configuration and so on, if there is any kind of issue, "We know it's not with the equipment we just brought in," Karp said. "These are large and complicated systems, things can happen – but we're no longer scrambling because a TV's not working and the client is moving in that day."
AVS began implementing the full Millson FrameWork solution relatively recently. The process overhaul will make AVS techs' work time much more efficient, and Karp considers that a big win for the business. Technicians can put in a full day at the lab assembling, wiring, programming, and testing systems, versus a half a day of productivity with the other half spent commuting to and from job sites.
When it's time for installation, "we just plug everything in. Instead of taking weeks to do an implementation, we can now do it in as little as one day – or maybe a week at most, depending on the size of the project," Karp said.
The proven project process makes the installations "idiot proof" – "because all the high level tasks and brainpower are focused in our facility," Karp said. "At the end of the day, the guys could even send me to plug in a rack, it's that simple." With the Millson system, the wires are all labeled and color-coded: "You just plug it in."
That sits well with the general contractor and clients because AVS is now taking the "fuss and mess" out of the final installation process, with far less time spent on site, "we don't have to spend a week testing it and pushing every button, because all that has already happened at our facility," Karp said. It's a whole different way of doing an installation. "The level of repeatable efficiency is mind-boggling," he added.
And with the increasingly restrictive condo policies in the exclusive Manhattan high-rises they service, saving on labor costs and improving overall efficiency are more important than ever for AVS, Karp noted. New York labor costs are already among the highest in the nation, and it doesn't help that all of the super-tall high-rise condo buildings – some 80 floors and higher – can make that problem even worse by adding significant elevator wait time for technicians on site.  And that's on top of an already lengthy commute, and the infamous New York rush-hour traffic [at least in non-COVID times].
It's not unusual for workers to wait 30-40 minutes for a service elevator, Karp said, after they stand in line to present ID and have their photo snapped. And if AVS has a project on the 80th floor and another on the 50th floor, their employees can't just go from one to the other; they have to start all over again at security and get a different pass for each floor, chewing up man hours.
With inefficiencies and labor costs exploding due to these unavoidable realities, Karp is ecstatic over being able to focus far more of the overall project labor off-site, at their home base. "Now we get a full day of labor out of every employee, and they appreciate it too because there is less stress for them, and they are more productive."
An important feature of the Millson solution is that installations no longer need to be completely linear with pre-wire, production, testing and final install all happening in parallel as time and job-site conditions allow.
"Even if several projects are closing at the same time, we can now handle it because we've been building the racks weeks in advance," Karp stated. "Everything is assembled, programmed and tested, and then we wrap them up and put them away."
AVS completed their first project using RackFrame in February, a smaller system for a guest home. The tech on the job "was blown away," Karp said, because he found he could install in half a day what would have taken two or three days of on-site install and testing previously.
When AVS sent key staff members to Millson's operation in Vancouver for an in-person look at their operation and how they use the process, "their eyes lit up," he said.
Karp wouldn't disclose AVS' capital outlay to fully implement Millson's FrameWork solution, other than to describe it as a "serious investment." But he also said that he believes he can recoup the cost in two years or less and it may ultimately allow him to reduce labor charges, making AVS more competitive he said.
Another, less obvious benefit of this new process? There's a new level of polish and professionalism that adds to AVS' overall presentation, Karp said, describing it as a "change in our culture."
When Karp has shown the system to architects and designers, "they get really excited" because they understand the system is fully tested, the installation is dramatically simplified and the overall experience is greatly improved for the end customer. "They got all of it."