When Indianapolis residents Mike and Liz Simmons couldn't find a local automobile storage facility to warehouse their collection of classic, exotic and luxury cars, they took it upon themselves to build the city's only premier automobile storage and social club, SILO Auto Club & Conservancy.
With the goal of creating a convenient, modern downtown space where local auto enthusiasts can gather, host events, and securely store valuable vehicles, Simmons hired electronics integrator TRIPhase Technologies to oversee the interior design and outfit the 30,000-square-foot location with a full complement of smart technologies. Now through Linear Access Control and an ELAN automation system by Nortek Security & Control LLC, the building's security, surveillance, door locks, multi-zone audio and video, lighting and even motorized window shades are all fully automated.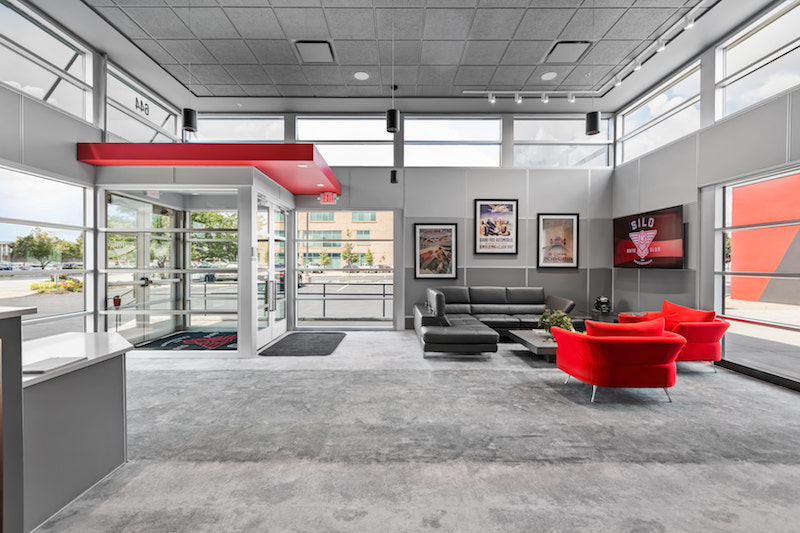 "The main reason we launched this club, and also integrated the ELAN system and all the technology, was to offer convenience," Mike Simmons said. "When we moved from the suburbs to downtown it became a hassle to pick up a stored car from outside the city, then have to return it, involving a second vehicle and extra time. Now with SILO Auto Club & Conservancy, every Indianapolis-area car enthusiast has a central location where everything is as simple as it can be, from getting here to picking up a car to hosting a party or event with customized music and video."
According to Robert Haecker, president and founder of TRIPhase Technologies, the ELAN system wasn't just the perfect fit for the auto club, but also for the Simmons' new home in Downtown Indianapolis.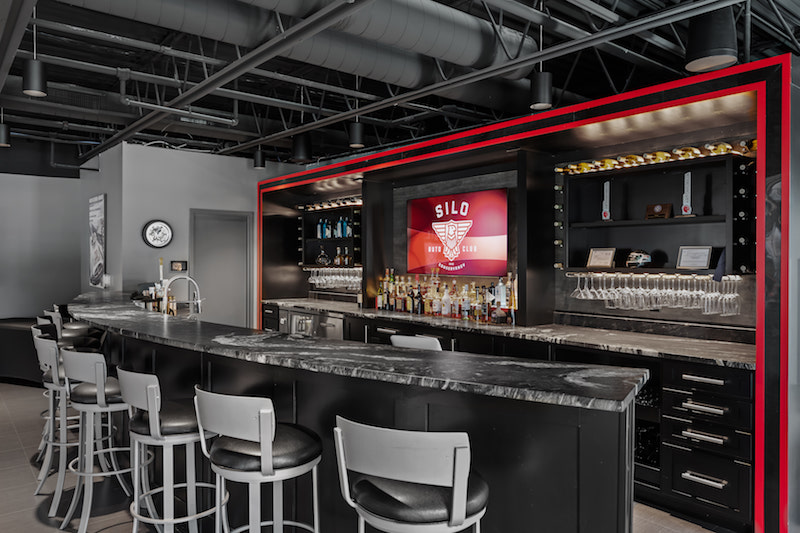 "I had just finished integrating a full-fledged ELAN home control system at Mike and Liz's downtown penthouse, and they told me they were looking to develop a similar high-tech system for a new auto club," Haecker said. "They wanted SILO to appeal to a high-end clientele, and by integrating the latest automation and security technologies from Nortek Security & Control, we turned the entire garage and social club into a one-of-a-kind experience for the city's auto aficionados."
By using the same system at their home and the auto club, the Simmons are able to use a single mobile app to access and control all the connected systems at both properties. This simplifies and expedites his property management needs and ensures they know that everything is working and is as easy to use as their home.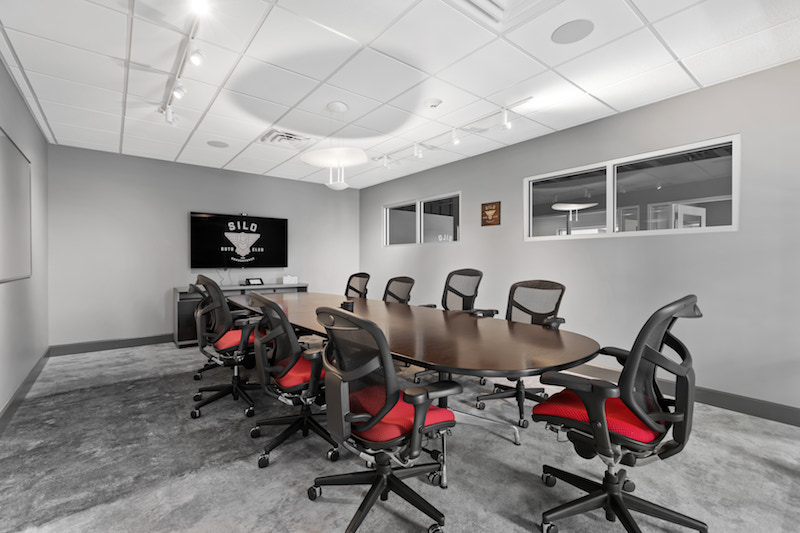 As the city's only downtown storage facility for luxury automobiles, SILO demanded an excellent access control system paired with top quality surveillance. Haecker decided that Linear Access Control would be the ideal solution to provide simple and secure entry, allowing members to unlock the front door through either a key fob or a mobile app, while giving the owners a full record of every person who enters.
For security, a total of 12 ELAN cameras, including both dome and bullet-type models, provide 24-hour surveillance of the building's exterior and interior, and record to an ELAN NVR that Simmons can view from anywhere in the world through the ELAN mobile app.
"I used to get very involved in the technology I used and purchased, learning all the ins and outs, but at this point I've realized I really just want it to work flawlessly, and have it set up and maintained by experienced professionals like Robert and Shanna at TRIPhase, who know how to do anything I might ask for," Simmons added. "We're starting to see a community form around the club, both in terms of storage members and as a rental space for events that has so far attracted non-profits, businesses and private citizens to hold meetings, parties or banquets.
The garage also features automated lighting from Lutron, ceiling-mounted speakers and two 85" wall-mounted TVs, offering instant control and access to a range of music and video sources through the ELAN system. Haecker even added a microphone system, completing the room and making it a perfect space for hosting events. The club hosts monthly events, including dinners and speeches, for which staff can rearrange the autos to create a large open space in full view of all the amazing vehicles.
"Mike wanted to build a community more than just a garage, and that required providing meeting spaces and all the tools necessary to host events," Haecker said. "There are a total of eight TVs and a full complement of speakers throughout the club, along with motorized window shades and the automated lighting. We created schedules for the TVs, music, lights and window shades so they turn on by themselves when the club opens in the morning, and shut down at closing time. This simplifies operations while adding another layer of security, as the windows are all covered automatically during off hours."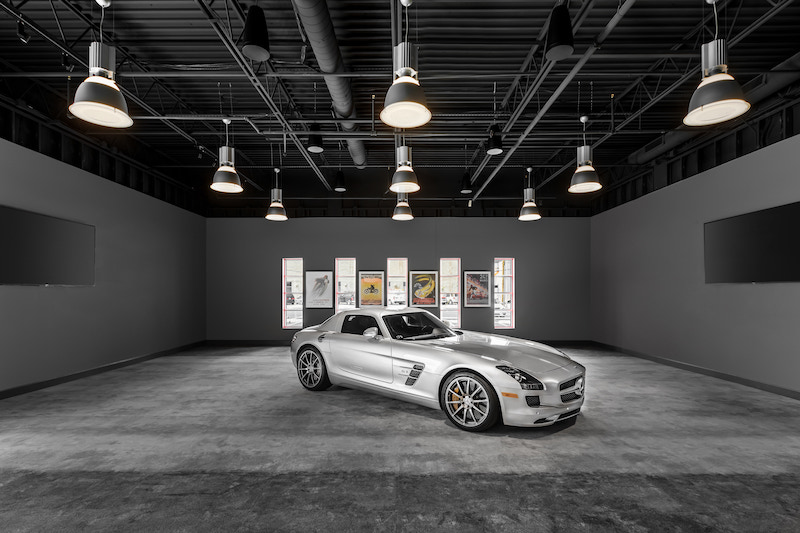 The club also features a meeting room and a lounge with a bar and a pool table, which offer the same lighting, audio, video and shade controls as the garage, and are managed through multiple wall-mounted ELAN touch panels or the ELAN mobile app. The media sources include Dish Network receivers, Roku, Apple TV and digital signage software that enables custom content such as company logos or welcome messages for organizations that host private events.
The space was designed by Shanna Haecker, who is a principal at Zionsville, IN-based Universal Design Group as well as a principal at TRIPhase Technologies. Shanna carefully crafted the club's interior design and acoustic considerations, with the result being a beautiful, welcoming auto club that expertly meets the needs of its niche membership.
SILO Auto Club & Conservancy offers the option to join on a monthly or annual basis for vehicle storage, in addition to a social club-only membership for those that appreciate high-end cars but don't need to store a vehicle. Expert staff arrange and maintain the vehicles, and members can drop off or pick up during business hours or access them during off-hours by giving 48-hour notice.