AIC (Advanced Integrated Controls), a custom integration company based in South Carolina Low Country, had to dig deep when updating an 18,000-square-foot estate with modern technologies. So deep that they spent a good share of their time in the crawlspace of the home fishing new Category 6 cabling and conduit to every corner of the residence. This new and improved wiring foundation would support one of the most important facets of the technology makeover: a fast, reliable, Wi-Fi network.
Related: Access Networks Adds Unmanaged Option to its Cloud-Based Wireless Controller
AIC turned to Access Networks for the solution. "Any time we automate on a large scale like this in a situation that's more like commercial than residential we go with products from Access Networks," said AIC owner Curt Hubner. "It's the only solution on the market that's robust enough to provide the deep Wi-Fi management capabilities necessary for optimal connectivity in a home of this technological caliber, scope, and size."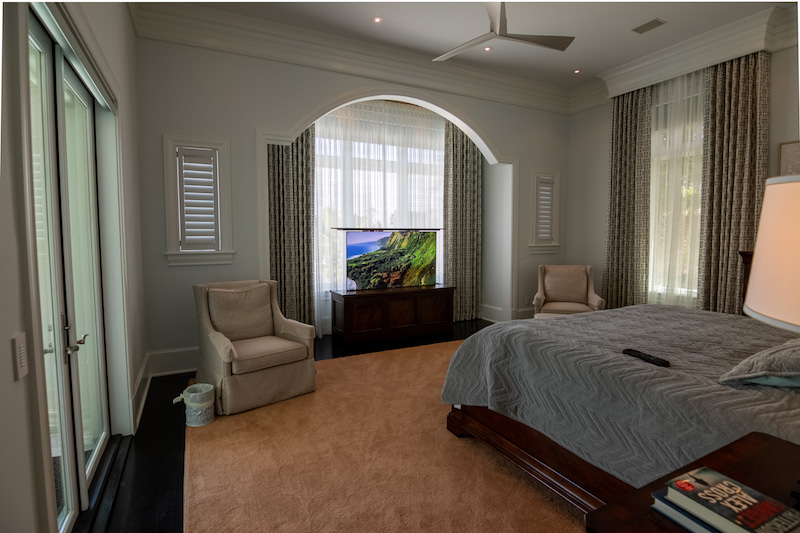 Hubner describes the owner of the luxury residence as a person who likes to have fun but, as the CEO of a large company, also never stops working. Needless to say, the addition of a well-connected Wi-Fi-enabled home office and home theater were priorities. An Access Networks solution comprising a C120 Wireless Controller, six A650 Wi-Fi 6 access points, and a managed 76-gigabit switch effortlessly juggles buffer-free videoconferencing sessions and streaming 4K entertainment.
Just as critical to the performance of the network was an assist from Access Networks' design services and support team. "They configured the C120 controller and set up security parameters based on our specifications," Hubner said.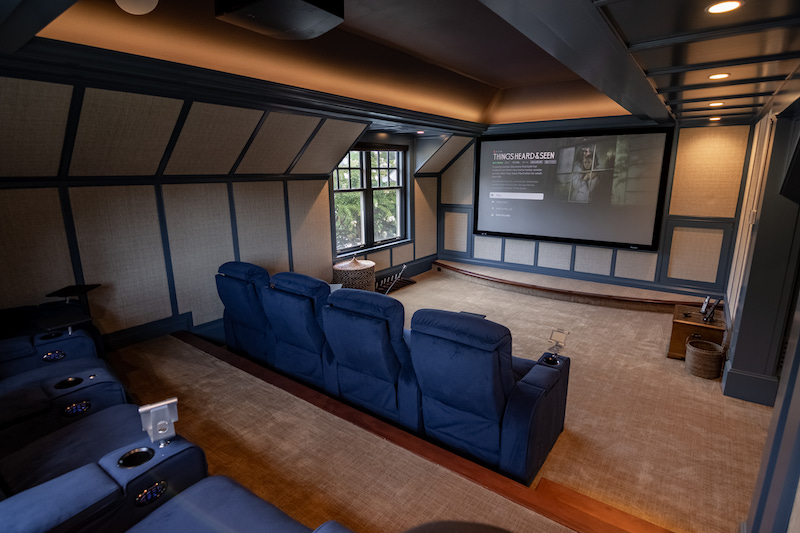 The controller was shipped to the jobsite ready to be installed, "no IT degree necessary," Hubner noted. "Access Networks understands all the nuances of proper network design and deployment, so having the IT experts on their team handle the initial setup, especially for demanding projects like this, makes all the difference."
The Epitome of Connectivity and Control
Nowhere is the exceptional connectivity, management, and control of the Access Networks Wi-Fi solution more apparent than in the home office. Here, a 65-inch Sony OLED TV clocks in a triple shift, displaying zoom video, real-time footage from outdoor surveillance cameras, and high-res video content. Whether for business or pleasure, Access Networks works behind the scenes to maintain a high level of proficiency.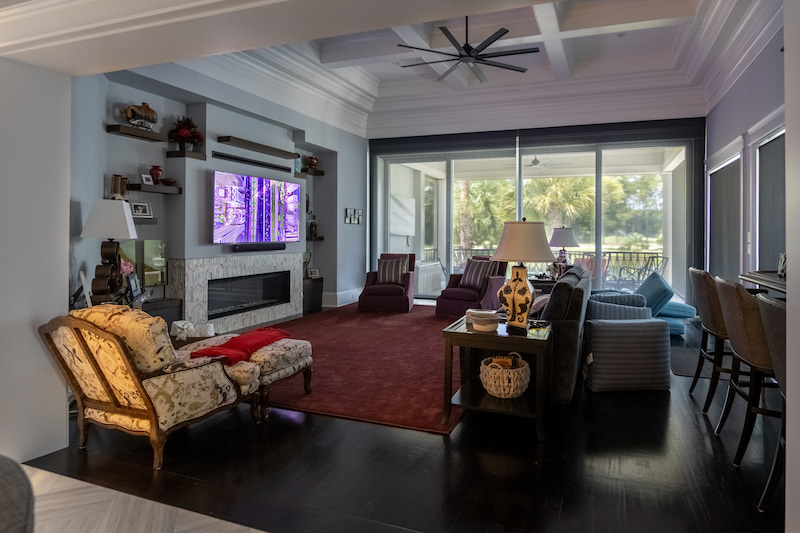 Even the lights, thermostat, motorized shading, and distributed audio system are dependent on the Wi-Fi network. Commands issued via buttons on a remote control, smartphone app, wall-mounted touchscreen, or his own voice reach devices – even those located rooms away – quickly and reliably. In an instant, the office environment can transition from work to play mode while the home theater preps for a family movie night, for example.
AIC Taking Tech Outside
Wi-Fi is just as important to the family on the outside of their home as it is on the inside. They need it to stay connected and in control at the swimming pool and boat dock. AIC outfitted the property with two B310 omni-directional outdoor access points from Access Networks, relying on the Access Networks design team to help them position the access points for the strongest, most expansive Wi-Fi coverage. There's no need to walk back to the house to access a work report or stream high-res music outdoor speakers when AIC's configuration of network supports downloads requiring big bandwidth.
While the family enjoys a reliable Wi-Fi experience, AIC relishes the fact that there have been zero maintenance or service issues since installing the network more than a year ago. "With Access Networks, our customers' network uptime is nearly 100 percent," Hubner said. "That's unheard of when dealing with other networking solutions, which typically require us to visit the project at some point post-installation to resolve issues."
That's not to say that AIC won't do some tweaking of the network in the future. "The owner is tech-savvy and likes to stay on the cutting edge, so we'll likely be back at some point to add Access Networks' new ARCC cloud-based configuration and management platform," Hubner said. "No matter what types of new technologies the owners bring home or ask us to integrate or how they continue to renovate their home, the Access Networks foundation is there to support it all."
Equipment List
(6) Access Networks A610 6GHZ Seamless Roaming Access Points
(1) Access Networks C120 Wi-Fi Controller
(1) Access Networks 52-Port Managed Gigabit Switch
(12) Apple 4K TVs
(1) Apple 10.2″ iPad
(2) Autonomic Controls AU-MMS-1E Autonomic Mirage Music Streamer
(1) Elan EL-ITP-8-WH 8″ Intelligent Touchscreen with Voice Control
(6) Elan EL-800-IC-8 In-Ceiling Speakers
(2) Elan HR10 Wi-Fi Remote Controls
(12) Elan HR30 Wi-Fi Remote Controls
(32) Elan EL-806-IC-8 In-Ceiling Speakers
(2) Elan Automated Thermostats
(6) Elan EL-TSTAT-8820 Thermostats
(6) Elan HMP Turret Cameras EL-IP-OTA-4-WH
(1) Elan 8 Channel NVR (1 TB Storage)
(3) Elan EL-ITP-8-WH 8″ Intelligent Touchpanels
(1) Elan gmu16x16 Ultra Matrix Audio Switcher
Fortress Seating
(1) JL Audio E-SUR3-Ell2- ash 12″ Subwoofer
(1) JL Audio Fathom 8″ In-Wall Subwoofer
(2) JL Audio D108 Dominion Subwoofers
(1) JL Audio Fathom 8″ In-Wall Subwoofer
(4) KEF Ci 200 GR Round In-Ceiling Speakers
(3) KEF Ci 3160 RL-THX Front Speakers
(2) LG 24LJ4840-WV 24″ LGTV
(27) Lutron Palladium Shades (Custom Metal Finishes)
(4) Lutron 6 Button QSX Keypads
(6) Lutron Palladiom Shades
(16) Lutron QSX Neutralized Lighting Loads
(28) Lutron Centralized QSX Lighting Zones
(1) Middle Atlantic Rack
(1) Nexus L-75s TV Lift System
(1) Nexus 2/ L-75s TV Lift System
(2) Omnimount RE27 Racks
(2) Panamax M4315-Pro BlueBolt Energy Management Systems
(1) Panamax MB1500 Panamax UPS
(3) Parasound ZM1250 12-Channel Amplifiers
(1) Parasound A52t 5-Channel Amplifier
(1) Parasound A21t 2-Channel Amplifier
(2) Sony XBR65X95OG 65″ 4K TVs
(3) Sony XBR65X95oG 65″ 4K TVs
(5) Sony XBR49X800H 49″ HDTVs
(1) Sony VPL-VW995E5 Laser Projector
(2) Speakercraft BoomTomb 12″ In-Ground Subwoofers
1) 133″ Stewart Filmscreen Projection Screen
(1) SunBrite 65″ SB-V-65-4KHDR-BL Outdoor TV
(2) Yamaha RX-A1080 7.2-Channel AURS
(1) Yamaha RXU-3080 AUR