Alexa wants to help you with home security.
Need a guard dog but don't want the dog? How about an alarm system that can hear glass breaking?
Keeping the home safe with Amazon's Alexa has never been easier or more efficient.
Amazon this week unveiled Guard Plus, Energy Dashboard, and Proactive Hunches – all available through their Alexa app. The addition of these features is meant to enhance the already popularly used Alexa Guard.
Related: Amazon's Latest Echo and Fire TV Additions Provide a Head-Start on Holiday Shopping
According to Amazon, Guard has "helped millions of customers." In fact, the company says, one family in Orlando was able to rescue their five-month-old French Bulldog, Cooper, from a house fire thanks to the Guard feature on their Amazon Echo and their Ring Doorbell, which is Alexa compatible.
Guard Plus from Amazon Alexa
Alexa Guard is a free feature on the Alexa app, Guard Plus is available with a subscription. The Plus addition broadens what Guard already offers. Plus can detect and alert "sounds of activity" in the home and play a siren from connected devices. Or, the device can produce the sound of dogs barking to deter any potential intruders specifically if detected from the outdoor cameras.
Customers are given hands-free access to an Emergency Helpline, Smart Alerts about activity, and other potential emergencies in their home while they're away. The new features are meant to deter potential intruders.
Trained agents at the 24/7 Emergency Helpline can contact medical, fire, or police assistance based on information you provide on the call.
Energy Dashboard
The new Energy Dashboard feature from Amazon is designed to assist customers in monitoring and understanding daily, weekly, and monthly trends in their energy consumption within Alexa-connected smart devices.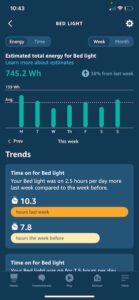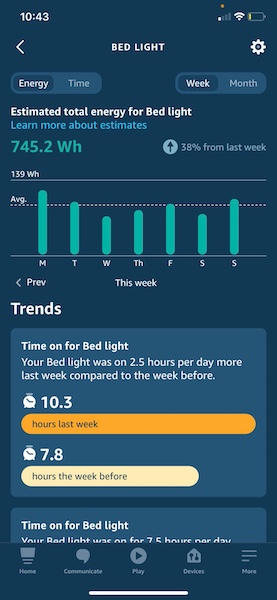 The company says that by using the Alexa app, customers can see the energy consumed by certain smart home devices from a variety of manufacturers, including lights, plugs, switches, water heaters, thermostats, and TVs.
This addition helps Amazon Alexa-connected homes be "be kinder to the world around it…" according to the company. Amazon is committed to building a sustainable business for our customers and the planet. These sustainability efforts extend from within the company to Amazon's supply chain and products.
Proactive Hunches
Instinct isn't too common among AI programs. Proactive Hunches is the addition of Alexa correcting what the user may have forgotten. To date, according to Amazon, Alexa has helped millions of customers with "hunches." so they don't forget things like locking the front door at night or turning off the light in the basement.
Alexa also can automatically adjust the thermostat, turn down the water heater, dim the lights, or turn on your robot vacuum while you're away from home. Alexa learns this by manual set up or by being enabled to learn your routine. For example, if you usually leave the porch light on, the light will stay on.