By Jeremy Glowacki
When introducing a new technical innovation to it loudspeakers, Bowers & Wilkins believes in the "cascade" approach, where a new, better-performing design technique or material is implemented first at the top of the line, embraced by dealers and customers, and then added later to other product lines at lower price points. Such is the case this month when the British brand revealed that the same leading-edge materials and features that were added from the flagship 800 Series Diamond range to the 700 Series last fall will now become a part of the company's re-introduced 600 Series, which is sold at "a more accessible price point."
I visited Bowers & Wilkins' Boston-area offices this past summer, where a contingent of media were treated to demos of the beautiful-sounding new Series, which will be publicly introduced at CEDIA Expo in San Diego.
The company's new range is composed of four speakers and matching subwoofers that feature several improvements from their predecessors in the series. With advanced technology and discreet style, the new 600 Series sets a higher sound quality standard at a competitive price point. This range is targeted at vinyl enthusiasts as well as those looking to improve their 5.1 immersive surround sound experience.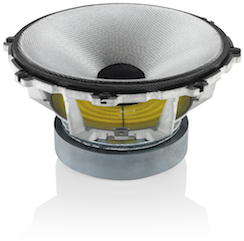 The new 600 Series is the most affordable range to incorporate the Continuum Cone midrange driver, which was developed and exclusively manufactured by Bowers & Wilkins to improve upon the transparency and accuracy of the previously used Kevlar cone. Available in every model in the new 600 Series range, the Continuum Cone enables more clarity and realism from the loudspeakers by suppressing vibrations.


"Although our three ranges now use the Continuum cone, there is still a clear technical and performance differentiation between each range," noted Andy Kerr, who leads the company's R&D and engineering teams. "We want to be known as best sounding loudspeaker range in its class."
The new 600 Series also introduces an updated version of the company's Decoupled Double Dome Tweeter technology for even clearer and more accurate high-frequency performance. This technology, paired with new paper cone low-frequency drivers in the flagship 603, are meant to provide rich, powerful bass response.
The new range is available in Matte Black and Satin White. As the flagship and largest speaker in the series, the 603 floor-standing speaker boasts a Decoupled Double Dome tweeter, an FST midrange driver using the Continuum Cone, plus dual paper-cone bass drivers (Price for each: $900)
For stand or bookshelf use, the 606 is compact speaker that combines Decoupled Double Dome tweeter technology with a 6.5-inch Continuum Cone (Price for each: $400)
Although the smallest in the range, the 607 compact stand or bookshelf speaker still offers outstanding bass response and clarity from its main 5-inch Continuum Cone mid/bass driver (Price for each: $300)
A slim, dedicated center-channel speaker, the HTM6 produces considerable power and exceptional precision from the Decoupled Double Dome tweeter plus dual 5-inch Continuum Cone mid/bass drivers (Price for each: $600)
Completing the range are three subwoofers – the ASW610XP, ASW610, and ASW608 – which were carried across from the previous 600 Series with updated finishes to match the new range (Price for each ASW610XP: $1,200), (Price for each ASW610: $650) and (Price for each ASW608: $500)