Bowers & Wilkins CDA-16 distribution amplifier can power up to eight individual rooms with high-quality stereo sound.
Bowers & Wilkins has added the CDA-16 distribution amplifier to its Custom Installation product portfolio for whole-home audio.
Available April 1, the new Bowers & Wilkins CDA-16 ($1,999.99 USD) has been engineered to work with any existing Bowers & Wilkins custom installation speaker. With the ability to drive 16 channels or eight stereo zones, the CDA-16 gives you the maximum performance with the minimum rack space thanks to its compact 1U design.
Its configurable specification also allows users to bridge its Class D stereo amplifier channels to create even more powerful mono outputs, if required.
Bowers & Wilkins 50W Per Channel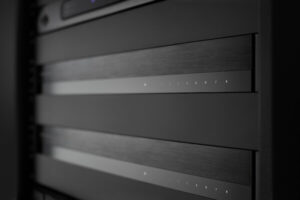 As standard, the Bowers & Wilkins CDA-16 offers 50W to each of its 16 channels into 8ohm loads, rising to 100W with 4ohm speakers.
Select the bridging function, and that rises to a mighty 200W into 8ohms, ensuring ample control and authority whatever the installation requirements.
Connecting sources is simplicity itself, with eight pairs of RCA phono inputs for line-level analog connection with the option of using one set of inputs as a "global" connection that shares the same signal across all outputs.
Cool-Running Class D Amplification
Suitable for rack-mounting, the ultra-compact Bowers & Wilkins CDA-16 uses cool-running Class D amplification to ensure maximum power output coupled to impressive energy efficiency. At just 44.5mm high, it's easily accommodated in both hi-fi and installation rack systems.
CDA-16 Key Features
16 x 100w into 4ohms giving eight stereo zones, or 8 x 200w in 8ohms in bridged mode.
Eight RCA analog inputs for stereo sources per zone, plus the option of a global source for all zones.
Three power mode options for control – on, auto-source detect and 12v trigger.
Robust, reliable protection features to prevent damage due to overload, short-circuit or heat.
Ultra-compact 1U rack-mount design for easy installation and configuration.