When someone mentions Bowers & Wilkins speakers, it is natural for your mind to turn to their elegant and uniquely designed Diamond and Nautilus speakers, found not only in residential music and home theater systems but also in many famous recording studios around the world. Or, given its recent reboot, the recently updated Zeppelin smart streaming speaker. However, while of equal audio and industrial design quality, fewer will associate B&W with soundbars, despite the availability for their Formation and Panorama soundbars.
That is now likely to change with the introduction of B&W's new Panorama 3. As the name implies, this is the third-generation product in this product series, which dates back to 2009. As with its predecessors, the Panorama 3 is designed specifically as a single, all-in-one, product with no need for additional front or surround speakers, or even an external subwoofer.
Described as "widescreen for your ears," the Panorama 3 takes its name from a mash-up of Panavision and Cinerama, two seminal names and technologies for cinema creation/production and display/exhibition. As the first B&W soundbar product with Dolby Atmos the notion of widescreen will now also apply to the sound. As B&W's Andy Kerr mentioned in the introductory briefing, "This is the bar, raised."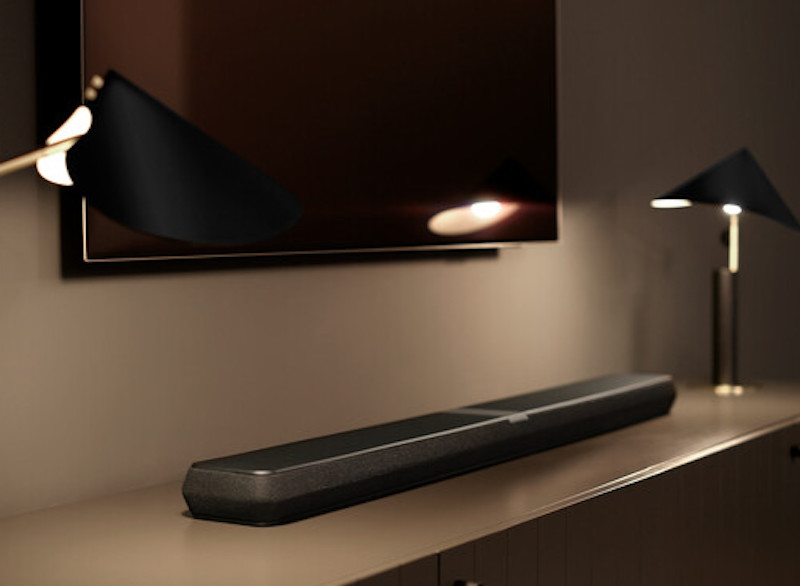 Elegant, yet simple, industrial design has always been a hallmark of B&W products, and the Panorama 3 continues that tradition. The low-profile unit is just 2.5 inches high to elegantly but unobtrusively fit below most flat-screen displays. Alternatively, a wall mount bracket is included. There is no traditional remote control as eARC and CEC lets you use compatible display device remotes. On the unit itself there are discrete capacitive touch "hidden until lit" buttons inset at the top center of the bar.
For those using the Amazon Alexa ecosystem, it also responds to commands from the built-in mic array or from other Alexa devices. Of course, there is control via the Bowers & Wilkins Music App for iOS smart phones and tablets. Finally, for those who use the optical audio input rather than the eARC enabled by HDMI connectivity there is a front panel IR repeater that lets conventional, third-party remotes learn the codes for basic control functions.
As this is a B&W product, sound is paramount, and the Panorama 3 has what it takes to live up to the company's reputation. This 3.2.1 has a total of 13 drivers driven by a total of 400 watts of amplification. The front left/center/right arrays each have a pair of 50mm (2-inch) woven glass fiber cone bass/midrange drivers and a single 19mm (0.75-inch) titanium dome tweeter. The up-firing ".2" speakers at each end of the bar is one of the same 50mm midrange/bass drivers used for the L/C/R channels. Finally, because the Panorama is designed to be self-contained without an external subwoofer, the bass response down to a quoted 48Hz is delivered via a pair of 100mm (4-inch) drivers.
While one might expect that the primary use will be for home theater playback, music is always at the heart of B&W. For music sources there is Bluetooth 5 connectivity with aptX Adaptive and AAC. Along with the streaming services native to the iOS app such TIDAL, TuneIn, Soundcloud, and more. Spotify Connect, Wi-Fi, and Ethernet connectivity via an RJ-45 port complement the Bluetooth to enable an even more expansive choice of content sources. Apple's AirPlay2 is also available to complete the connectivity package.
Given its stated purpose as a standalone product, where there are no provisions or recommendations for external surround or height/elevation speakers or subwoofers, it is worth noting that B&W has announced that their future planning does include connectivity with their Foundation speakers and the recently updated Zeppelin for multiroom applications. In addition, residential technology professionals will be pleased to know that B&W is also working on adding the Control4 and Crestron control that is already on the boards for Foundation also in Panorama 3. Designer/installers working beyond the residential market will also be interested to know that this will be optimized for hospitality installations, as well.
Looking at the Panorama 3, the easiest way to think about it is to imagine yourself as a product designer at Bowers & Wilkins. Think of their prowess in both acoustic engineering and audio device technologies, then add in their legendary industrial design skills and their ability to meld all of this into a product you would want to own. Then, add in 3.1.2 capability with Dolby Atmos, virtually all the connectivity and streaming capability one might need, and then package it in a compact, elegant design and you'll probably end up with what B&W did: The Panorama 3.
The Panorama 3 is available worldwide starting March 3 at $999/€999/£899.
Related: Bowers & Wilkins Adds Midnight Blue Metallic Finish for 705 and 702 Signatures