In early 2017, Control4 acquired the Triad Speakers audio brand from Larry Pexton, in response to dealer and customer requests for more premium multi-room audio solutions. The company saw Triad as an opportunity to bring high-fidelity, designer-friendly, multi-room audio solutions to the Control4 product family. Since then, the company's dealers have gained easier access to Triad's full line of speakers – from home theater, to multi-room audio, to a single solution for a TV room, and even full outdoor systems and custom options.
Control4 has brought many new Triad products to market since acquiring the brand, including Triad Designer Series, an in-ceiling speaker and subwoofer with a discreet four-inch grill; Triad Garden Array, a family of all-weather landscape speakers and a flexible subwoofer; six new additions to the Triad R Series, round, high-performance in-ceiling speakers; and a completely new line of high-resolution, multi-room audio Triad matrix switches, power amplifiers, plus the Triad One Streaming Amplifier, bringing high-resolution audio to any room of the home.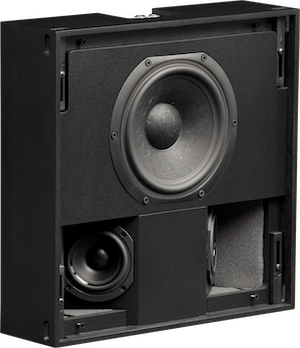 A major differentiator that Control4 has to offer its dealers and customers is the customization element of the Triad line. Triad speakers are built to order and can be custom designed at the factory to match any wood veneer, paint finish, and size (for example, designing a soundbar to the exact width of a customer's TV).
Some of the most positive feedback that Control4 has received since acquiring Triad is regarding their ability to custom match speakers to various elements of the home. Customers love that their audio solutions provide noticeably superior sound, but the equipment doesn't clash with their décor.
Control4 has also invested heavily into improving Triad's production capabilities as well, with new equipment and CNC machines that have helped increase efficiency and quality control and allowed the company to better meet customer demand. The Triad brand has been given a refresh in other ways, too, including a new, contemporary logo and color scheme, updated product and brand messaging, and a new tradeshow booth.
In order to better serve their dealers, the marketing and product teams are systematically rebuilding all Triad dealer and customer materials, including data sheets, quick-start guides, product manuals, and other resources to reflect the level of customer service and support that dealers have come to expect from Control4. A new website is also a work in progress.
All Triad speakers are still handcrafted in Portland and made to order in less than a week. The company likes to say that its products are "made fresh daily," following the lean manufacturing model of no inventory of finished goods.