At the start of the 2020 global pandemic, video conferencing became the de facto remote communication tool, practically overnight, with the Microsoft Teams and Zoom platforms expanding beyond "enterprise" to become the platforms of choice for remote learning, family gatherings, and even Friday happy hours. To put it in the parlance of the day: video conferencing became the "new normal."
Back in the pre-COVID-19 days, before home conferencing was "cool," Crestron was working with enterprise business clients to make these types of experiences the best that they could be. Blending that knowledge with their success in home automation, Crestron realized that today's work-from-home and learn-from-home environment required everyone in the family to have their own space to work, learn, and socialize. People want a streamlined experience that naturally blends with the way they live.
Crestron has leveraged its expertise in both enterprise AV technology and home automation to deliver professional-grade home conferencing technology as a standalone solution. The company is now offering multiple options for the following home environments: for a dedicated home office or learning space; a living room; in front of the TV; "anywhere you Zoom;" or integrated into a Crestron smart home system.
Crestron Home Desktop
The Crestron Home Desktop solution brings enterprise unified communication (UC) technology to the home office, as an all-in-one conferencing solution that fits on a desk. It includes a four-microphone array, speaker, touch screen, wireless hub, USB/HDMI, and Bluetooth. It has both a wired and wireless display extension to the TV.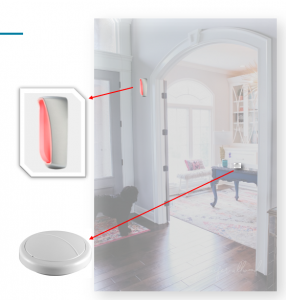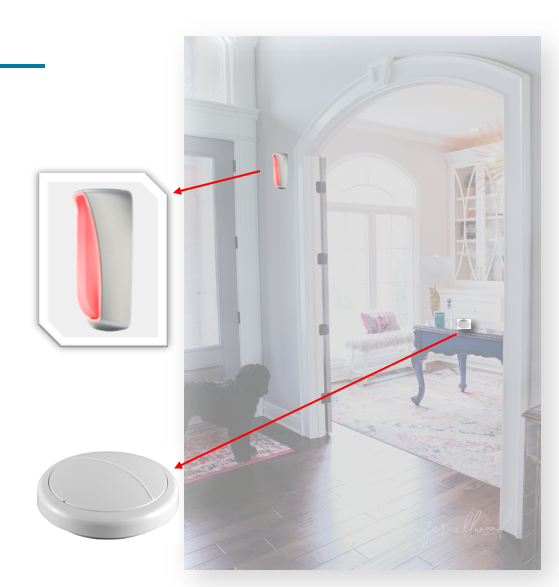 The system offers universal web conferencing – it works with Microsoft Teams, Zoom Rooms, Slack, Google Meet, or whatever is running on the laptop or mobile device. It was designed to deliver high-quality audio and video in a home office without using a laptop's audio or camera – instead relying on an intelligent auto-framing camera.
With Bluetooth, it can pair with a mobile phone for calls and music.
As part of the complete experience, Crestron also is offering Home Desktop Indicators that enable a user to set a room for "do not disturb" mode. A wireless, two-button switch sits discreetly on the desk, and when the light is turned on, it illuminates in red to let the family know you're on a call. Then, it turns off when the call ends.
This solution can be an add-on to an existing 3-Series Crestron Home system, or it can be added as a standalone system with a simple processor.
At the TV
With Crestron AirMedia (AM-200), custom installers can bring video conferencing to any Crestron residential system. AirMedia ($1,800 MSRP) is a universal presentation extender that attaches behind the TV and transforming it to a wireless laptop or mobile display extension. For all Windows, Android, Mac, and iOS devices (Apple TV only works with Apple devices), homeowners can add web conferencing such as Zoom, Teams, and Skype for additional convenience.
At the TV – Universal Web Conferencing
Rather than relying on the audio and video quality of the TV or laptop camera, Crestron also offers an option to add a Smart Soundbar and USB extender for $4,000 MSRP. It delivers high-performance conferencing and installs cleanly beneath the room display or any computer with USB.

Wherever You Zoom
In June, the company debuted Crestron HomeTime, a professional solution for video conferencing in a Crestron smart home. Crestron HomeTime is a unification of the Logitech MeetUp conference camera with the Crestron UC Engine that seamlessly integrates with Crestron control to deliver the optimal Zoom Rooms experience.
Crestron HomeTime ($6,100 for the HT-CAM-KIT) provides one-touch access to your home's automation system from a single user interface either on the Crestron remote or Crestron Home app. So not only can you launch your video conference, but you can also drop the shades, set the lighting level, adjust the thermostat, and more.
Controlling video calls with Crestron's remote control was a critical advancement and differentiation from the laptop/computer driven experience associated with a conference call. A wide-angle camera gets everyone in the frame, with a full duplex advanced beam-forming microphone that enables natural conversation. It's the perfect option for bringing friends and family together, staying connected for life moments (holidays, reunions, happy hours, birthdays, fitness classes) even when everyone can't be together.
Crestron HomeTime Add-On Rooms
If families have additional rooms where they want to gather, they can add HomeTime to more rooms with the HT-CAM-AUX-KIT. The add-a-room kit is $3,100. The video conferencing "engine" can be located remotely, and meetings can be routed to other TVs in other rooms of the home with the DM NXV AV-over-IP technology.
Crestron believes that delivering enterprise-grade solutions for home conferencing will elevate the experience from what it was before the pandemic to the way we will continue to work, learn, and connect with others from home.